Droid X2 officially announced, available May 26 for $199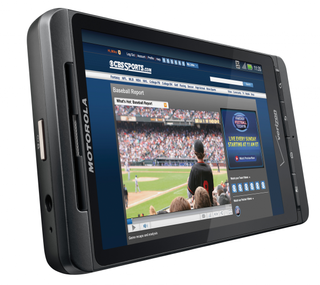 Online orders begin May 19
Not much of a surprise at this point, after we leaked the launch date last week, but the Motorola Droid X2 officially will be released on Verizon on May 26, with online orders starting May 19. It'll go for $199 after contract and rebate. And with that, you'll get:
Android 2.2 (with the promise of an upgrade to Android 2.3)
4.3-inch display with qHD resolution
8MP rear camera
Dual-core 1GHz processor
Swype
3G mobile hotspot
And all the other usual bells and whistles
All and all, a nice bump for one of our favorite phones of 2010. Presser's after the break.
More: Droid X2 forums
BASKING RIDGE, NJ, and LIBERTYVILLE, IL — Verizon Wireless and Motorola Mobility, Inc. (NYSE: MMI), today announced the second-generation DROID X2 by Motorola, designed for the consumer who does everything on their smartphone.
Fly through the Web with the DROID X2, which boasts Verizon Wireless' first dual-core 1 GHz processor for fast webpage loading and Adobe® Flash® Player, allowing Verizon Wireless customers to experience rich content online. The 4.3-inch scratch-resistant and anti-reflective qHD display delivers a sharp, clear view ideal for watching movies, typing emails and playing your favorite games. Never miss a moment using the 8-megapixel camera with continuous autofocus and stunning HD video capture. Use the new Gallery app to view, tag and post photos on sites like Flickr® and Facebook®, all from one place.
Additional features:
Powered by Android 2.2, to be updated to Android 2.3
Mirror Mode allows you to view and share your photos, videos and downloaded movies on a larger TV via HDMI output
Enterprise-ready with security and IT-grade policies, allowing you to use your DROID X2 for work and play
Support for Google™ Mobile Services, including Gmail™, YouTube™, Google Talk™, Google Search™ and Google Maps™, as well as access to more than 200,000 apps available to download from Android Market™
Mobile Hotspot capability, allowing you to share your 3G connection with up to five Wi-Fi-enabled devices
Virtual QWERTY keyboard featuring SWYPE technology for quick and easy typing of messages and emails
Pricing and availability:
The DROID X2 will be available online at www.verizonwireless.com on May 19 and in Verizon Wireless Communication Stores on May 26 for $199.99 with a new two-year customer agreement.
DROID X2 customers will need to subscribe to a Verizon Wireless Nationwide Talk plan and a smartphone data package. Nationwide Talk plans begin at $39.99 for monthly access and an unlimited smartphone data plan is $29.99 for monthly access.
Android Central Newsletter
Get instant access to breaking news, the hottest reviews, great deals and helpful tips
I wonder which version of Blur it will have.

Officially released may 16th and pre orders begin on the may 19th? Lol to whoever waits till the 19th to pre order

$199 and no 4G? Too much $$$ and 6 months too late.

I agree with action al, not to mention it's their top end dual core and it will only be released with 2.2! Motorola just wants to get this one out, pretty sad really. I'm getting the evo 3d.

Another phone to show how far behind every other carrier they are, in terms of the latest hardware/software.....sad really

That's ridiculous. $199 for a Dual core 1Ghz processor with a qHD display, hopefully more RAM is great. Better than the Charge that still has a single core processor and 4G and charge you $299 for just 4G

Sorry but never EVER EVER EVER getting another Motorola product EVER again!!!! A company that takes 1 year to release an update that they promised and then makes the phone 3-4 times slower is completely unacceptable! And I hope they go bankrupt! My 2 cents!

Hmm, it says it ships with 2.2, but all the screenshots I see show it running the leaked version of Gingerbread for the Droid X. I wonder if they just skinned the Froyo build for the DX2 differently or if it will look the same as the DX until the upgrade

2.2? Are you serious? It's been 6 months since the announcement of Gingerbread - it should NOT be taking this long for phones to be getting it, and especially not brand new ones.

The Droid X2 does not have 4G? And they are saying it is the first 1GHz dual core because there's already a 1.2 GHz? And it has half the RAM of the other phones coming out? And it is only Froyo 2.2? Why wouldn't you get the Thunderbolt 4G, Atrix 4G, or Samsung Galaxy S II Function LTE? They will all cost you about $2000 over your 2 year contract.

If you're on Verizon and need a phone now the Atrix and Galaxy SII are sort of out. And I'd take this phone over the Thunderbolt anytime. I don't blame people who value connection speed over processing power, but I'm astounded at how many people can't grasp the reverse; many people work around wifi all day, and LTE is only spotty anyways. I have no interest in occasionally getting faster service in other towns when 98% of the time I'm already on wifi. But I do want a better screen and a dual core CPU. And at a $50-100 savings this is all win as far as I'm concerned (well, it is once Gingerbread is on it).

and despite all your valid points... this thing will sell like hotcakes in december... further proving to Moto and VZW that all our bitching is just a little itch not worth scratching...

We will have to wait and see if it "sells like hotcakes" since Verizon will have another shiny Android phone launching in-store on the same day; the LG Revolution. I believe most consumers will choose LTE and front facing cam over dual-core and qHD. We shall see...

Its so sad to see a model that was Verizon's premiere phone become so mediocre. It needs GB, more RAM and 4G to stay competitive. However, I would buy this for $200 instead of a $300 Samsung overCharge any day.

Yeah for the life of me I always wonder why people buy phones w Blur.... Every single one I've tinkered with moved like a pregnant Yak! I kid you not! That's enough for me to say no.....

I can't believe all the hatorade....tough crowd, it's a dual core qHD phone. Who cares about 2.2 vs 2.3...technically your points are valid, but it has the new skin already and in a month after it's updated it wont matter to anyone.
4G? You do realize half the country won't have LTE for another 2 years right? And Motorola wants to differentiate from the Bionic. That's the beauty of Android choice. This phone will sell quite well.

So i dont know if they are trying to differentiate from the Bionic because that was supposed to already be out. This has me wondering what is going to come of the Bionic....i thought that it was more of an issue with the dual core processor and now moto is pushing out a dual core so it leads me to think that there still are a lot of issues with the LTE network...

No, both phones were supposed to be released around the same time. The X2 didn't just get pushed out the door because the Bionic wasn't ready yet. The current 'popular' dual core chip is the Tegra 2 which has known major issues with the LTE radio. You also can't fit the current LTE chipset in the X form factor (yet). The Tegra 2/LTE issue is the reason the Xoom still doesn't have the LTE upgrade option yet and the Bionic went back to the design room to be fitted with OMAP 4.

But for the half of the country that has 4G, it seems silly to buy a phone that isn't 4G. Verizon's 3G isn't anything to write home about compared to AT&T or T-Mobile (I have service on all 3). I've been off Verizon for years, and the Thunderbolt is my first excursion back onto that network, and while it's a decent phone, it's far from what I would consider a top of the line phone right now. Where's the 4" or 4.3" qHD screen device with a dual-core processor, ample memory, and 4G? Every device announced for VZW I've noticed so far fails in some regard. Either no dual core (I'm not as upset about that as others), no 4G, poor screen technology, too little RAM, etc, etc. T-Mobile gets all the interesting/exciting phones, but their network just sucks too much.

""Where's the 4" or 4.3" qHD screen device with a dual-core processor, ample memory, and 4G?"" If you followed this news at all you'd realize that is the Bionic. Except the current 'popular' dual core chip is the Tegra 2 which has known major issues with the LTE radio. Hence the reason the Xoom still doesn't have the LTE upgrade and the Bionic went back to the design room with OMAP 4. The current crop of LTE phones have been in development for a WHILE hence not state of the art specs. They had to be, LTE is new. (This basically futhers proof how much closer to 3G HSPA+ really is, but I digress)

All the phones with Verizon Branding (2nd generation) such as the Dinc2, Droid2 and X2 suketh greatly. I was tempted even still to get the Dinc2, but there are many doubts that it will be able to achieve permanent root. And it seems as though the Bootloader is encrypted.

Yet another outdated phone being pushed by Verizon. I agree, regardless of its outdated specs it will probably sell. This is getting very annoying, guess will have to wait for a decent flagship phone to arrive before upgrade, this sucks

no smartphone should ever be released without a front camera from like 8 months ago on...

What's the big deal about front facing cameras? How many people actually use it on a regular basis? My Inc2 has a front facing camera but I will most likely never use it. I turned it on the other day and the picture was HORRIBLE. It's only a 1MP camera! If you used it for video calling the person on the other end would barely be able to see you.

Whats the big deal over the Front Camera ? I've a sony Ercisson W910i & Nokia E75 & I had a Motorola RAZR V3x before them (all of them have front cameras) In 5 years , i used the front camera 3 times only , just to test if everything is working in the store before buying the phone The Front camera is the only thing I don't miss in my MileStone

Why MOTO would I get a phone that will not have LTE for two years? I will just stay with my DX until Verizon gets a LTE, dual core, great screen, and battery life. What are they think, give us some upgrade but with LTE, MOTO just not thinking, keep the phone!!! Very glad I bought the DX out right, I will wait until Verizon maybe gets there act together, maybe???

Muahahah...poor Verizon guys. Solid network but more trash phones than a Nokia Recycle bin. WEEEEeeee....EVO and SGS 1 with LTE. Wait I mean Thunderbolt and Charge lol. STOP buying these old phones and they will finally get up to speed. The problem is, a bunch of noobs go out and buy a Thunderbolt, then defend their purchase on the forums acting like an EVO with 4g is a good deal. Sure LTE is nice but good lord why is everyone settling for a weak phone??? On a side note, I do have an amazing Celeron processor laptop with Wireless N in it...AAWESOME. 1200$ if you want to buy it.

You couldnt have said it any bette right onthe money

You couldnt have said it any better..

As I think about it...I bet HTC required an agreement that said Verizon wouldn't allow another more powerful LTE device if HTC would retool the EVO for LTE and push it out early.

To everyone saying it's out dated because of no 4G. Remember, there are people who do not live in a 4G area and will not be getting it for a while yet. I for one am like that and I have no desire to get a 4G phone. Plus, the 4G phones out right now get such poor battery life using 4G that I wouldn't buy one even if I did live in a 4G area. For someone like me this phone is perfect.

Eh I will wait for something truly worth while to come along. Just got a new X after my hdmi port went bad. Rooted with liberty bread nightlies will keep me happy for awhile.

They could have atleast made and afford in making it look a bit different from the original DroidX. Just look at the droid 1&2. I do believe this phone will still sell even with 2.2. All new phones should start coming built with 2.3 already. So tired of 2.2 with promises of being able to eventually upgrade to 2.3.

I am in complete agreement with Valorian. I do live in a 4G area and I have no desire for a 4G phone at this time. There are too many quirks with the network as well as with the phones. I have thought about the TB but I see a lot of issues with it and from those I know who have it, not at this time for me. I do not think Verizon's 3G is a poor network like someone had mentioned earlier. I have been a Verizon customer for years. I have sold wireless and have sold them all with a multi-carrier indirect. Verizon is the top seller and still was when I left. I have used other carriers in the past and no carrier has the service that Verizon has or the network. I never have a problem with my service. NEVER. I will definitely check out this device. I currently have the HTC Incredible and love it. I love the Sense UI, but I want to see this updated Droid X. I am glad there are still decent 3G devices being released whether they are updated phones or not. Not everyone is in 4G and not everyone wants 4G. My speed is fine. Until the 4G network is flawless like the 3G not making the switch to 4G.

Monthly data plans are the same for lte and 3g. I have to say that I have had fewer issues with my Charge than I have with my TBolt. To each his own, but to me vzw 3g network is pretty lame to satisfactory. LTE network is awesome. Turn it on when you need it, back to 3g when normal use and you are set. My 3g is far from flawless so for me it's LTE or bust.

This phone is actually right up my alley...the only thing it doesn't have that I'm really interested in having is 4G. Of course, right now I really need to focus on paying off debt and then maybe worry about purchasing a new phone that requires a data package (I'm new to Android afterall)...of course in a year when I'm ready to do that who knows what will be out on the shelves...

Dual core with no support for it in android os? Pass. Lets not forget about how choppy blur makes things. Random reboots? No lte? The Charge isn't nearly as choppy as blur products. And touchwiz at least has a few useabke features.

should be called the Droid X.5 ... upgrade really?

It's not even the lack of LTE that kills be about this device, it's the lack of the front facing camera! I can see LTE not being the standard yet, but no FFC? Why?

I asked earlier and I'll ask again. Why do you need a FFC? It's only 1.3MP, big deal!! The picture and/or video will be horrible.

It's only 1.3 for the simple fact of data it is required to stream. It's not because they want to put a poor quality camera there. And I'll ask you, since when did you get to product developement for Motorola? If it's not your desire to use it, then don't use it, but I would think that if Verizon has Skype, why wouldn't it be incorporated into any phone, especially one with a dual core. Also, remember there is a Google Talk update floating around that has video chat as well, but pretty useless on a flagship 3G device like this phone.

people buying this phone are the same people buying wetland in Florida, you know what they say one is born every minute.

wow lots of whiners in here.

Well I'm now convinced beyond a shadow of a doubt. Android as a platform is doomed. All this ranting about 2.2 & dual core with a front facing camera & 4G world phone with the ability to launch missiles yada yada yada... It's called fractured market folks & these petty arguments & greedy manufacturers pushing more & more phones out; hello Windows Mobile my name is Android... I'll be joining you soon in obscurity.
Android Central Newsletter
Get instant access to breaking news, the hottest reviews, great deals and helpful tips
Thank you for signing up to Android Central. You will receive a verification email shortly.
There was a problem. Please refresh the page and try again.