Hands-on with the Motorola Droid Maxx 2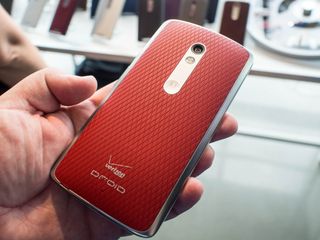 Every day it seems like there's another company releasing a phone that competes in the $300-$400 price range, and today's offering is packing a Droid branding on the back. Motorola and Verizon launched a pair of Droid phones today, and while the Droid Turbo 2 continues to focus on the high end with amazing battery life and top of the line specs, the Droid Maxx 2 is all about the budget. Specifically, getting the most battery, the most specs, and the most affordable price these two companies could muster.
All they need now is for this phone to be as impressive in the real world as it seems on paper. Lets take a look.
Motorola has resurrected the Maxx branding (originally used to indicate the Droid phone with the biggest battery) to re-brand the Moto X Play — be sure to read our full review of that one — that is currently available outside of the U.S. It's got all of the familiar curves you'd expect to find on a Moto X, and while it has just enough heft that you feel the phone in your pocket it's not overly bulky. When you hold the phone in your had, your finger naturally finds the indent where the Motorola M lives, and you can actually reach the other side of the screen with your thumb.
Despite identical speaker slits at the top and bottom of the phone, audio only comes out of the bottom speaker, with the top reserved for phone calls. Outside of the removable backs, which Verizon plans to sell in its stores for those who want that Moto G-esque customization, but you'll be shelling out $20 per back if that's what you want.
These backs aren't something to be dismissed, either. Motorola is launching the phone with eight colors, and several magnetic folio options with a square cut out so you can still use Moto Display. The textures being offered here are subtle, and when coupled with the right color it really helps the phone stand out.
Image 1 of 5
The Droid branding underneath Verizon's enormous logo doesn't do much to add to the experience we're already familiar with. The Snapdragon 615 processor with 2GB of RAM underneath a 1080p display isn't going to be winning awards or breaking records, but they get the job done and look decent in the process. At no point did the phone slow down during our brief use, nor did the display feel lacking. Text is sharp, colors are well represented, and while whites tend to lean a little on the pink side it's not something you'd notice in most situations.
This being a purely Verizon exclusive experience, there's plenty of Verizon bloat to be found. There are 48 apps pre-loaded on the Droid Maxx 2, which includes five Amazon apps, four games, nine apps for Verizon services, and the new go90 social app among many others. These are full apps, taking up a whopping 3GB on the meager 16GB storage included with this phone. While many of these apps can be uninstalled, Slacker Radio and the NFL app top a small list of apps that can only be disabled. This isn't new information, mind you. Verizon has been behaving this way for a while. More than anything, it's interesting to see bloatware situation getting worse instead of better. But hey, at least there are no antivirus apps onboard.
Speaking of software, the Droid Maxx 2 is running Android 5.1.1 out of the box. Motorola promises to update the Droid Turbo, Droid Turbo 2, and Droid Maxx 2 to Marshmallow at some point, but no one is talking about when. Android 5.1.1 seems to run well enough on these phones, just like we've seen with the Moto X Play and Moto X Pure Edition, but given Motorola's recent history with software updates and the long history of Droid-branded phones getting software updates, there's a good chance you're going to be waiting a while.
Motorola has the same 21MP sensor in the Droid Maxx 2 that has been popping up in everything from Motorola this year, and that means it has all of the same strengths and weaknesses. The 21MP sensor can capture an incredible amount of detail for you to zoom in on, but it struggles in low light and HDR has some problems exposing either too bright or too dark depending on where the focus point lands. The Moto Camera app hasn't changed either, which means you get the same simple interface that exchanges tap to focus with a draggable exposure ring, with settings in a loop on the left for you to thumb through.
Image 1 of 6
As first impressions go, the Motorola Droid Maxx 2 seems like a win for Verizon. At $384 off contract it's a reasonably priced phone with a decent all around experience, but it's also moving in on Moto X Pure Edition territory and a standoff between those two phones will not end in the Droid Maxx 2 winning. Verizon's real goal here is to push the $16/month for 24 months for this phone, and since the Moto X Pure Edition isn't sitting on shelves in Big Red stores it'll be the best budget-friendly option most people who wander into a Verizon store will see.
There's also plenty of questions left to be answered, not the least of which is exactly how this phone holds up against other phones in this $300-$400 range. We'll also need to do some long-term testing to see how the 48 hour battery claims hold up, but if Motorola can take a 3630 mAh battery and stretch it that long this phone will have a huge check mark in the win column for a lot of people. While we get to work on that, share some of your thoughts on this new Maxx in the comments below.
Get the Android Central Newsletter
Instant access to breaking news, the hottest reviews, great deals and helpful tips.