Download the Essential Phone wallpapers here!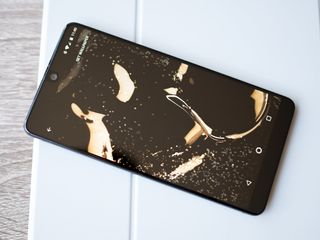 The new Essential Phone has a pretty mind-bending screen with super-tiny bezels, and it just looks even better with one of its default wallpapers loaded. Those wallpapers have picked up some attention, and that's to be expected — so that's why we want to offer them up for anyone to use.
Here are six different wallpapers that come pre-loaded on the Essential Phone. A couple of them actually aren't super-high resolution, but a few of them are. In either case, these wallpapers will surely look great on your phone if you're looking for something simple, elegant and dark for a wallpaper. Enjoy!
(If you're viewing this on our mobile app, open the article in a web browser to download to your phone directly!)
Default
Default 2
Default 3
'Champagne'
'Jaune'
'Noir'
Which of this small crop of wallpapers is your favorite? Be sure to let us know in the comments!
Andrew was an Executive Editor, U.S. at Android Central between 2012 and 2020.
Thank you. I've been looking for a couple of these.

I'm liking default 2, 3, and champagne. How do I set one of them as my wallpaper?

Come here using Chrome on your phone. Tap and hold the picture and download. Head for photos, and find that download. Probably in an album called Downloads. Tap it to display. Upper right three dots, Use As, Wallpaper. That's on a Pixel. Samsung may have obfuscated some of that, but the idea is the same, download the pic then set it as wallpaper in whatever manner your bastardized OS allows it.

Oh right, that's how to do it. I was viewing the thread in the AC app and was trying to long press and was wondering why it wasn't working.

Usually go into main settings, then personalize, then wallpapers, next, choose image or file pops up a menu to select a picture, from gallery or file manager, then downloads, find picture tap that, confirm and done. Every device varies, but that should help you.

These wallpapers could not have any place on the walls within my home. That's just my house, though. To each his own decorative preferences.
It's true if ya think about it, bunkies.

And also, when did electronics manufactures start thinking that they could branch out into the field of home design. They have no experience.
It's Trump. I know it.

They look terrible on my pixel xl. Any way we can get a higher res version of them? 2 and 3 are awesome.

Anywhere we can check out the sounds, ringtones and what not?

It would be great if you just shared a zip file instead...

I'm partial to black with some highlights. Noir looks interesting, but too much White.

To bad they are ridiculously bad quality. Oh well

These are alright. For whatever reason I keep going back to the Nexus 6P default wallpaper for every phone I've had after owning the 6P 🤷‍♂️.

Noir and Champagne. Will have to find high res pics for my S8

Default 3 is my favorite.

Yeah bad quality. 800x500 and roundabouts...
Android Central Newsletter
Thank you for signing up to Android Central. You will receive a verification email shortly.
There was a problem. Please refresh the page and try again.