'Double speed' EE 4G launched in 12 UK cities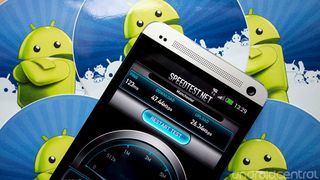 Download speeds of 40Mbps or more enabled by new 2x20MHz LTE network
As promised, network operator EE has launched "double speed" 4G LTE in some twelve British cities today. The new, faster speeds are enabled by allocating more of EE's spectrum to its LTE network — it's now using 2x20MHz of 1800MHz spectrum instead of 2x10MHz. This brings theoretical transfer rates of up to 150Mbps, with real world speeds averaging around 30-40Mbps. In practice we've seen download speeds regularly hit 40-50Mbps in London and Manchester, with throughput reaching highs of 78-79Mbps in some areas.
The new "double speed" 4G is available today in Birmingham, Bristol, Cardiff, Derby, Edinburgh, Glasgow, Leeds, Liverpool, London, Manchester, Nottingham and Sheffield, with Derby and Nottingham being two last-minute additions to the list.
If you're on EE in any of these cities, be sure to run a speed test or two and let us know if you're seeing faster transfer rates.
Android Central Newsletter
Get instant access to breaking news, the hottest reviews, great deals and helpful tips
Alex was with Android Central for over a decade, producing written and video content for the site, and served as global Executive Editor from 2016 to 2022.
Good news... But faster also means you will most likely use more data. Faster the network, more we use it.

No problem with unlimited. Posted via Android Central App

Granted that the network offers unlimited, of course. Posted via Android Central App

I'd rather they concentrated on rolling it out to the places that haven't got it at all. Posted via Android Central App

maybe if they have to upgrade equipment for this, it will free up older equipment that's fine for smaller cities?

The largest data plan you can buy from EE is 61GBP for sim only. This gives you 20GB maximum data allowance a month. At 79Mbps that equates to just over half an hour data usage a month. Their standard plan is 21GBP for 500MB. that would last 50secs! I would prefer Three with 12~15Mbs (real-world in my village) and unlimited data usage for 13GBP a month. I have never needed faster than that on my mobile apart from downloading offline maps in a hurry. [post marked as spam bacause it mentions money - wtf?]

You point doesn't make sense, ok EE is more expensive, compared with the 3 deal. I'll give you that, but just because there it is faster doesn't mean you will download more. You can do what you did before, faster - leaving you more time to do fun things. It's like someone giving you a Ferrari instead of taking the bus, you'd get there quicker, doesn't mean you have to drive further than you need to, just because you can in the same time! You'd leave later, giving you more time in bed!

So you are saying that a faster connection doesn't encourage you to download more - would you say that the amount you are downloading now is about the same as when you were using a dial-up connection or even a slow broadband connection? That wasn't actually the point though, the point is they still have ridiculously small data caps despite upping their speeds to high levels. For normal internet browsing you will notice little difference between 10 and 20+mbs. For streaming you will notice no difference, same for video conferencing, voip etc. Therefore doubling the rate is less important than the really high costs and data caps. The people who will notice the most are downloaders - whether movies, music programs etc who will have to pay way over the odds for getting an LTE service. Rather than getting more data for a slower speed. If you are happy on EE and happy with the limited data and could really make use of a faster service due to often waiting around for a download to finish, then you win. For everyone else, this just highlights how quickly you hit your low data cap if you make use of the higher speed.

Kinda missing the point though. The fact is that this is new technology that is very costly to implement. For this reason EE are charging a massive premium to early adopters who either have too much spare cash or simply have to have the best there is! Also consider that, being a new service, EE probably don't want too many customers overloading the networks too soon so the easiest way to keep numbers manageable is to price it higher. Whilst they have a monopoly they will carry on charging what they want until they want at attract more customers. As with everything, all us regular guys need to do is wait, the prices will either dome down or they will offer much more realistic download limits. Do agree that 500MB is a joke, I wonder how many of those they have sold? The 46GBP a month for 3GB (with a phone) is probably the sweetspot for someone who really really wants it. I'll consider what offers they do for me next year when I get an LTE-enabled phone, I would prefer my T-Mobile tariff though, I really don't need unlimited calls & txts!

I've been getting 43Mbps today, edge of London, but I hit 45 in March according to SpeedTest.net

No change yet here in Nottingham, i think i'll test tomorrow when i'm in the city centre

What is it going to take to get these kinds of speeds stateside in the US?

Getting infrastructure changes here USA wide is a massive task. All of England (50,000 sq. miles) could fit in Louisiana (51,000 sq. miles) or Alabama (52,000 sq. miles) so a roll out across their entire country would be like a partial regional roll out here in the US. Region size and population disparity is a huge factor. Not to mention we are split between CDMA and GSM tech while most of Europe is GSM which makes increasing bandwith thresholds a bit easier when there are no competing technologies.

I got over 90mb last night, I had to sit down in shock. Have a look for yourself I'm in total shock, this is a speedtest I have just done on my Samsung Galaxy S4 on EE 4g LTE. @ee #wooooosh http://t.co/xCXKxnaVHm
(https://twitter.com/bennyHy/status/352837584348667904) Posted via Android Central App

LOL. Sprint still has not even got LTE deployed in most of their major markets and now 2x LTE available. Sprint will most likely get this by 2025. And that will be in a few select <10k population cities.

I got 64 ms in Glasgow Posted via Android Central App

The downside to a 90 meg download its I can now burn through my monthly download allowance in under 13 minutes. It's a joke really, they need to increase the allowances. I can't understand how virgin can offer unlimited downloads at home but ee are so so so tightly limited. The base station is plugged into the virgin network too. It's this just intense profiteering or am I missing something. Posted via Android Central App
Android Central Newsletter
Get instant access to breaking news, the hottest reviews, great deals and helpful tips
Thank you for signing up to Android Central. You will receive a verification email shortly.
There was a problem. Please refresh the page and try again.