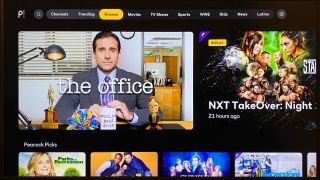 (Image credit: Samuel Contreras / Android Central)
Best answer: Yes. Peacock TV has been available to download on Roku platforms since September 2020.
New episodes and more: Peacock From $4.99 at Peacock
How to install Peacock on Roku
While NBC's Peacock TV wasn't available on Roku devices when it first launched, you can now download the app on all Roku devices. Here are the simple steps you need to follow to get Peacock on Roku right now.
Navigate to the Roku homepage and select Streaming Channels.
Use the search function to search for Peacock.
Select the Peacock app and select Add Channel.
Sign in to the Peacock app using your existing credentials.
If you've yet to create a Peacock account, you'll want to sign up at PeacockTV.com before downloading the app and signing in to the streaming service on your Roku device.
In addition to offering a free tier, Peacock has two Premium tiers: the ad-supported Peacock Premium tier costs $4.99 per month and ad-free Peacock Premium Plus tier for $9.99 per month.
Streaming by NBC
NBC series, classic movies and live sports
NBC's Peacock streaming service provides access to new and classic NBC series, late-night talk shows, and sports coverage. Peacock offers a free tier, as well as an ad-supported and ad-free premium plan.
Get the Android Central Newsletter
Instant access to breaking news, the hottest reviews, great deals and helpful tips.
Keegan Prosser is a freelance contributor based in the PNW. When she's not writing about her favorite streaming apps and devices for Android Central, she's listening to a true-crime podcast, creating the perfect playlist for her next road trip, and trying to figure out which fitness tracker she should try next. You can follow her on Twitter @keeganprosser.