Do you still use a Wear OS smartwatch in 2020?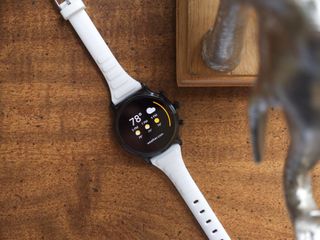 (Image credit: Joe Maring / Android Central)
If you're looking for a new smartwatch here in mid-2020, there are a ton of options available to you. From Wear OS to Fitbit and Galaxy Watches to Garmin wearables, your choices are seemingly endless.
One of our AC forum members recently shared that they're in the market for a new smartwatch, but given everything that's out there, they aren't exactly sure where to turn to. They said that they're looking for something powered by Wear OS, but this quickly got some of our other members to counter that point with other suggestions.
This got us to wondering — Do you still use a Wear OS smartwatch in 2020?
Join the conversation in the forums!
Android Central Newsletter
Get instant access to breaking news, the hottest reviews, great deals and helpful tips
Joe Maring was a Senior Editor for Android Central between 2017 and 2021. You can reach him on Twitter at @JoeMaring1.
I have one, a Fossil Q Founder, but I wear my cheap $40 "Amazon Special" watch most days due to the type of work I do. I dont want to damage my good one.

I use to alternate between Wear OS & Galaxy, but now I wear Galaxy nearly 100% and now occasionally wear my Pebble for fun

Waiting patiently for a Google pixel watch to go with my pixel phone. I am partially considering a Fossil Sport Wear OS watch because I'm into fitness. I am currently enjoying my Mi Band 4 watch in the meantime.

The MiBand is pretty amazing for the price.

Had a Samsung with Google wear, sold it after a few months. Terrible. Now happy with my Amazfit Pace and Stratos. Also use the good ole Pebble watches too.

I haven't used Wear OS since the original Huawei Watch. Don't miss it.

I just bought one of those Misfit Vapor X watches that was like $20 with a separate band, so I guess the answer is yes.

I still use mine. It's not perfect but it serves my needs. I got a fossil sport for $50 refubished so it was well worth the cost

Why would anyone be using a Wear OS smartwatch over a far superior Apple Watch?

Can you load custom watchfaces? is there a round one?

Needs and cost. Not to mention appearance. Apple watches are ugly. Everytime I see them I think they're square shape is a big mistake!

Maybe in ioscentral.com I've never really hated Wear OS. Despite all the bugs (bit better now), it's quite feature-rich with many apps (hopefully there'll be more incentive in the future though). You can even dig deep and use ADB or something. I can definitely use a Samsung watch as well, though I switched after getting into Chromebooks and went further into the Google ecosystem. In case it's not clear for some reason, you can't even use an Apple Watch with *Android*.

Not everyone uses iphones, i would pick an apple watch if it works with android phones.

Price, price and price, you can't get anything like a good quality Apple watch for 50 quid

Apple watches are pretty ugly. And pricey.

I had 3 android wear watches. besides the fact that google doesnt seem to know where they are going with wear os, they were all plagued by the same issue. Terrible battery life. Now i have a galaxy watch active and after nearly a year i still don't miss wear os. I wish there was a real google maps maybe but there's a 3rd party workaround that is close enough. And can wear it all day and still have 40% battery left. I couldn't even go 12 hours on my last wear os watch after a year.

The custom feature on Fossil Gen 5 gives me days of battery life.

maybe if you turn off the watch face.

I don't understand why people are not into wear OS to be honest. I used to have an lg watch R for years and now I have a fossil gen 5 watch. Both brilliant. Especially the fossil looks amazing, very thin, waterproof, and the battery lasts for a day or 2 depending on usage. I have the screen always on as well and I do lots of exercise. Nothing wrong with it. And it looks so much better than the Apple watch. I got my wife the sport as well for £80. Still really good watch and waterproof as well.
I used the galaxy watch and Fitbit in the past. They are good but I don't see why they are better than the wear OS.

Yes I have Fossil Carley HR 2280.
It's nice to have a watch that looks like a watch. That I can pay with and for my use has good enough battery life.
I tend to put my phone on silent so to see my text come in is really important to me.
Taking calls on it though is ridiculous. And I really don't use the exercise portion of it but I do like that it counts my steps.

Now that Samsung is moving away from Health Features in their watch, I am more open to what's out there for Wear OS.....

I use both Ticwatch E and Mi Band 3. Ticwatch E have more accurate step detection, but for continuous heart rate, i prefer using Mi Band 4 TwE is noticably slower than any device that i use, but I don't open play store or any heavy app too often so i don't care that much.

Yes, a Fossil Gen 5, but I regret it. Google shows no signs of wanting to improve WearOS.

I have the MiBand 4 and just purchased a gently used Fossil Gen 5 Carlyle off eBay. Very happy with the Fossil. No lags, works great, excellent battery life, easy to send text responses too. Played with the call feature and not bad at all. GPS worked well. Gorgeous device too. We have owned many Samsung products and some have crapped out. Son has the Samsung Frontier and is happy with it. I preferred to have Google Pay and stay with the same ecosystem since I have a Pixel device.

I'm still wearing my first gen Huawei watch after 2.5 years. Still looks great, battery holds for a day, and supports some great watch faces. How do I use it? For looks, comfort, notifications, and time. I use my Fitbit Versa 2 for exercise and the like. After multiple "smart watches" (prior being a Pebble and Zenwatch) I believe they are best used as a secondary display, rather than getting fancy and overloaded with apps that add very little. It still keeps my phone in my pocket for a bit longer than not wearing one, which is a good thing.

Yes. I like it. I own the fossil Gen 5 garret.

I've got a gold Michael Kors smartwatch I bought off eBay a while ago. It lets me keep up with my appointments, tells me the weather, has a step counter and lets me activate routines using the Google Assistant. I'm sure it's outdated by now, but really my only complaint has been the battery life. The thing can barely hold its own for a twelve hour period, and that's with minimal usage. If it could run for a full day, I'm sure I would never even look at another watch. It's just a matter of expectations, I guess.

Samsung watches run all day and then some. With the watch face turned on the entire time.

I've thought about a Samsung watch, but don't they use a different OS that's incompatible with Google Assistant and the smartphone Google apps I use, like Google's calendar and such?

I still have the original Asus ZenWatch
My plan is to get Withings - ScanWatch Smartwatch when available in the USA
Android Central Newsletter
Get instant access to breaking news, the hottest reviews, great deals and helpful tips
Thank you for signing up to Android Central. You will receive a verification email shortly.
There was a problem. Please refresh the page and try again.