Do you prefer Samsung or OnePlus phones?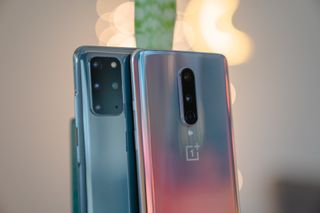 (Image credit: Hayato Huseman / Android Central)
Two of the most notable companies in the Android space are Samsung and OnePlus. Both regularly offer some of the best handsets the market has to offer, including the Galaxy S20, OnePlus 8, and more.
Samsung and OnePlus phones aim to deliver a top-notch Android experience through and through, but both brands go about doing this very differently.
Some of our AC forum members recently got to talking about how OnePlus and Samsung compare, saying:
Now, we want to hear from you — Do you prefer Samsung or OnePlus phones?
Get the Android Central Newsletter
Instant access to breaking news, the hottest reviews, great deals and helpful tips.
Joe Maring was a Senior Editor for Android Central between 2017 and 2021. You can reach him on Twitter at @JoeMaring1.
I prefer the stock'ish feeling

Having used both. I would rather have my 6T back. The S10e is not bad but Samsung limits it but also offers a lot of extras but what they do offer I really don't use.

Samsung now days. Back when OnePlus had an led notification light I liked them better (The OnePlus 3T was my favorite phone). Now they don't use a notification light and don't have always on display so the phones are kind of useless to me which means of those two choices Samsung gets my vote.

For the actual hardware i used to prefer OnePlus, but since they now basically just make knock-off galaxy S devices you may as well just get the real thing. There are things I miss about oneplus phones, though.

for an extra couple of hundred dollars.

OnePlus by far, because they don't shove unwanted bloatware like Samsung does with their inferior browser and app store that I don't need or care about and the fact that Oxygen OS is very close to stock Android with extra customisations and features that stock Android desperately needs. I don't think I'll ever buy Samsung until their software is more like OnePlus' Oxygen OS.

Neither. Overpriced and not offering anything exceptional for the prices they charge. Especially on their flagship phones. There are alternatives outhere, more reasonably priced and just as good or better.

I hate to say, I agree. I've been using a 5T for nearly 3 years. It's an incredible phone. I just bought the OnePlus 8 Pro with high expectations. I was disappointed. Don't get me wrong, it's a very nice device. But for me, it's not a $1k nice device. I left the Samsung train years ago. I expect a mediocre device experience for a high price tag with Samsung. I expect a low price tag with a great experience with OnePlus. The 8Pro wasn't it for me. The battery life was not good enough with the 5G and 120hz screen on. You can disable both but then what's the point?! It's like having an OP6/7 at that point. Which can be had for far less than $1k. I am still sticking with OnePlus because they are quality devices, root friendly, unlocked and unlocked bootloader, Dash and Warp charge are phenomenal, they include a basic screen protector and a basic case along with the phone. They're doing a lot of things right. I'm hopeful for the upcoming OnePlus Z/Nord that should be equipped with 5G for under $500. OxygenOS is the best experience I've had. I've had Nexus and Pixel phones as well as Samsung. OxygenOS takes all the good from every world and strips out the nonsense. It's extremely stable. I decided to order a new (Canadian) battery for my 5T. I suffer from some screen burn and lag at this point (110/111gb used). I'm going to take the waiting for Nord opportunity to do a full nandroid backup of my device, wipe it entirely and flash Android 10. Maybe even the Beta if that seems stable. It'll be like having a new phone without spending anything and that can hold me over to burn the screen some more. Hands down this is the best phone I've ever had. The Nexus 6P was a war machine too but it's not half the phone this 5T is.

Can one make a Samsung look and feel like a Pixel? Meaning, pure Android and no bloat ware, but rather the Google experience.

Ah the elusive Google Play edition Samsung Galaxy. That's all we want and our search for the perfect device will be completed.

I've never used a OnePlus device before so my opinion is just what I've gotten from testing it out in a carrier store and from when I used to obsessively read and watch reviews on phones from the 2016-2019 era.
OnePlus reminds me of the Moto Z from 2016 that I used. Minimal bloatware with a few cool add ons. All of which I'd prefer over the Pixel and real Stock Android. The off screen knuckle tap gestures are definitely much appreciated tricks, reminiscent of my first phone, a budget LG.
During Touchwiz or even Experience, I think OnePlus probably would have had a surefire win. But with One UI I think Samsung really takes the cake. The biggest thing it does well is the one-handed usability. While it really only works on Samsung's own apps (well some of thing, the important ones at the very least), it makes using the Note 9 I have so much easier. With phones all getting so much wider and taller, this focus on one handed use is stellar. In addition since I'm not the greatest with technology, good enough to be used as my family's mobile troubleshooter and giver of phone tips, but not to actually root my device or even create my own stuff on Tasker, KLWP, or KWGT. Good Lock, a downloadable extra from Samsung gives me an easy way to tinker with my phone, to customize it even more to my liking. It hits the perfect spot between functionality and ease of use, for me. Yes, there is the issue of bloatware, but it's not the duplicates from Samsung that annoy me, I'm actually okay with redundancy for some of the apps, but it's the preloaded carrier ones.
Design wise prior to the Note 10s, I think they were on pretty equal footing, though I really liked the 7 and 7t pros. This year I think OnePlus absolutely smoked the Samsungs in design.
So in conclusion, I prefer Samsung over OnePlus for the most part, because of the software(oddly enough).

I was a big time Samsung user since the Galaxy S5, all the way up to the Galaxy S10, then when I was ready to upgrade my phone I was on YouTube looking at the New Upcoming phones, that is when I first heard of the One+ Pro. I was hesitant about buying something that I never heard of. After reading lots about it, I decided to give it a try. I bought the One+ 7 Pro and yes it did have some glitches like the fingerprint sensor not working right and the not receiving messages from Verizon very well, so I started just using the Messages app from Google and no problems there. Phone boots fast, charges fast, picture quality is amazing, not so many unnecessary apps installed. I really liked the phone! I'm going to upgrade to the new One+ 8 Pro.

I currently use the 1+ 7 Pro. Great phone! Hate the CURVED GLASS on the screen. Tired of waiting for the Pixel 4a and it seems that the 1+ Z (Nord, or nerd or whatever) may not even come to the US. So... I have decided to get the S10e from AT&T for $10.00 per month ($300.00) total on credits. I only went with this phone for the flat screen, headphone jack, and symmetrical cameras on the back. Might be stupid reasons for some but I am technical enough to make any phone work well for me. Besides, this will be my 2nd new Samsung phone. I think my 1st was the S7, or S8...can't remember but it was about 6 years ago. Had a used S5 as a backup phone for awhile but sold it. So we'll see how it goes with the S10e. Hoping that the bloat from AT&T is not too bad. All I ever buy is unlocked phones but this time I couldn't resist trying this one out since it's only $10.00 per month. If I hate it...I'll return it.

Are cletis and Hansen paid commenters? They pop up in articles like "look what the forums say"

Samsung. Unlike most people, I actually see value in the features One UI has over Oxygen OS, especially those related to multi-tasking and customisation. But more than anything, it's cos Samsung still makes smaller phones as opposed to OP whose phones are just oversized. Since I prefer phones that are smaller and easier to handle, I went with the S20. My only complaint is that Samsung really needs to drop Exynos and just give us Snapdragon SoCs, and improve the battery life. As much as OOS is great, I'll stick to Samsung.