Do I need more than one Google Home?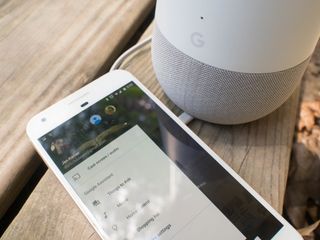 Google Home makes it easy to control your connected home. So what do you do when multiple people in the house all want to use your Google Home at the same time? Well, you pick up a second — or third! Having multiple Google Homes only increases your benefits, and we have the details for you here!
Do I really need more than one Google Home?
The first question that you might have is whether investing in more than one Google Home is actually worth it. Depending on the size of your living space (and how many people inhabit it) one Google Home may be more than sufficient. This is especially true if you don't really have much by way of connected home hardware.
However, if you've got a decent-sized house, then having a different Google Home in your living room, kitchen, and bedroom can seriously pay off. That's because connecting your smart home devices and using an app like IFTTT (opens in new tab) means that you can pull some added capabilities off of your accessory.
So if you have Hue lights in your bedroom, you want Google Home to read you a recipe while you're making dinner, and your partner wants to jam out to Spotify in the living room, all of those things are possible at the same time. The need for more than one Google Home is definitely personal, but if you want to get the most out of your technology, then having more than one is definitely a solid option.
What are the benefits of having multiple Google Homes?
If having more than one Google Home seems like the answer to your prayers, then you aren't on your own. Being able to play music in one room, while doing something entirely different in another room can make a pretty big difference. Especially if you are one of the people who get used to asking Google about the weather, your commute, and other information before you even leave the house.
Being able to have a different Google Home in each major room of your house means that no matter where you are, you have access to the information you need with just a question. This also means that if one person is listening to Spotify or an audiobook, they don't need to be interrupted if you need to know just how hot it actually is outside.
What if I only want one Google Home?
If you're really happy with your single Google Home, then strictly speaking there isn't any necessary reason to pick up another one. While you can only really do one thing at a time with Google Home, you should be pretty solid. Thanks to multi-user support, you can have several people connected to Google Home, and it will recognize their voices separately.
Google Home can support up to 6 users at a time and is able to tell who is speaking to it. This means it can also access specific accounts linked to a user without needing a separate accessory. While you can't play music and get a recipe for dinner at the same time, Google Home will remember background tasks you asked it for. This means you can set a timer while your partner listens to Spotify, and Google Home will pause the music when your alarm goes off.
For folks who live in smaller residences, live by themselves, or lack Smar thome hardware, then a single Google Home ought to be more than enough to help you keep track of everything going on in your life.
Questions?
Do you still have questions about whether or not more than one Google Home is a solid idea? Have you picked up a second Google Home? Let us know about it in the comments below!
Jen is a staff writer who spends her time researching the products you didn't know you needed. She's also a fantasy novelist and has a serious Civ VI addiction. You can follow her on Twitter.
No I don't think anybody needs more than one. Actually I don't think anybody needs even one but that's just me.

Yup. This is one of those articles Jen is going to look back on in a year and wonder "Why was I pimping so strong for Google!?!!?". One useless fad was fun! Let's double down. How about one for the car too?

Ironically, i think the only way to use these is to have one in EVERY room of your house. What good is some helpful thing i can shout commands to and have it automatically do all this awesome stuff for me, if every time i want to say "hey google" i have to stop and think first - "oh wait, am i in the one room where i can do that right now?" and 5 out of 6 times (assuming you have 6 rooms)...the answer to that thought is..."crap, it's not in this room...nevermind."

also you can create a group of them and play the same music all over the house.

"I'm sorry, I don't know how to do that, but I'm still learning" I don't use this thing much, still an infant

just like with the Echo the more you use it the better it gets, actually in some cases she is still better than my Echo because when I asked it for the hours of a Bird Store I go to in Totowa she handled it perfectly while Echo kept telling me the hours for the Bird Store in Chester

Only need one as the phone does many of the tasks needed if I'm out of earshot.
Picked up an echo dot for upstairs and so far am not impressed compared to GHome however I am in Canada so there are limitations in place. Alexa wakes up far too often when she isn't being addressed. Unacceptable seems to be a consistent trigger word.

I have two Google Home units now, but would add two more for the kid's bedrooms if a few more functions were possible. For example, I would love to be able to give a command on one Google Home for an action on another. For example, from my bedroom or Living room, I would like to be able to "set an alarm in the kid's room". It would also be great if they could be used as an intercom system of sorts to communicate with someone on the other side of the house.

Yes, good points. I have one now and i love it. But this would make it so much better and entice me to get another one.

I have one in my kitchen/living room area. But down in my office, I have a Raspberry Pi with Google's AIY kit installed which works great as a second Google Assistant. I have a speaker and TV with Chromecast in that office so it is easy to "Play WNYC on my office speaker" or "Play Breaking Bad on Netflix on my Office TV". I also have several groups of Chromecasts so from either place I can "Play music on all the speakers".

Does your pi have an always on mic or do you have to hit a button to talk to it? I've been looking at this, but haven't seen an always on mic....

Always on. The latest version of the SDK allows you to use "OK Google" or "Hey Google". I have the $4 USB mini microphone from Adafruit and $10 speakers. Not highest quality but hey, it's Raspberry Pi. It works and I actually appreciate the fact that the microphone can only pick up audio from inside my office. That way it doesn't interfere with the one upstairs.

Perfect. Thank you so much. This is exactly what we want to do as we don't need a fancy speaker - just our own little Google Home Dot.

As malimal says, you can connect multiple Homes to play music over your entire house. It's a bit more than that, Google Homes, Chromecast Audios, and Chromecast audio built-in to selected receivers (like my Onkyo TX-NR676) can all be connected in various combinations of Chromecast Audio Groups to play over selected portions of your house or your entire house. I have three Homes, two Chromecast Audios and my Onkyo receiver defined in various combinations; upstairs only, downstairs only, office & workshop, whole house; so I can drop music, podcast or radio anywhere I want. Note that today only, the Google Store on eBay is offering a new Google Home AND a new Chromecast (video, not audio) for $99.99. This is the best deal ever on a Home, so grab it before it's sold out.
http://www.androidcentral.com/e?link=http2F2Frover...

Meh.. I wanted one of these things so bad, but was waiting for the vendors to catch up with the tech. They finally did, and I then wanted to wait for the inevitable version two (later this year)... but I couldn't wait; picked one up about a month ago. I used it the first two days, and never since. Functionality: This thing can hear you pretty well in a quiet room, but the truth is that it can't decipher your voice as good as your phone (likely due to proximity). So if you're looking to check the weather or your schedule, you're truly better off just asking your phone. Not to mention, it can't hear you in loud areas... So it's basically useless in the most convenient room of my house (my living room) because it can't hear me over my t.v. Guess what can? My phone (also, likely due to proximity). It is use full for smart house functionality (i.e. lights, nest, etc)... but again, that's only if you're in a relatively quite room. What's the point if you have to pick up your remote to pause the t.v. or your music to say a command?? At that point, you're probably better off controlling all of these functions via your phone, without disrupting your music/tv. Music:
Google home can play music pretty loud; sound quality is good enough. But my current bluetooth speaker (two years old) can play even louder, with better sound. Not to mention, my current bluetooth has a charged battery and can be portable from one location to another (without a plug), whereas Google Home needs to be plugged in. You can pick the initial song by voice command, but that is it; once music is playing, it can no longer hear further commands. That said, changing, skipping, or stopping music must be done via hand/phone. In other words, it's less capable of voice commands for music, than your current bluetooth (as you can command all music functions through voice on your phone). It can connect with multiple Google Home speakers to play throughout your house, but you can also do that through the Google Chromecast for music for way cheaper. I don't really get the buy in for that function any way; I don't want to play music up stairs when I'm downstairs, but whatevs. So it's kind of a weird tech for me. I love adopting this kind of stuff (really, I do)... but at this point, it just seems gimicky (after the purchase). It's also ugly as hell. I don't want an Alexa; I prefer to keep this type of tech with Google (and expect Google to way outshine Alexa), but Alexa sure as hell looks better. Google home looks like an air freshener,... it's just dumb looking. haha... I know, super cynical, but it is what it is. Cool to have I suppose, but not really useful at all.

Mine can hear pretty well. It even hears me when my surround sound system is on. I think it's good for what it is. I would just use my phone more often, but you can't wake the galaxy S8 up with ok Google so it's an extra step.

I have no problem getting mine to hear, and I can skip or change songs as well. Maybe it's where yours happens to be placed?

Maybe it Bahwees pwobwem.

I've heard the mics on these things are pretty good. What happens when two of them hear you at the same time...? My wife has bought me one for my Birthday (not allowed it yet), and I was gonna put it in my kitchen. But I was hoping it would hear me from other rooms in the house.

I don't think this article answers my question: "If I have one in my bedroom, do I need one in the Living/Family room of an apartment/townhouse?" Or is an Android phone good enough? If I have Hue lights in the bedroom and living room, I don't want to be shouting for something thanks

Of course I need more than one Google home. I need one for the penthouse, one for my summer home, one for the beach house, one for the yacht ("Google, plot a course for The Marquesas").. :p ...i expect hotels to offer some kind of always listening concierge service soon. "Hilton, two orders of the truffle venison, a side of baked brie and an appropriate wine, send it to my room in half an hour." (Presumably Google will know your wine history with their sommelier service)

I second this notion! Ironically, i think the only way to use these devices - especially the much less expensive Echo Dot - is to have one in EVERY room of your house. Why?...because to me - What good is some helpful thing i can shout commands to and have it automatically do all this awesome stuff for me, if every time i want to say "hey google" i have to stop and think first - "oh wait, am i in the one room where i can do that right now?" and 5 out of 6 times (assuming you have 6 rooms)...the answer to that thought is..."crap, it's not in this room...nevermind." Obviously at this price point, it's best to add more of them over time and keep an eye out for sales. But i have a Dot in every room now and it makes so much sense!
Android Central Newsletter
Thank you for signing up to Android Central. You will receive a verification email shortly.
There was a problem. Please refresh the page and try again.