Do I need more than one Google Home?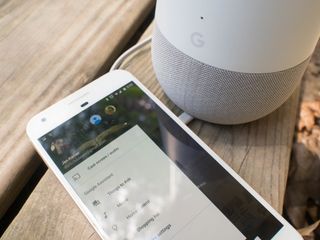 Google Home makes it easy to control your connected home. So what do you do when multiple people in the house all want to use your Google Home at the same time? Well, you pick up a second — or third! Having multiple Google Homes only increases your benefits, and we have the details for you here!
Do I really need more than one Google Home?
The first question that you might have is whether investing in more than one Google Home is actually worth it. Depending on the size of your living space (and how many people inhabit it) one Google Home may be more than sufficient. This is especially true if you don't really have much by way of connected home hardware.
However, if you've got a decent-sized house, then having a different Google Home in your living room, kitchen, and bedroom can seriously pay off. That's because connecting your smart home devices and using an app like IFTTT means that you can pull some added capabilities off of your accessory.
So if you have Hue lights in your bedroom, you want Google Home to read you a recipe while you're making dinner, and your partner wants to jam out to Spotify in the living room, all of those things are possible at the same time. The need for more than one Google Home is definitely personal, but if you want to get the most out of your technology, then having more than one is definitely a solid option.
What are the benefits of having multiple Google Homes?
If having more than one Google Home seems like the answer to your prayers, then you aren't on your own. Being able to play music in one room, while doing something entirely different in another room can make a pretty big difference. Especially if you are one of the people who get used to asking Google about the weather, your commute, and other information before you even leave the house.
Being able to have a different Google Home in each major room of your house means that no matter where you are, you have access to the information you need with just a question. This also means that if one person is listening to Spotify or an audiobook, they don't need to be interrupted if you need to know just how hot it actually is outside.
What if I only want one Google Home?
If you're really happy with your single Google Home, then strictly speaking there isn't any necessary reason to pick up another one. While you can only really do one thing at a time with Google Home, you should be pretty solid. Thanks to multi-user support, you can have several people connected to Google Home, and it will recognize their voices separately.
Google Home can support up to 6 users at a time and is able to tell who is speaking to it. This means it can also access specific accounts linked to a user without needing a separate accessory. While you can't play music and get a recipe for dinner at the same time, Google Home will remember background tasks you asked it for. This means you can set a timer while your partner listens to Spotify, and Google Home will pause the music when your alarm goes off.
For folks who live in smaller residences, live by themselves, or lack Smar thome hardware, then a single Google Home ought to be more than enough to help you keep track of everything going on in your life.
Questions?
Do you still have questions about whether or not more than one Google Home is a solid idea? Have you picked up a second Google Home? Let us know about it in the comments below!
Get the Android Central Newsletter
Instant access to breaking news, the hottest reviews, great deals and helpful tips.
Jen is a staff writer who spends her time researching the products you didn't know you needed. She's also a fantasy novelist and has a serious Civ VI addiction. You can follow her on Twitter.