The DJI Osmo Mobile 2 gets better, longer lasting and a ton cheaper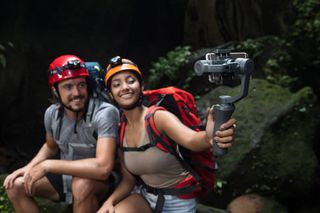 DJI is best known for its range of drones, but at CES 2018 the company's focus is away from the skies and into your hand. Along with a new gimbal designed for DSLR and mirrorless cameras, DJI has introduced an all-new Osmo Mobile (opens in new tab) to stabilize all your smartphone videos.
And the biggest news of all is the new price: $129. No, that's not a typo.
The first generation Osmo has been around for a couple of years and even today remains an incredible product loved by mobile videographers the world over. But it had its downsides. The price was the biggest, costing $299 when it first launched.
The DJI Osmo Mobile 2 looks like it takes most of the criticisms about the first model and throws them in the garbage. For starters, it's $129, a huge price cut on what you can still buy the original model for today. It's also lighter, and thanks to the shift to an internal battery, lasts for up to 15 hours per charge instead of 5. The tripod mount is now on the bottom where it should be and thanks to the built-in USB port you can charge your phone from the Osmo.
The Osmo Mobile 2 gets some new features too, with an integrated zoom control joining previous favorites such as active tracking and motion timelapse. But perhaps one of the biggest new additions for the social media generation is support for portrait video. So now your Snapchat and Instagram Stories can be silky smooth forever more.
The Osmo Mobile 2 is set to go on sale first through the Apple Store where pre-orders will begin on January 23. From February it will become available directly from DJI and authorized resellers, as well as enjoying expanded availability from Apple in more regions.
Get the Android Central Newsletter
Instant access to breaking news, the hottest reviews, great deals and helpful tips.
Wow! I'm guessing other options the Zhyun Smooth Q has been incredible competition for the original Osmo.

Pretty sure this is them trying to stay competitive after the Smooth Q made them look foolish.

How will does handle big phones like the Note 8? I don't use my first Gen anymore cause it overheats when I use it with the Note 8...

Only time will tell. Did you try using a counterweight with the Note 8? I know that when some folks used their phones with clip on lenses it had a similar effect because it couldn't balance properly. Even taping a stack of coins to the gimbal seemed to work, but Moment sells an actual counterweight designed for the Osmo Mobile.

Richard is correct! I have the Smooth Q paired with my Pixel 2 XL using the Moment phone case and 2 lenses (wide and tele). In order for the Smooth Q to support that payload, I made a counterweight for proper balance. It works like a charm! My concern with the Osmo Mobile 2, is will it work well with Android-powered devices? I didn't get the first one after reading reviews that it did not. At this price point, I may pick one up to see how well it works. If it doesn't, I'll return.

Well this is an instant buy for me. Can't wait to get out there and create.