DIY Security Cameras: Comparing Cloud Storage Costs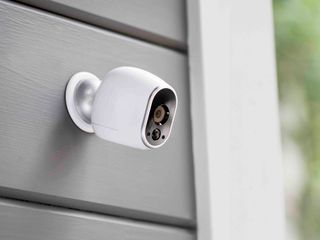 So you got yourself one of those off-the-shelf home security cameras. Good for you. Because there are a lot of great ones out there that make it simple (and relatively affordable) to keep an eye on your abode.
But the hardware is just one part of the purchase. Pretty much every single company that's selling you this magical peace of mind is also pushing some sort of subscription plan. (And, again, we're talking plug-and-play cameras here — not the more hardcore IP cameras.)
While the basic principle is the same for all of these cameras and all of these companies — you'll pay a premium for cloud storage of videos, and possibly smarter monitoring — it's the pricing that can differ.
Here we'll break down the pricing from the more popular providers, and give a little analysis on each.
Nest Aware
You get a free 7-day Nest Aware trial (opens in new tab) with any Nest camera, which is nice. Nest will record everything and save it for either 5, 10 or 30 days. Along with that you'll get more intelligent alerts and notifications if a Nest Cam spots a person (versus, say, a pet), or if the Nest Hello doorbell or Nest Cam IQ sees a familiar face (that you've trained it to recognize.
Here's the breakdown:
5 days of recording: $5 a month or $50 a year
10 days of recording: $10 a month or $100 a year
30 day of recording: $30 a month or, $300 a year
Those prices are for the first camera, and Nest doesn't have an all-you-can-eat option. However, adding you do get a discount when adding Nest Aware to additional cameras. Additional 5-day subscriptions are $30 a year, 10-day subscriptions are $50 a year, and 30-day subscriptions run $250 a year.
Nest's subscription plans are not inexpensive. But nothing about the Nest ecosystem comes cheap. It is, however, really good.
Nest Security Camera
The simplest of the Nest cameras starts at $199 (though it's often on sale at Amazon) and is also one of the more discrete cameras Nest offers.
Ring Protect
(Note: Amazon has agreed to purchase Ring, and it's unclear whether that'll affect the following prices. We'll update if so.)
Ring made its name with video doorbells and since expanded with a number of camera options. They all take advantage of the Ring Protect subscription service.
Ring Protect Basic is $3 a month, or $30 a year. That's a per-camera price. With that you get video recording for up to 60 days. You can review that video at any time, and you can download and share videos. You get a free 30-day trial as soon as you activate your Ring camera.
Ring Protect Plus is $10 a month, or $100 a year. You get the same video recoding and sharing features, but for an unlimited number of cameras. You'll also get a 10 percent discount on additional Ring devices, and an extended warranty for as long as you have Ring Protect Plus.
If you're going to have three or more Ring devices, you'll want Ring Protect Plus. It's a no-brainer at that point. At the very least, though, you'll need a Basic plan to get good use out of a Ring product.
Ring Spotlight Cam
Ring has a number of camera options in addition to its excellent video doorbells. The Ring Spotlight Cam (pictured here) runs $199 and lets you hear and talk to folks on the other end, as well as sound an alarm.
Amazon Cloud Cam Plan
Amazon has what's generally considered to be the least expensive option for DIY cameras, and its subscription plans follow along the same path. (Full details are here (opens in new tab)
The Basic service runs $6.99 a month, or $69.99 a year. You'll get 7 days of video recording for up to three cameras.
The Extended service is $9.99 a month, or $99.99 a year — and you can get a free 30-day trial to see if you like it. With it you get 14 days of monitoring for up to five cameras.
The Pro plan is $19.99 a month, or $199 a year. With it you get 30 days of recording for up to 10 cameras.
It pays to be in the cloud storage business, I guess. Those prices aren't bad at all.
Amazon Cloud Cam
Amazon Cloud Cam is competitively priced at $199, and the sort of basic camera system that a lot of folks should enjoy.
Arlo
Arlo's camera system lacks a sexy subscription name. And maybe that's a good thing, because it's also among the most affordable, with three tiers from which to choose. (Get more details here (opens in new tab).)
The Basic plan is free. With it you get seven days of recording for up to five cameras, with limited support for three months. Nobody else comes close to offering that.
The Premiere tier is $9.99 a month, or $99 a year. You get 30 days of recording for up to 10 cameras, and unlimited support.
The Elite tier is $14.99 a month, or $149 a year. With it you'll get 60 days of cloud recordings for up to 15 cameras.
Those are some seriously compelling options.
Arlo Pro 2
An Arlo system with two cameras and the required base station runs about $479 on Amazon.
Logitech Circle Safe
Logitech (yes, the company that makes mice and keyboards) also has an excellent stable of DIY cameras, and some decent plans to go along with them. (You can check them all out here (opens in new tab)
The bottom two tiers have the same features. Circle Free is, as the name suggests, free. You'll get a single day of recording (but unlimited streaming, downloads, events, alerts and a time lapsed "daily brief.")
Upgrading to the Circle Safe Basic plan ($3.99 a month, per camera) gives you all that, but with 14 days of recording.
The Circle Safe Premium plan is $9.99 a month, or $99.99 per year, per camera. It adds on custom daily brief time lapses, person detection, motion zones, and advanced event and alert features.
For casual monitoring that mid-tier plan should do a lot of folks quite nicely.
Logitech Circle 2
The Logitech Circle 2 is one of the top-rated do-it-yourself home security camera systems. You can find it for about $175 on Amazon.
Android Central Newsletter
Get instant access to breaking news, the hottest reviews, great deals and helpful tips
What a great but long article to explain that you should not get any of these overpriced cameras.

You did not do a comparison here, you listed (some of) the plans available and none of the features, and left it to the reader to make comparisons.

That's because this is just a bunch of affiliate links masquerading as an article.

Which seems to describe about one out of every five posts these days.

Unfortunately, you seem to be right. As tech sites go I much prefer Engadget and the Verge. Neither site has as many affiliate links. The only affiliate links are when the Wirecutter posts an article, and those I don't mind because they have actually done hands-on testing. I guarantee you Phil has not tested all the cameras in this article. He couldn't even be bothered to create a comparison chart of the various fees.

Should have included Blink cameras. (now owned by Amazon too) It's cloud storage is free!

I did my research about six months ago and picked the Arlo system. So far I am happy with the performance. 7 day free video storage and instant notification if the camera picks up any movement. Plus SD card in the base for permanent video storage.

I have Arlo & Blink but both have cons. Arlo batteries only last me a couple weeks and it's pretty slow. I don't like how blink can't record and show live video at the same time. I'd never pay a monthly fee even if it was pennies.

Would have liked to have seen Canary included.

Arlo cameras are the way to go. I get more than a month from the rechargeable batteries and you have local and cloud storage for free for 7 days and up to 5 camera's. Also the older Arlo Pro's(720P) are only $149. I get a notification (Baby "I am Groot") and I open the app to see if it's a delivery van or someone else. Also chat with my wife or the housekeeper via the inside camera. I have been keeping an eye on the 1080p Arlo 2's waiting for a sale. Phil could have done a solid by pointing out in the first paragraph how the arlo's 7 day basic plan blows the other plans away. If I don't know my house had been compromised within an hour of it happening, it's completely on me. They also put the 30 day plan on sale at $4.99 frequently the next time that happens I'm going to opt in. Since it also covers support. Speaking of support I have used the one year warranty and had one camera replaced already , it was painless and they sent me the new camera first with an RMA for the glitchy one, I paid shipping.( It worked fine and recharged , it just reported it's condition while being charged wrong) If it was out of warranty I just would have kept it. Started with 2 to test them, but at this point I have 3 and will add a few more since I'm happy with them and they have held up through heat ,cold wet, and snow. I do have the option to hard wire the power for the cameras outside and may do that.

How good is motion detection on Arlo? I hate it when daylight changes, it triggers motion on most cameras I've seen. I've heard that if one walks up/walks by it (can't remember which one, Amazon users also confirmed), Arlo doesn't trigger anything? All of the talking feature you listed, except for battery feature, a $20 camera could also do it with free 7-day cloud storage.

Okay, you COMPLETELY missed Blink! Its cloud storage is also free, there is no paid subscription, its app has one of the most user friendly UIs of any IMO, and one of the lowest up front costs while one of the most comprehensive security packages. I know you guys know about it because you've written about it before: it is what I use at my home and has helped me prevent a break-in in the past. It was recently bought by Amazon; you wrote a story about that, too (I can't post links yet, or I'd share the link to your article here)
Android Central Newsletter
Get instant access to breaking news, the hottest reviews, great deals and helpful tips
Thank you for signing up to Android Central. You will receive a verification email shortly.
There was a problem. Please refresh the page and try again.