Are Nest Products Worth it?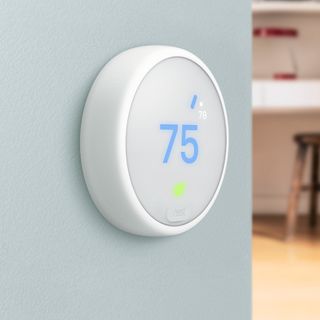 Nest is the Apple of all things that aren't actually Apple. That is, Nest products look really good, work really well — and probably cost a good bit more than something that doesn't look as good and work as well.
And that makes sense when you remember that Nest was started by one of the guys who helped make the first iPod.
No, there was ever going to be anything boring about Nest as a company. From the internal struggles we've seen (and those are just the things we know about publicly) to the purchase by Google and shift to the Alphabet system and return to Google proper — no, it's not a boring company.
The product side certainly stands out, too. Space-age thermostats. Smoke detectors that do far more than deafen you. Intelligent cameras. An alarm system you'll actually want to use. And, soon, a doorbell.
No. There's absolutely nothing at all boring about Nest.
The Nest Thermostat
It's not surprising that the first Nest Thermostat — the company's first (and for a long time its only) device — stood out as much as it did. It didn't look like any sort of thermostat you'd ever seen on a wall before. There was (and still is, in its third iteration) nothing bland about it. A brushed metal ring surrounding a color display. OK, it's maybe a nod to the really old circular thermostats we had when I was a kid. But it's no more than a nod. It's the home Thermostat, designed for the 21st Century.
It's also not inexpensive, at $250. It'll save you as much money over its lifespan, though. It's also easy (and intuitive) to use. And, dammit, it just looks cool as hell.
Same goes for the less expensive ($170) Nest E Thermostat. It's not as shiny, more Art Deco Miami than shiny New York. But it's nearly as capable for 30 percent less.
Worth it? Absolutely.
Nest Learning Thermostat (3rd generation)
The third generation of the Nest Thermostat has the biggest display to date and does an incredible job of regulating the temperature of your home — whether you're there or not.
Nest E
The Nest E is the less expensive version of the Nest Thermostat. It's got a more muted design and display. The biggest difference besides the price is that Nest E doesn't have the "Farsight" feature to show you the temperature, time or whether as you're on the other side of the room.
Nest cameras (indoor and outdoor)
Cameras are a dime a dozen these days. You can spend as much or as little as you want to be able to monitor things inside and outside your home. The question is how easily do you want to be able to monitor things, how much online backup you need, and how much you'll want to spend doing both.
Again, Nest cameras aren't the least expensive available. The basic Nest Cam Indoor and Nest Cam Outdoor run $200 each. Nest Cam IQ Outdoor ranges up to $350 apiece. But as the price increases, so does the intelligence of the product. So you have your choice of how stringently you want to monitor.
Same goes for the Nest Aware Monitoring service. Five days of camera recording for $5 a month, or $50 a year. Ten days of online video history runs $10 a month, or $100 a year. If you want 30 days, that's $30 a month, or $300 a year. But prices are per camera. And it adds up quick, even with additional cameras added for half the price. (Though the lowest play — which is brand new as of this writing — lessens that blow a bit.)
Is it worth it? Yeah. But the cost adds up quickly. You'll probably want to be a little selective if need multiple cameras. (Nest should really come up with a more affordable solution here.)
Nest Cameras
Nest Cameras range from $199 at the low end — for both indoor and outdoor — to a whopping $350 for its smartest outdoor model. But they're easy to set up, easy to use, and smart as anything else in your home.
Nest Protect
How did Nest follow up on the thermostat? With a smarter smoke and carbon monoxide detector. While it may seem a little random, it also makes sense. It's another one of those products that you never really think about, except for when it's losing power and beeping incessantly, when it actually alerts you to an emergency — or, tragically, when you wish you'd had one.
But smoke detectors have always been very binary. Either they're alerting you, or they're not. Nest Protect aimed to be something better, with a little more nuance. If it thinks it starts to smell smoke, it'll alert you with an advance warning. And not just with a different sort of beep, too. It'll alert your phone. It'll actually speak to you. And its light ring will flash yellow. If there's an actual emergency, it'll flash red, and scream bloody murder in every way possible.
And it'll also work in conjunction with the Nest Thermostat, shutting off the system as to not spread smoke through the home.
Is it worth it? Definitely.
Nest Protect
Yeah, at $120 or so this'll probably be the most expensive smoke and carbon monoxide detector you've ever owned. But it'll also be the smartest and is a great addition to the Nest ecosystem.
Nest Secure Alarm system
Do-it-yourself alarm systems are hot-ticket items these days, and for good reason. They no longer require all the sensors to be hardwired into a central location.
The Nest Secure system is made up of a number of separate products. Nest Guard is the central hub and keypad. Nest Detect serves as a door/window monitor, and also as a motion detector. Nest Tags make it simple for anyone to tap to arm and disarm the system.
Like all Nest products, it's not the cheapest on the block. But it's also extremely simple to set up, and easy to use. You'll want to be strategic in how you cover your home — it's definitely not priced for 100 percent ingress protection.
Is it worth it? Yeah. It's not cheap, but it also isn't an alarm system we've had to fight to use.
Nest Secure
For $499 you get the Nest Guard keypad (and motion sensor), two Nest Detect door/window sensors (and motion sensors), and two Nest Tags. That'll get you started in a small home, though you may well want to add onto that a bit.
Cellular backup is $50 a month, and professional monitoring is extra. But this is an excellent DIY option.
Nest Hello doorbell
The doorbell isn't just a way to let you know someone's there, and it hasn't been for some time. Walk through your neighborhood and it's not uncommon to see doorbells with lights and cameras and speakers and microphones — all available to alert you to someone's presence before they even hit the buzzer. It's time for Nest to get in the game, and in March 2018 we'll see the release of Nest Hello.
We'll have to wait until it's available before rendering final judgment. But if Nest's other products are any indication, we don't see how it couldn't be.
Stay tuned.
Nest Hello
The humble doorbell is humble no longer. Nest Hello is a not-inexpensive $229. But it promises to be a contender with its high-resolution, wide angle viewing, and tie-ins to other Nest products.
Sign up for Black Friday email alerts!
Get the hottest deals available in your inbox plus news, reviews, opinion, analysis and more from the Android Central team.