Are Nest Products Worth it?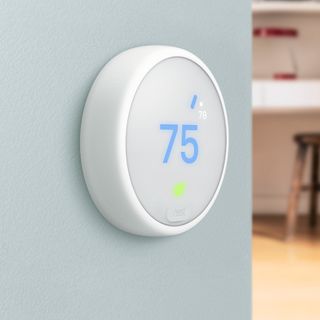 Nest is the Apple of all things that aren't actually Apple. That is, Nest products look really good, work really well — and probably cost a good bit more than something that doesn't look as good and work as well.
And that makes sense when you remember that Nest was started by one of the guys who helped make the first iPod.
No, there was ever going to be anything boring about Nest as a company. From the internal struggles we've seen (and those are just the things we know about publicly) to the purchase by Google and shift to the Alphabet system and return to Google proper — no, it's not a boring company.
The product side certainly stands out, too. Space-age thermostats. Smoke detectors that do far more than deafen you. Intelligent cameras. An alarm system you'll actually want to use. And, soon, a doorbell.
No. There's absolutely nothing at all boring about Nest.
The Nest Thermostat
It's not surprising that the first Nest Thermostat — the company's first (and for a long time its only) device — stood out as much as it did. It didn't look like any sort of thermostat you'd ever seen on a wall before. There was (and still is, in its third iteration) nothing bland about it. A brushed metal ring surrounding a color display. OK, it's maybe a nod to the really old circular thermostats we had when I was a kid. But it's no more than a nod. It's the home Thermostat, designed for the 21st Century.
It's also not inexpensive, at $250. It'll save you as much money over its lifespan, though. It's also easy (and intuitive) to use. And, dammit, it just looks cool as hell.
Same goes for the less expensive ($170) Nest E Thermostat. It's not as shiny, more Art Deco Miami than shiny New York. But it's nearly as capable for 30 percent less.
Worth it? Absolutely.
Nest Learning Thermostat (3rd generation)
The third generation of the Nest Thermostat has the biggest display to date and does an incredible job of regulating the temperature of your home — whether you're there or not.
Nest E
The Nest E is the less expensive version of the Nest Thermostat. It's got a more muted design and display. The biggest difference besides the price is that Nest E doesn't have the "Farsight" feature to show you the temperature, time or whether as you're on the other side of the room.
Nest cameras (indoor and outdoor)
Cameras are a dime a dozen these days. You can spend as much or as little as you want to be able to monitor things inside and outside your home. The question is how easily do you want to be able to monitor things, how much online backup you need, and how much you'll want to spend doing both.
Again, Nest cameras aren't the least expensive available. The basic Nest Cam Indoor and Nest Cam Outdoor run $200 each. Nest Cam IQ Outdoor ranges up to $350 apiece. But as the price increases, so does the intelligence of the product. So you have your choice of how stringently you want to monitor.
Same goes for the Nest Aware Monitoring service. Five days of camera recording for $5 a month, or $50 a year. Ten days of online video history runs $10 a month, or $100 a year. If you want 30 days, that's $30 a month, or $300 a year. But prices are per camera. And it adds up quick, even with additional cameras added for half the price. (Though the lowest play — which is brand new as of this writing — lessens that blow a bit.)
Is it worth it? Yeah. But the cost adds up quickly. You'll probably want to be a little selective if need multiple cameras. (Nest should really come up with a more affordable solution here.)
Nest Cameras
Nest Cameras range from $199 at the low end — for both indoor and outdoor — to a whopping $350 for its smartest outdoor model. But they're easy to set up, easy to use, and smart as anything else in your home.
Nest Protect
How did Nest follow up on the thermostat? With a smarter smoke and carbon monoxide detector. While it may seem a little random, it also makes sense. It's another one of those products that you never really think about, except for when it's losing power and beeping incessantly, when it actually alerts you to an emergency — or, tragically, when you wish you'd had one.
But smoke detectors have always been very binary. Either they're alerting you, or they're not. Nest Protect aimed to be something better, with a little more nuance. If it thinks it starts to smell smoke, it'll alert you with an advance warning. And not just with a different sort of beep, too. It'll alert your phone. It'll actually speak to you. And its light ring will flash yellow. If there's an actual emergency, it'll flash red, and scream bloody murder in every way possible.
And it'll also work in conjunction with the Nest Thermostat, shutting off the system as to not spread smoke through the home.
Is it worth it? Definitely.
Nest Protect
Yeah, at $120 or so this'll probably be the most expensive smoke and carbon monoxide detector you've ever owned. But it'll also be the smartest and is a great addition to the Nest ecosystem.
Nest Secure Alarm system
Do-it-yourself alarm systems are hot-ticket items these days, and for good reason. They no longer require all the sensors to be hardwired into a central location.
The Nest Secure system is made up of a number of separate products. Nest Guard is the central hub and keypad. Nest Detect serves as a door/window monitor, and also as a motion detector. Nest Tags make it simple for anyone to tap to arm and disarm the system.
Like all Nest products, it's not the cheapest on the block. But it's also extremely simple to set up, and easy to use. You'll want to be strategic in how you cover your home — it's definitely not priced for 100 percent ingress protection.
Is it worth it? Yeah. It's not cheap, but it also isn't an alarm system we've had to fight to use.
Nest Secure
For $499 you get the Nest Guard keypad (and motion sensor), two Nest Detect door/window sensors (and motion sensors), and two Nest Tags. That'll get you started in a small home, though you may well want to add onto that a bit.
Cellular backup is $50 a month, and professional monitoring is extra. But this is an excellent DIY option.
Nest Hello doorbell
The doorbell isn't just a way to let you know someone's there, and it hasn't been for some time. Walk through your neighborhood and it's not uncommon to see doorbells with lights and cameras and speakers and microphones — all available to alert you to someone's presence before they even hit the buzzer. It's time for Nest to get in the game, and in March 2018 we'll see the release of Nest Hello.
We'll have to wait until it's available before rendering final judgment. But if Nest's other products are any indication, we don't see how it couldn't be.
Stay tuned.
Nest Hello
The humble doorbell is humble no longer. Nest Hello is a not-inexpensive $229. But it promises to be a contender with its high-resolution, wide angle viewing, and tie-ins to other Nest products.
Get the Android Central Newsletter
Instant access to breaking news, the hottest reviews, great deals and helpful tips.
The remote access is the only thing I like but any modern thermostat can do that now days. There are better camera systems that don't require a subscription to record. All in all I think nest products are overpriced for what they do but they look pretty nice. They are like Apple products basically.

Always easy to say until you own the products. I've tried a bunch and Nest is worth it. I borderline hate my Ring doorbell. The app is not very nice. My Nest Outdoor cams, on the other side of the coin, are just an absolute pleasure. The hardware is exquisite and so is the software. And it's 24/7 recording. And now with the new 5 day plan for $50/year and $30/year for each additional camera, it now became much more affordable. Ring still costs $30/year. Arlo isn't nearly as nice from the hardware standpoint and the app is not as good. And both of them only record motion and are limited at that. The delays when the recordings start are annoying and really make the products not useful. With Nest, there is literally none of that. 24/7 recording at those high of resolutions takes up a real good amount of storage and I'm happy to pay for it. Everyone likes to fault Nest on the pricing on the subscription format and compare to the likes of Netgear Arlo, Ring, etc. Yet you aren't even comparing apples to apples because the competition doesn't have 24/7 recording options (or they do and you have to pay the same as Nest).

Beautifully designed and easy to use but far too expensive...

the outdoor cams are confusing...quite a price difference between IQ and 'regular' version.....but isnt the smartness in the software? Online, the cameras look exactly the same

There are tons of energy efficiency programs across almost every state where you can just get a free smart Thermostat. Entergy in AR just come out and installed an Ecobee 3 and a room sensor, did insulation in attic, weather stripping on my doors, duct sealing, window sealing, and gave me some LED bulbs and faucet and shower aerators for free. I'd definitely suggest looking into programs like that before buying into the Nest thermostat. Now if that's not available, go for it. I can't speak to the rest, other than to say there are other options that seem to do the same thing for less, they just don't look quite as nice.

I had the thermostat and it was fine, but then I moved and I didn't care enough to take it with me and I haven't bought a new one. The door bell will really have to wow me as I love my ring.

The thermostat is great. Expensive, yes, but it's a one-time purchase that has definitely paid for itself in the two years since I bought it. And superficial as it may be, I think if something needs to be sitting on the wall in full view of everyone, paying a little extra for something that is nice to look at is not wasted money. Can't really say that about the rest of Nest's products, though. I'm sure their cameras work and look great, but those monthly service fees are WAY too high. If you have just three cameras, between the purchase price and service fees, you'll hit the point where you may as well have just bought (and paid to install) a higher-end, fully wired system with local storage after just two years.

They just got much cheaper with the new 5-day storage plan. You are talking about $50/year for 1 camera and $30/year for each additional. And remember that this is 24/7 recording at 1080P. Each camera is going to use 200GB of data transfer in a month. And Google/Nest is storing all of that. This isn't just housing little stupid 20 second clips of the back of someone that is walking away from you that take up no space in the cloud at all. Many people don't want a fully wired up local storage system. Then I have to support that recording hardware and replace stuff if it fails. And it can just potentially be stolen if someone breaks in. Not only that, Nest's software is really so good that I haven't found anything with that nice of a user experience especially the "home amateur" security systems that record to some $30 Windows software.

I really like my Nest Protects. I have used several different brands of smoke detectors and one thing that is consistent among them is the failure rate, which results in setting off all the alarms in my house (usually in the middle of the night) until I can find the culprit. Have had this happen several times and had to replace the faulty devices. Didn't matter the brand, as I've had failures with several different brands. Not to mention, I hate the middle-of-the-night chirps. In addition, my daughter will sleep right through the regular smoke alarms. The fireman that came out once told me that a study shows many young kids will sleep right through them. Having an alarm that also speaks, like the Nest, is supposed to help that. I hope I don't have to test that theory. Other positives: The connectivity of the devices and being able to check status in the app, the lighted pathways at night (motion sensors), the ability to name each device to the room it is in, which will be nice for any alerts and being able to quickly pin down which device/room is causing the alert. Plus once a month, it runs a self-test and provides you the results. In addition, having it connected to my Nest Thermostat is great, since it will automatically detect Home/Away and will automatically shut off my a/c in the event of a smoke alarm, thus preventing additional spread of smoke and fumes.
I've liked these so much, I'm going to pre-order the Hello and see how well it works compared to my Ring Pro. While I like the Ring, the lag in notifications, even when I'm at home on the same wifi, is very annoying. 99% of the time when I get a motion detection, by the time the app opens, the person is already gone (package dropoff). Sometimes the notification is several minutes later than when the person came by. Based on what I've heard about the motion detection on the Nest cameras, I am hopeful the Hello will be more prompt. Will see.

The Nest Secure's Cellular backup is $5 a month, Phil. Not $50.
$50 is the annual price.
In addition, the home monitoring service starts at $29 a month, so the whole thing is actually reasonably priced. Also, the prices you mentioned for the Nest Aware are NOT per camera. It's actually for the first camera on your account. For each additional camera it's half price per month. (If you have three cameras; the first one with the 10 day history costs $10 a month. But your next two 10 day history cameras will be $5 a month each.) So yes, they add up, but not quite as much as you suggest. I've had everything they sell for a couple of years and couldn't be more happy.
The camera's record everything constantly. Not event based recording. The smoke detectors have notified me of emergencies when I wasn't home, which allowed me to take action and they have the awesome pathlights. The thermostat has a deep integration with Google assistant, and it looks awesome. Farsight just has a "high tech" feeling. The alarm system is so easy to use, it's a pleasure instead of a chore. You actually look forward to interacting with it. I can't wait to ditch my Ring Pro and install the Nest Hello. Is it worth it? Hell yes!

Crap. I hate math. Thanks for the heads up!

Thermostat was worth every penny. I mainly got it because you can schedule the fan to kick on independently and it does not require the "C wire". I use the app to tweak the temp far more than I expected. I turned off all the learning stuff, want it to obey not learn.

I picked up two of the 3rd gen thermostats when they were dirt cheap for Cyber Monday. All in all, I'm happy. Yes, they're expensive, unless you can catch a sale, but they're dead simple to use. My wife isn't a technophobe, but she prefers a simple interface, and she seems to like them, which I count as a win. One word of advice: the temperature the thermostat shows is going to be off for an hour or so after installation, so don't try to adjust it until it registers correctly. At least that was my experience--mine were showing the room as three or four degrees warmer than it actually was. It gradually settled into the correct temperature, and, after about an hour, it was fine. I suspect it was because the air in the box was warmer, so maybe unboxing it about an hour before installation would solve that problem.

The simple interface is a big selling point. There's not much that's more simple and intuitive than a dial, and the app is easy enough for my mom to use without issue. I bought her one a couple years ago, and I haven't gotten a single "help the old person" tech support call about it.

I noticed that too. But then I realized that I had been pressing on the bottom of the display while doing the initial setup. That appears to be right where the temperature sensor is. The temperature displayed actually started at 74 when it first powered up and was up to 77 by the time I noticed what was going on.

I love the scheduling and remote access I have with my Nest v2. I would love the way it detects if anyone is at home, but for my situation, it's no good, so I have to turn it off. The thermostat is upstairs, I'm downstairs in my office all day cold because it keeps turning the heat down to 62. The wheelchair thing means going up and down stairs is kind of a big deal and I only do it once per day :) Not complaining tho because I've saved more than enough to pay for the thermostat in 2 years via the eco settings and scheduling, and I love saving money more than I hate being cold.

Admit it, you have that huge beard just to cut down on home heating costs, don't you?

Does the 2nd gen model not detect your presence via the app? When I set our 3rd gen units up in the app, it asked if I wanted them to use my phone's location to determine if I'm home or not. This works well for the upstairs unit, since people aren't up there all the time.

This is the main reason I didn't get the Nest. The ecobee has several sensors. It comes with one, and you can get additional ones, either singly or in pairs. I bought mine shortly before the newer version came out, so they were selling them as a bundle with an additional two pack. So, I now have sensors all over my house. You can choose which sensors to use for setting temperature, as well. And because you can move them, it's far more accommodating to usage patterns than the nest is.

I like that the Nest Protect does regular checks and tells me that it's doing just fine. It feels funny paying so much for a device that you hope will never have to fulfill its purpose, so it's nice to have the regular feedback to know that it's working. The other thing I like is the nightlight feature, which turns on when it senses motion in the dark. You can control the brightness (and I think the sensitivity), and it's a nice bonus to have in the hallway.

I have 5 of the NestCams, the Nest Protect, and The Nest Thermostat (2nd gen). I am getting the Nest Hello as soon as it is on sale. (the Ring doorbell software drives me NUTS - so unreliable). All the Nest products I have are outstanding. The Nest app in particular is outstanding and works well on Android, on my iPad, and even on my Android TV (Nvidia Shield). You get what you pay for and it is the best app experience around. Setup is simple for all of these products as well. YMMV I guess, but I love these products.

I'm still up in the air with the 3rd gen thermostat. I have the home/away assist on but it never works. It's installed on both my phone and my wife's phone, we are both at work currently so I checked it and it's still set to home. Maybe it's me. I do like the fact that when I walk by it, it lights up and tells me the outside temp, probably the number one question I ask Google and now I don't have to. It is pretty sleek as well. Not so sure it's worth the money though.

That's odd. Mine works perfectly. Is it possible that the app got denied access to location services on your or your wife's phone? Not sure if that would cause it, but it might.

Make sure your phone is allowing the nest app to get the phone's location. When I set up my daughter's phone it didn't detect to being away the first day. I manually set away mode that day and after verifying that the app on her phone could get location info, the away feature started working just fine.

Ecobee thermostats are waaaaay! better in every way than a Nest thermostat.

I've had both, the ecobee definatly is more sensitive to temp change. The nest takes 5 min too long to kick on and 10 min too long to turn off. The ecobee phone app is a bit laggy, that was my only complaint

I can say the thermostat and the smoke/carbon monoxide detectors are definitely worth it. I have a Nest Cam, and I think, if I buy another camera, I'll go with something much cheaper. It works, and it works well, but it's just too bloody expensive for what you get.

"The biggest difference besides the price is that Nest E doesn't have the "Farsight" feature to show you the temperature, time or whether as you're on the other side of the room" Meaning bigger fonts on the display? Can't I just ask my Google Home for this info or use the app on my phone if my phone is nearby?

No, Farsight will light up the display if you're standing in front of the thermostat, even if you're across the room.

Definitely worth it. T-Mobile has a deal for the nest security pack with camera for $500 and $5 a month for 10 days recording history and includes cellular backup from T-Moble in case your cable Wi-fi. Is jammed or power is cut.. In fact, the T-Mobile backup is all I use, as I don't have cable (you do need some kind of Wifi or phone hotspot to initially set the system up). And it works great. Wonderful, easy to use software.

O enjoy my Thermostat E. Works well and was easy to install. Want the protect next

The Nest smoke / carbon monoxide alarm is an excellent buy if you have a young child and / or elderly parent at home. If your parent is home alone (in your home or in their own home) then, this is a doubly useful thing. Much like the emergency pendant that some people get - but it works on its own. The thing is easy to install and configure and it DOES alert you remotely. I love it.

Least informative puff piece I've read in a while. Congrats

More of a question than comment, but one I rarely see addressed: what about data volume with the always-recording cams? If you've got a monthly data cap with your ISP - as most of America does - what amount of that cap is going to get eaten up by lovely high-def images of your front porch? Do the always-on cams not put a big hurt on your bandwidth as well? Would love to hear some real-world experiences...

Nest's hardware and user interface make this lineup the best products I have ever installed.
But the monthly fees are extremely expensive.

Yes, the Nest thermostat is way expensive, but I just kept looking on eBay, Craigslist and Fb Marketplace until I found a v3 Nest for $125 on Craigslist about a mile from my house! I wouldn't have paid $225 for it, even after having used it for a few weeks. But at $125, it's great!