Did you pre-order the Google Pixel 3?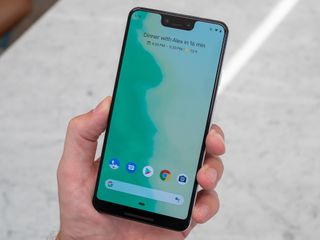 (Image credit: Andrew Martonik / Android Central)
Google's big hardware event took place yesterday, and as such, the Pixel 3, Pixel Slate, and Home Hub have all been officially announced by the company. The Pixel Slate and Home Hub do look like really good additions to Google's lineup, but without a doubt, the gadget we're looking forward to the most is the Pixel 3.
The Pixel 3 and Pixel 3 XL are perhaps some of the most-leaked smartphones in history, but even so, that won't stop them from likely being some of the best Android phones of 2018.
Pre-orders for the handsets opened up immediately after Google wrapped up its event yesterday, and looking through the AC forums, a lot of users are already throwing down their cash.
What about you? Have you pre-ordered the Pixel 3 / 3 XL?
Get the Android Central Newsletter
Instant access to breaking news, the hottest reviews, great deals and helpful tips.
Joe Maring was a Senior Editor for Android Central between 2017 and 2021. You can reach him on Twitter at @JoeMaring1.
Can't bring my self to doing it. I like the Pixel 3 but with my 2xL still going strong I'll wait until next year.

Same here. Still a very fast and solid experience on my 2XL. Will hold off a year and see what the Pixel 4 looks like.

Same here. With the additional camera features already working on the P2XL, I'm going to keep this for another year unless the OnePlus 6T lures me.

Made the same decision not to buy the Pixel 2 when I had the OG. I survived the extra year with little complaint other than running out of space and slight battery degrading. You'll feel good about waiting.

No, but I may get the 3XL at some point in the future.

Unfortunately not. I wish they would have kept the price ranges lower. I have zero interest in the larger Pixel and would definitely invest in the smaller one if it was not so expensive (to me). Additionally, I know wireless charging is important to some but I really do not like glass back phones. I suppose this is the trend and thus the end for the "metal" back Pixel phones. I still have the first Pixel in blue and it's still going strong.

I did, but there's also the possibility I will cancel the order before it ships, or that I will return it. I just don't know if it's worth all the money to upgrade from my pixel 2 XL especially when they are only going to give me $325 for it.

I'm thinking the same thing. The $325 for my 2 XL doesn't make it worth a trade in. I might wait for Google to start pushing special deals.

I'm there too... My Pixel 2 XL has been really great. Paying $700 for the 3 XL for a nominal hardware upgrade is - debatable... And I'm not talking about monthly payments either... Still on the fence... Undecided...

Same. I *needed* a new phone last year, and the P2XL fit the bill. My N6 was not fairing well. Unless they pull a great deal in the next 6 months, I will wait for the P4 to come out. My P2XL is doing great, and still has a warranty that will cover it until next year anyway.

Then when you consider that many of the software updates will eventually be on the 2XL....just doesn't make sense. I have two friends with Pixel 1XL that are in same boat. Just not enough wrong to make the upgrade make sense.

Just so you know Google now charges you a $35 restock fee even in the first 15 days. That policy was implemented last year. (It was most likely as a result of people doing multiple normal returns for Pixel 2XL devices for screen issues when Google didn't consider the burn in or blue shift a defect.)

I didn't. i had the 2XL prior to getting my Note 9. The 3/3XL just isn't compelling to me at this price point, especially balancing against the features (which some Pixel owners dislike, that's ok) that the Note 9 offers. Oh, and Samsung was offering $450 US as trade in value vs. what Google is offering.

I pulled the trigger. I got a black P3 coming from a Nexus 6P that is limping along. I keep going back and forth wondering if I should have gotten the XL but I'm afraid starring at that huge ass notch for 2+ years might make me go crazy. I don't know how I'm going to get used to going to a small phone after 3 years with my N6P.

You probably should have gone 3XL and traded if the notch was that annoying. Benefits of a big phone would have probably been worth it.

And you can turn off the notch...

You can turn off the notch on the 2xl?

Yes. Apparently you have to do it in developer options. And it is a bit buggy. There is an AC article about it now.

Pre-ordered the Pixel 3, White, 128GB and the charging stand. It's for my wife who is limping along with her sluggish and buggy Pixel 2.

Sluggish and buggy pixel 2? So you buy a pixel 3 that is made by the same company and uses the same software?

That's what Artem (the owner) from Android Police keeps doing. He posts all day every day about the horrible experience he has with Google's phones, but continues to buy them. I called him out on it the other day. He didn't respond.

Have you factory reset that bugger?

Indeed. A pixel 2 should be neither of those things.

I would have contacted Google and had it replaced under warranty. In fact the warranty lasts another year anyway.

Not at those prices. I'm still on the Nexus 6P and it is working fine. I won't get any more updates, so at some point I will need to upgrade to something, I was hoping the Pixel 2 would be discounted, but apparently not.

At least your clock is on the right and your phone isn't pretending you have a notch.

Pre-ordered clearly white, 128GB Pixel 3 to replace my OG Pixel XL. I held off on Pixel 2 and I'm excited for the upgrade.

That's what I ordered. 128 clearly white.

I'm preordering today and will cancel my order if the battery life is not on par with last year's model.

On the fence because my 2XL is still working really well and the battery is still holding up really well. Not saying I won't eventually get it, but not really seeing the need just yet. Not to mention that it's always a good idea to let them figure out any bugs before you take the plunge. I'd hate to go from a fully stable 2XL to a 3XL with issues that I'm waiting for patches and updates to fix. I did go and price it out on the Google Store. They'd give me $325 or $350 to trade in the 2XL so the monthly payment (financing it) would be the same as it is now.

I'm on the fence. I shattered my S7 Edge and the best price to fix it was $200. I activated my old S6 Edge and have been using it. I'm eligible for upgrade, but I'm waiting for Black Friday to see who is going to have the best deals. From what I see from the the Pixels this year, they are all about software and the hardware is just along for the ride. I would invest in the Pixel over the Note just for the software, but the hardware on the Note 9 is better. I may still venture over to Apple since my wife and kids are all iPhone, but time will tell.

I did, wanted the 3XL but I just couldn't get passed the notch. The pixel 3 is about the same size as my OnePlus 5, so that's what I went with. I can't wait to get it.

Nope, I'll hold off to next year! My OG Pixel 128GB is all the phone I need. I will say this, I'm not looking forward to upgrading at all really these prices are just becoming so outrageous

128GB Not Pink Pixel 3 XL to be delivered on October 18!

Yes, the Pixel 3. I currently have a Note 9 but I'm not using it anywhere near to its full potential so the wife will inherit this. Also coming from the Pixel 2 to the Samsung I'm finding that the photos require a lot more effort to look anything near as good as Google's device.

No, not a good value proposition.

Absolutely. Purely White, 128 GB. Here next Thursday. Seeling the 2 XL on Craigslist for like $350-400. Not great resale on this phone, but I think that will change moving forward.

One 1000 euro here in Europe. It is more than better spect Note9.
This phone should be 800 euro at most.

Yup. Opted for the XL. White, 64 gig with protection plan. (Hello! Glass backing)

I had a Nexus one, nexus 6p, pixel XL and pixel xl2. I pre-ordered and canceled the order in an hour. I wanted to like it but it's just so meh over the pixel 2. Many of the features are coming to the pixel 2 and the pixel 3 added all these stupid things to the selfie cam which I could care less. I wish they added more focal lengths to the main camera.

Pixel 3XL, blk, 128 gig w/stand on trade in. October 20-23👍💯 PS. Home Hub also!

i think I'm unhappy that Google is chasing Apple on their prices. i feel like it's not needed. Apple is a hardware company, so they need to make a lot of money on their hardware. Google is a software company, who wants to make premium hardware mainly to get people to use their software. they don't need to be pricing their equipment this high. as much as i love my pixel, they are pricing loyal people like me out of their new products.

You're not alone. Their prices are absurd.

I got the 3 XL I'm not pink for my wife, I think I'm sticking with the V40 so I will at least have access to both cameras on trips if one does something better than the other!

Yes I did. I was going to pull the switch on a Note 9, but the Software made me decide to stick with Google. Love my 2XL, sure the 3 will be the same.

I really want to order an XL, but I am on Xfinity Mobile and I am afraid the Pixel wont get along with XM.

Yup, 64gb white one (pixel 3) 😊

I ordered the 3XL 64gb. I'm coming from a 6P. I need an upgrade as this 6Pcs battery is going down hill and apps take forever to load.

not yet. I want smaller, regular notchless pixel 3 64GB. I will wait a month to see if any real issues pop up before buying.

Absolutely not. I'll let someone else take the hit on buying new and buy it waaay cheaper used later on. Their pricing is bonkers.

Waiting for the Mate 20 Pro before making a decision...