Did you get your Samsung Galaxy Smart Tag? If so, how are you using it?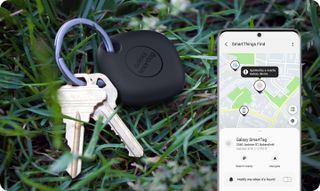 (Image credit: Samsung)
With the launch of the Samsung Galaxy S21 series came a new product called the Galaxy SmartTag. Ostensibly, the idea behind the SmartTags was that you could attach them to things that you might frequently lose, such as keys, luggage, or pets (meow?).
In practice, they're not really any different from any of the other best Bluetooth trackers. Still, we were curious how the AC community was using the new Galaxy SmartTags (or if they were).
We want to hear from you — Did you get your Samsung Galaxy Smart Tag? If so, how are you using it?
Join the conversation in the forums!
Jeramy is proud to help *Keep Austin Weird* and loves hiking in the hill country of central Texas with a breakfast taco in each hand. When he's not writing about smart home gadgets and wearables, he's defending his relationship with his smart voice assistants to his family. You can follow him on Twitter at @jeramyutgw.
Still waiting on my to ship

I actually put it in my son's book bag last night to see if I could "track" him at the school... Didn't work. It won't update and the last time it did (this morning) showed him about 3 blocks from the house on his way to the bus stop.

Mine was delivered in the same package as my phone. I verified that it does indeed make a loud noise when asked to do so, and it's been sitting on the counter ever since. I'm the kind of person who puts stuff back in the same place every time, so this doesn't have a lot of use for me.

I have yet to use it. I've watched YouTube for additional ideas, but none of them grab me. Open to suggestions though.

I tried mine, couldn't find any use for it and threw it away.

I would have paid postage to have it sent to me. I would like a 3rd one. 😊

I have it on my key chain and configured it to open my smartlock when I press the button once

I need to take time to look at programming that button. That sounds useful.

I ordered my phone but the tag was never in my cart. However I did get it several weeks after my phone was delivered. I set it up and tested it but it is too big to actually keep it in my pocket with my keys and my car key fob. We are not traveling anywhere so on the luggage will not work because it won't be within Bluetooth range

I have one on my keychain and the other good between my camera bag and laptop/messenger bag depending on which one I leave the house with. I'll probably use this one in luggage when I travel. I might get another to put in my car to find in large parking lots. 😂
Android Central Newsletter
Get the best of Android Central in in your inbox, every day!
Thank you for signing up to Android Central. You will receive a verification email shortly.
There was a problem. Please refresh the page and try again.