Details leak on new 13.3-inch tablet from Samsung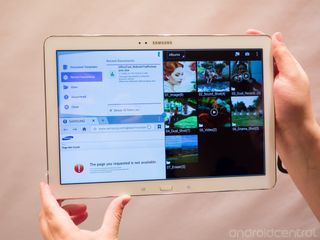 Boasting a screen size of 12.2 inches, the Galaxy Tab Pro 12.2 and Galaxy Note Pro 12.2 are gargantuan tablets, but it looks like Samsung is setting its sights higher. According to GSMArena, the manufacturer is working on a tablet with a 13.3-inch display. The tablet, which is codenamed "Warhol", will apparently be available in both 3G and Wi-Fi only variants (T911 and T910).
The document also supports the recent rumors of a 10.5-inch AMOLED tablet, dubbed the Galaxy Tab S. A series of leaked images from last week revealed that the Galaxy Tab S features the same textured back as the Galaxy S5, so it is possible that the 13.3-inch tablet might do the same. The Galaxy Tab S has a model number SM-T800 for the Wi-Fi only version, SM-T801 for the 3G variant and SM-T805 for the LTE model, according to today's report.
Lastly, there is a mention of an 8.4-inch AMOLED tablet, codenamed "Klimt." Samsung was rumored to be working on two AMOLED tablets: the first one is the 10.5-inch Galaxy Tab S, and this 8.4-inch device will likely be the other offering. The 8.4-inch tablet will also be available in 3G/Wi-Fi only versions (SM-T701/SM-T700).
Although the resolution on these three tablets is listed as WQHD, the pixel density does not match up against the screen size. For instance, a 13.3-inch tablet with a screen resolution of 1560 x 1600 will have a pixel density of 226 PPI. * GSMArena's* information however mentions a pixel density of 152 PPI for the 13.3-inch tablet. The same is seen on both the 10.5-inch and 8.4-inch tablets. The 10.5-inch Galaxy Tab S should feature a pixel density of 287 PPI, but the pixel density is listed as 193 PPI. Similarly, the 8.4-inch model should have 359 PPI pixel density, but the document lists 241 PPI. We don't have an idea as to why this is the case, but other leaks regarding the Galaxy Tab S have made a reference to a WQHD screen.
Source: GSMArena
Harish Jonnalagadda is a Senior Editor overseeing Asia at Android Central. He leads the site's coverage of Chinese phone brands, contributing to reviews, features, and buying guides. He also writes about storage servers, audio products, and the semiconductor industry. Contact him on Twitter at @chunkynerd.
I'm waiting on the 27" version Posted via Android Central App

For me a 42 Posted via Android Central App

Yup, like this one! ;P (Probably NSFW due to some profanity) www.youtube.com/watch?v=zKsW28L4qsE

One source worth reviewing for new Tablets is the site-- iProTablet - which features six new models to launch in this month, including the mega-size Ramos i12 ($299) - a 12-inch tablet that compares to the Samsung Galaxy Pro 12.2" and features a fast Intel processor and an HD display. Also new is the Ramos i10 Pro ($399) - the first Android - Windows 8.1 Hybrid available, with a 10" display with Full HD 1920X1200 resolution and a high performance Intel Bay Trail CPU that compares to the Snapdragon 800; the dual boot system makes it easy to use both Windows and Android O/S on the same device.

Acer has a 27" Android AIO - the Acer TA272HUL (with a built-in battery). Or do what I do - stick a Rikomagic Mk802IV Android stick in a HDMI-enabled monitor/TV.

13.3 could replace my laptop.

I have the Note Pro, and the increase in size to 12.2" resulted in a huge increase in productivity over the 10.1, mitigating the increase in weight and decrease in ppi. But I don't think the 13.3 will be worth the added weight and even further decrease in ppi. I would be an awesome digital art tool if there were some better drawing apps for Android. Sketchbook Pro is just okay. I love drawing in Sketchbook Ink, but it has little in the way of features and it crashes at times.

I actually liked my Note Pro 12.2 more than I thought I would. It's definitely not the sort of thing you can easily tout around, but the battery's good enough, and it's big enough, to replace a laptop for some tasks.

Finally a successor to the Toshiba 13" Excite. An interesting form-factor size as I found out when playing with the Toshiba 13" Excite at BB a few years ago.

Another week another Samsung tablet.

Fed up with Samsung products yet? Posted via Android Central App on my Nexus 5

nope Posted via Android Central App

I think Samsung is putting too much out there. They are trying too hard to compete with Apple Posted via Android Central App

No way. If I get a tablet I don't want a mere 2 inch boost in size from my phone. This tablet would be great. I'm just not willing to drop $800 for one. This will be a normal size tablet before long.

How is releasing a 13.3" tablet competing with Apple? Posted via Android Central App

Glad I just picked up the tab pro12.2 on Friday to see a release of a 13.3 on Monday!! Damn them Posted via Android Central App

Honestly half the stuff samsung does makes no sense, they just released 3 versions of the tab pro line and 3 versions of the tab 4 line and have 2 versions of the note line out all in various sizes and covering all price points so how the f**k does this makes sense to release even more unnecessary tablets which just look the same tablets released already just with amoled screen.
Posted via Android Central App using galaxy s4

It makes perfect sense, they just flood the market with crap which increases their chances that most consumer will pick one of their products. If a consumer walked into an electronic store that has 12 tablets on display and 1/2 of them are made by samsung their chance of getting that sale is greater than all the other tablets with the exception of maybe the iPad.

Not to mention different price points and different uses...Instead of making one tablet and trying to cover all the bases, they make 5-20 tablets that do a few things extremely well.

But it seems like they already have all the price range and size covered from the £100 tablet to £500 so am not sure where these "new" tablets fit in. I understand Samsung plan is to flood the market so if anyone does buy a device it will be a Samsung device but surely this can't be good for the production line and If they streamlined there portfolio they will have a better bottom line.. You can cater to everyone without wasting resources which imo looks like samsung seems to be doing a lot nowadays.
Posted via Android Central App on nexus 7 (2nd gen)

I own a note 3. I love the big size. I think they misunderstood when note fans said this. That is way too big for my taste. Posted via Android Central App

I agree. Quit watering down the market. They are trying to put way too many products out there!!

That's how you become the largest phone and table maker by shipments. Perception is more powerful than reality in todays market. Perfect example, the stock market, most company stocks have almost nothing to do with what's going on, on the ground.

Don't buy them all. Problem solved. I am pretty sure that they got to be Number 1 by doing exactly what they are doing now, and why mess with success?

10.1 is the highest I plan on going. I don't understand the benefits of a 13.3 in tablet, really. Goodness. Posted through my Nexus 7!

Well thats the last straw....Im dusting off the old boom box and cassettes! Go big or go home!
Android Central Newsletter
Get the best of Android Central in in your inbox, every day!
Thank you for signing up to Android Central. You will receive a verification email shortly.
There was a problem. Please refresh the page and try again.