Delta, Sprint, and others team up to offer better in-flight internet access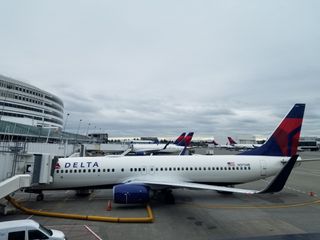 Being able to access your emails, social media sites, and more while traveling at 30,000 feet in the air is pretty amazing, but as anyone that's used in-flight Wi-Fi knows, getting everything working with your devices can sometimes be a pain in the butt.
Speeds are often slow, devices often don't want to connect at all, and this can create a less than enjoyable experience.
In an attempt to iron out these quirks, a few companies are joining forces to create the "Seamless Air Alliance." The goal of the Seamless Air Alliance is to deliver 5G data speeds to users via satellite technology, and this transition would eliminate the need to authenticate devices for in-flight access, log into special accounts, and pay for service via a credit/debit card before being able to use it.
Delta and Airbus SE are the first two airlines leading the new initiative, and they're joined by U.S. wireless service carrier Sprint, OneWeb (a satellite startup that's backed by SoftBank in Japan), and Bharti Airtel out of India
Each airline currently uses its own specialized cabin system for offering internet access to its planes, but the Seamless Air Alliance wants to cut down on costs and extra use of resources by creating a single standard to be used by all.
It remains to be seen if these companies can deliver on the goals they're setting for themselves, but I'm personally all about anything that makes in-flight internet faster and more user-friendly. What about you?
O2 will begin testing its 5G network at The O2 in 2018
Joe Maring was a Senior Editor for Android Central between 2017 and 2021. You can reach him on Twitter at @JoeMaring1.
Depends on the price and VPN compatibility.

These airlines are teaming up with Sprint? As a Sprint customer, I have no wonder what these companies are thinking. Hopefully the 5G experience will be much better than their LTE experience.

I'd rather they work on a more comfortable airplane for people over 5'10.

They have to do something to improve the service and soon. Since everyone on the plane uses this service now, it has become near dial-up slow. Even simple emails sit in the outbox for 5 to 10 minutes. Even the in-flight free streaming movies on Delta would pause every 10 seconds to buffer making them unwatchable.
Android Central Newsletter
Get the best of Android Central in in your inbox, every day!
Thank you for signing up to Android Central. You will receive a verification email shortly.
There was a problem. Please refresh the page and try again.