Comcast's XFINITY Mobile now available in all Comcast markets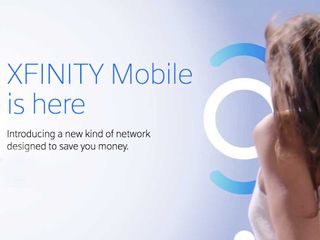 Comcast announced its Xfinity Mobile service — mobile plans for existing Xfinity subscribers — earlier this year. The network runs on the Verizon Wireless network, so Comcast has plenty of spectrum they can use, but the company did not yet have the Xfinity Mobile service in every Xfinity market.
That changes today. Comcast has announced that it has completed the roll out of the Xfinity Mobile service, and any Xfinity user in any market will be able to sign up for the service. Comcast is offering two data tier options for subscribers: $45 per month per line (up to five lines) with no usage limits or $12 per gigabyte per line. The company does note that speeds will be throttled after reaching 20GB of usage in a month. From Comcast:
Xfinity is offering the iPhone 7 series, iPhone 6S series, iPhone SE, Samsung Galaxy S8 and S7 series and the LG X Charge for customers to pick from. Customers cannot bring their own devices from previous networks. There are no activation fees for new lines, and customers can save data by automatically connecting to Comcast Wi-Fi networks.
Are you considering switching to Xfinity Mobile? Let us know down below!
Android Central Newsletter
Get instant access to breaking news, the hottest reviews, great deals and helpful tips
Comcast: Thanks you for calling Comcast, how can I assist you today?
Me: My cable isn't working correctly.
Comcast: Sorry to hear about that sir, but no issues, we will help you resolve this today. But first, who is your mobile service provider?
Me: ........

Just another MVNO on Verizons network at a higher price.

Actually it's cheaper then Verizon. the "Unlimited a.k.a. 20Gb plan" is $45 Out the Door (Taxes are baked into that price) , even with this Bullcrap its not a bad deal if you bundle in about $5 for a VPN app or something.. :)

I'm a Comcast customer and Verizon is my cellular provider and their is NO WAY IN HELL that I would make Comcast my cellular provider. Dealing with Verizon's customer service has always been a positive experience and any contact with Comcast customer service has never been anything but a terrible experience. Those are my experiences over multiple years and what I will be going by.

am i missing something? So...Comcast's fancy new mobile service/network...is...Verizon's mobile network!?...with the exception that you're much more limited as to what smartphone you can use!?
i guess the only way this would make sense is if the cost for the same exact mobile service was significantly lower for Comcast cable customers than if they went with Verizon Wireless directly...?

Comcast Customer service irks the crap outta me. I called last week in regards to performance issues on my 25mb internet plan. For 10 bucks more I could upgrade to 100mb. Sure, thats what the site says, but it's "only for new customers", however the rep dangled the 122 channels + premium + internet for the same price. I said not interested, just want faster internet. The rep countered with the same 122 Channels+premium+internet and then "the Latin channels" for the same price. I asked, "why are you trying to push me into TV programming?" and the answer was that he was trying to save me the most money possible. I didn't ask for you to save me money. I asked you to change my internet plan to the next tier. Whether it's TV, internet, or now mobile, Comcast will try to push you into some promotional priced packages and hope you forget to cancel when the promotion ends. By the time the promotion ends, there are no cheaper packages.

It's actually not a bad idea in theory! BUT this is Comcast and Verizon we are talking about here, they will find a way to MUCK it up and charge the MUCK out of it! (You can mentally substitute another letter for the M in MUCK if you want! lol!)

I legit had a rep tell me to "remember to call back in 2 years to ask for the promotion rate again before the higher rate kicks in". Remember to call back in 2 years to get the price I deserve???? Nope!

Rolling out their Network? They don't have a network. They are simply an mvno on Verizon

God, no! I don't care if it's cheaper. If it means dealing with Comcast, it isn't a good deal at any price.

I have tv/internet/home phone & now cell phone service from xfinity. Ya customer service is horrible but it does save me around $150 a month. Happy with all the service BUT the cell phone service says you will connect to their Wi-Fi towers a lot of the time to save using data. Well I'm a truck driver & I NEVER connect to Wi-Fi. My data is always really high every month while my wife's is pretty low(around 3 gb) But she stays in town.

Comcast preys on the naive consumer who doesn't know there are better options. At least there ARE options in the mobile market. In many places Comcast is the only came in town for broadband and the way they treat their customers reveals that.
Android Central Newsletter
Get instant access to breaking news, the hottest reviews, great deals and helpful tips
Thank you for signing up to Android Central. You will receive a verification email shortly.
There was a problem. Please refresh the page and try again.