The closest your Nexus camera will get to Pixel performance is being publicly tested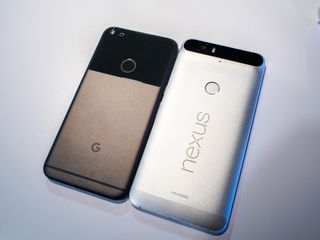 Google's Pixel cameras are outstanding, and a lot of it has to do with some downright clever software in the new camera app. That zero shutter lag experience is one of those things you don't know you care about until you see someone else with it, and when you combine that with the overall quality of the images you get from a Pixel it's easy to feel the urge to click the purchase button.
If the camera on your Nexus 6P or Nexus 5X has been feeling slower than usual after seeing some of the things Pixels are capable of, you're probably going to want to install Camera NX V4.
Charles Chow has been working hard to make the Nexus cameras feel a little lighter, and after poking around at the camera software Google has been using in the Pixel phones he has cobbled together a solution for anyone with a 5X or 6P to sideload for themselves. Camera NX V4 implements the Pixel tools for zero shutter lag and that background processing for HDR shots, making the Nexus cameras feel a whole lot faster. You aren't going to get an exact compare with a Pixel, especially since some of what is happening to make that camera so fast is hardware, but it's much faster than what you've got right now.
Keep in mind this is not an official app from the Play Store, and has its own bugs you'll find while trying to take pictures. This is mostly for folks who want to tinker and see how much better this camera really is, but there's a good chance no matter who you are you'll be impressed with the results. If you want to install the app, head over to Chow's site and scroll all the way to the bottom. Read to find the right link for you, and be sure to drop into our Nexus 5X or Nexus 6P forum to share your experiences!
Russell is a Contributing Editor at Android Central. He's a former server admin who has been using Android since the HTC G1, and quite literally wrote the book on Android tablets. You can usually find him chasing the next tech trend, much to the pain of his wallet. Find him on Facebook and Twitter
Doesn't the Nexus 5X and 6P handle HDR+ mostly the same as the Pixel in the Android 7.1 Dev Preview? There's (mostly) zero lag for HDR+ Auto, while HDR+ On has the old 1 second capture delay. Not sure if they're doing all that background processing, but it's nearly identical to the Pixels.

Of the modes, HDR+ On is identical on the Pixels and 5X/6P.... there, the Pixel goes in and picks a different set of exposure and ISO settings which require that capture delay since they can't do all that in real time. On the Pixel, HDR+ Auto uses the same settings as HDR+ being off, then processes them through the HDR+ system. On the 5X and 6P, HDR+ always readjusts the shot prior to capture, so if HDR+ is triggered in Auto, you will have a similar capture delay as HDR+ On. With this camera mod, he goes in and triggers the Pixel's HDR+ programming for both Nexus phones. This means that when you have HDR+ set to Auto, the camera is continuously dropping shots into the buffer. When you do hit the shutter button, the camera already has the set of exposures it needs to pass through HDR+ processing.... so no capture delay. One more thing... the 5X gets a pretty huge benefit on non-HDR+ shots as well... on the stock camera, there is a short pause after hitting the shutter button and when it actually takes the shot. Because he fussed with the capture modes, the 5X with this mod'd app takes shots instantaneously whether HDR+ is off or set to Auto and that is a HUGE improvement, to be honest. Though, unless you plan on taking a bunch of rapid fire pictures, there's little to no reason to turn HDR+ to off.

I've noticed a massive improvement in the camera on the 6p after the 7.1.1 update. Takes great night shots and much faster. Makes me want a 6p with a processor update and an extra gig of ram. Love this phone

The camera was a big improvement to me when In had 7.1.1 too. My 6P went into a boot loop recently though, so when the replacement arrives, may revert to the stock Nougat, and try out this app.

You too? Mine just did that yesterday.

It seems like some people are getting the same boot loop issue. Some in my case were sometime after the 7.1.1 Dev Preview. I heard others though are also getting it on stock Nougat. Huawei is sending me a replacement 6P. So, it might be a hardware issue?

My 6P (stock Nougat 7.0) went into the bootloop this past Thursday 11/10. First the app I was using crashed, then the entire phone shut down and would continually boot to the Google logo. I could access the boot loader through Power + Vol Down but couldn't get to recovery or factory reset. It was still within the original warranty by a matter of days, so Google is sending me a replacement tomorrow free of charge - didn't even have to use my Nexus Protect. Despite the inconvenience & a couple of lost pictures, I'm happy with the way Google handled the entire process.

Its a software issue. Select few are having issue updating to nougat. I root and rom my nexus 6p. So I have no issue restoring firmware from google image.

Mine did this too and its on stock Nougat, very strange...

Don't download this camera you should already be seeing the same thing with the update that's been released.

When did the update come out? I'm on the latest Google Camera right now and it does not have zero shutter lag like Camera NX V4.

A Pixel navbar is apparently also in the works for the 5X and 6P

I just know that I'm going to end up breaking down and getting the regular Pixel in 128Gb black, and putting it in a LifeProof case when they're finally available( the case that is), and just dealing with the battery life, even though I know I should wait for the Pixel2.

What do you mean "dealing with the battery life"? All of the reviews I seen (I don't have the phone) have said battery life is some of the best you can get with android without a monster battery phone. The only negative I have seen is Artem Russakovskii saying he has had wake locks and that could easily be caused by an app he is running (gasbuddy did it to me for months).

I thought the battery was supposed to be very good too. But most of the reviews I've seen about battery life were for the XL Posted via the Android Central App

I'm referring to the regular Pixel's battery life, which most reviews state is adequate, but with medium use, normally requiring a top off in the afternoon/evening. GSM arena & tech radar are two sites/reviews that come immediately to mind. Again, I am referring to the regular size Pixel, for easy one handed use. I have had large phones for the last 3 or 4 years, thinking about trying something different, for a cycle, at least.

Meh. Not really seeing any difference from what I have in 7.1.1

"You're seeing it wrong". You have to put these excellent glasses in order to find the pixel to be dazzlingly amazing and not another over price smartphone. Let's try it: ╭(•⌣•)╮ ->(⌐▀͡ ̯ʖ▀) ->༼ ~ ͡■ _ ■͡ ~ ༽ There. Now the pixel is the most glorious thing you have ever seem. Praise be to pixel. What is a nexus?

...actually a nexus is exactly what he was talking about. See the posts at the top.

question: if the Pixel has zero shutter lag, does that mean
the next-gen Pixel will have negative shutter lag? (i.e. taking
a picture before your finger even touches the shutter?)

Well.. I've seen some improvements with this.. 7.1.1 has been good but this update has improved it even more. Try it out for yourselves.

Agreed. I found this app a few days ago and find the process a bit quicker. I am on 7.1.1 on the 6P.

My 5X is fine. I will not buy a Pixel. Ever. It is way more money than I would ever put on a phone.

This is great. Noticeably improved on my 6p.
Android Central Newsletter
Get the best of Android Central in in your inbox, every day!
Thank you for signing up to Android Central. You will receive a verification email shortly.
There was a problem. Please refresh the page and try again.