Chromebook Diaries: Chrome apps vs. Android apps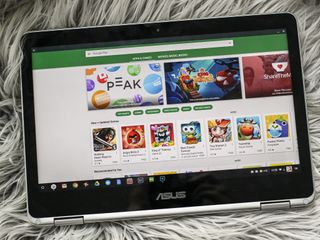 Every good operating system that's worthy of its users has an app story. After all, if you think about those mobile OSes that have nearly failed — webOS and Windows Phone are the first that come to my mind — you'll recall that their app stores were hardly worth delving into. They were, effectively, a boring story. That's certainly not the case with the Google Play Store, so then why does Chrome OS operate under a different narrative?
Since I'm new to this platform, I don't know what life was like with a Chromebook before Android apps were available on Chrome OS (this feature, by the way, is still in beta). And I'm sure I'm luckier for it because I didn't run into the same limitations as some of Chrome OS's forbearers. If there isn't a Chrome app or an extension that can function as I want, I can simply go to the Play Store and find an Android app that can. I have a choice.
Chromebook Diaries Part 1: How I learned to live with Chrome OS
Chromebook Diaries Part 2: Discovering the intricacies of Chrome OS
There are plenty of caveats to using Android apps on Chrome OS — it's still a very nascent feature. Most Chrome OS apps are optimized for a laptop, while Android apps are made with the touchscreen in mind and are often optimized for smaller, narrow phone screens. And in the instances that the Android app had a tablet mode, tracking was sometimes off on the Chromebook touchscreen display.
Then there's the issue of which version of an app to use. I had this issue with Spotify, for example; the web app through the browser is better than the Chrome app, while the Android version has all the bells and whistles, including offline capabilities and options to organize playlists. You could see why I chose to use the latter. Conversely, Google Docs is better online than the Chrome OS app and the Android app because of its more easily navigable menu hierarchy.
And lastly, there's the issue of actual app availability. I am still not entirely sure where to start looking when I'm hankering to download an app. Do I go to the Chrome web store, or should I try the Google Play Store first? My primary inclination is to check for Chrome OS app first, then search for an extension, and then relegate myself to whatever made-for-the-smartphone version might be available. At this point in the Chrome OS ecosystem, it seems like anything is better than nothing.
I really hope that the future of Chrome OS involves cross-platform interoperability and that developers of both platforms see Chrome OS as the natural extension for their Android app. I want perfect synchronization between Android devices and Chromebooks so I can be even more sucked into the Google world. Our ecosystem is almost there, folks. I can see it on the horizon.
Other thoughts:
The "games story" on Chrome OS is laughable. I know the platform wasn't initially primed for that — save for educational games — but I didn't think it'd be this...limited? I'm not too interested in playing Android apps, either, save for the ones that are best played on a tablet yesterday. I've got my Pokemon TCGO and Rollercoaster Tycoon installed, so at least there's that.
Related: you know what would be cool? I'd like to see some sort of port available for older PC games. Wouldn't it be neat to be able to relive through some of the classics, like Heretic II or maybe even just an old PopCap game? If something like this exists, please direct me. Otherwise, I'll keep wishing to live the glory days of PC gaming on this weird little laptop that's not quite sure of its identity.
I received a couple of comments wondering why I'd bother using Chrome OS to do what my Mac and PC are already capable of. But I'm struggling to find the controversy. Mobile apps are almost as adequate as some desktop apps — I'm talking about relatively simple apps like photo editing and sketching, not ones that facilitate 3D rendering and intense video processing — so I should attempt to see if they can indeed replace the programs that I use daily. And with life becoming more mobile anyway, I might as well get into the groove of learning to use apps in that manner.
Besides this agonizing-to-use trackpad (Anyone aware of an app that can tweak mouse settings on Chrome OS?), the Chromebook Flip is the perfect computer for riding the San Francisco Bay Area's BART. I have it in laptop mode on the way to the city to finishing filing my work, and then flip it tablet mode on the way home to catch up on my Play Movies & TV library.
I filed this entire article using just my Chromebook Flip. :)
Get the Android Central Newsletter
Instant access to breaking news, the hottest reviews, great deals and helpful tips.
Florence Ion was formerly an editor and columnist at Android Central. She writes about Android-powered devices of all types and explores their usefulness in her everyday life. You can follow her on Twitter or watch her Tuesday nights on All About Android.