What's new in Chrome OS (Stable, Beta, and Developer Channels)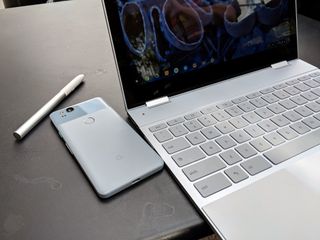 (Image credit: Jerry Hildenbrand / Android Central)
Chrome OS, Google's own desktop operating system, receives regular updates to outfit it with new features, bug fixes, and more. There are three main levels of Chrome OS (Stable, Beta, and Developer) and while you can learn more about what these mean here, this guide will be updated regularly to highlight the main additions with each new release.
Since Google releases updates so frequently, we'll only share them when something significant is added or patched as new builds are rolled out.
Without further ado, here's what's new in the Stable, Beta, and Developer Channels for Chrome OS!
Stable
December 14, 2018 — 'Better Together' Android phone integration now available for everyone with Chrome OS 71
Chrome OS 71 has arrived, and while not quite as huge of an update as 70, there's still plenty to talk about.
The biggest addition is that Google's "Better Together" platform is now available for everyone. First introduced to the Developer channel in October, this makes it easy to find features that are available to you when using an Android phone and a Chromebook together (such as instant tethering, being able to automatically unlock your Chromebook when it detects your Android phone, and getting set up with the Android Messages web client).
None of this is new, but everything now has one streamlined umbrella to live under. Plus, Google notes that it'll be adding additional features to this in the future.
Chrome OS 71 also includes a new UI for the camera app, new Family Link features, autocomplete in the Launcher search and more. Pixel Slate owners are getting Android P, a fingerprint authentication mode, and portrait mode for the camera.
September 19, 2018 — Stable Channel starts getting Chrome OS 70 with floating keyboard, centered dock, and combined notification and quick settings panel
The centered dock we've seen popping up on Beta and Dev Channels is finally arriving on the Stable Channel with Chrome OS 70, and with it comes a newer, slicker, and slightly weirder Quick Settings panel, as well as a floating keyboard similar to the one we saw on Gboard's beta last week. It's easy to toggle the floating keyboard on and off — the icon resembles a picture-in-picture screen — and even easier to slide the keyboard around the screen with the navigation dot at the bottom of the floating keyboard, but unlike Gboard, this floating keyboard does not turn transparent after a few seconds of inactivity. There's still no option to theme the on-screen keyboard, either.
The new dock features rounded a rounded pill shape around the time time and connectivity icons on the right, the app drawer icon still on the left — I'm playing with Chrome 70 on my old ThinkPad 11e Chromebook since it's not available for the Pixelbook yet — and in the middle is a centered bevy of app icons, with pinned apps on the left and open, unpinned apps on the right. This will take some getting used to, but nowhere near as much as the newly combined quick settings/notification panel.
This newly combined panel features rounds corners, a deliciously dark UI, and the Quick Settings portion of it now has two modes: condensed and expanded. I dig the new look — #DarkThemesForever — and it puts the DND for notifications with the rest of the Quick Settings instead of hiding by itself in the Notification panel. The slider for brightness is also a now permanent fixture here, as previously the slide would only appear in the Quick Settings panel when in tablet mode. You can't re-order or pick which settings you see here yet, but I truly do hope that feature with make the jump from Android to Chrome OS before long.
When a notification appears, you open the Quick Settings panel and the notification will be sitting there above your settings. This makes notifications sit much higher than before and leaves less space for multiple notifications, so I'm not a huge fan so far. The Clear all option is hidden now, too; you'll have to pull up on the bottom-most notification to reveal it.
Chrome OS 70 also brought with is some security upgrades with it, such as the ability to restrict which websites your installed extensions get to see, as well as updates to Autofill and text-to-speech. The update is rolling out to dozens of models already, and if you've got a Chromebook, it's probably waiting for you.
September 19, 2018 — Stable Channel now getting Chrome OS 69 with Material Theme UI, easy emoji access, and more!
After making its way to the Beta Channel last month, users in the Stable Channel are now receiving their official update to Chrome OS 69.
All of the changes we were introduced to last month are included here, meaning there's a new UI for the Files app, refreshed Material Theme design for the Chrome browser, the night light feature can be enabled without having to mess with flags, and using a Chrome OS device in tablet mode should now feel a lot better.
Chrome OS 69 also brings something we've been waiting for for years — easy access to emojis! Just right-click on any open text field, click "Emoji", and a virtual keyboard will pop up at the bottom so you can quickly find what you want.
The update is rolling out to everyone on the Stable Channel now, so be sure to keep your eyes peeled!
June 7, 2018 — Progressive Web Apps can be installed and Tablet Mode gets split-screen support
Chrome OS's Stable Channel was updated to 67.0.3396.78 on June 7, and it comes equipped with a host of new features.
One of the big highlights is the ability to download Progressive Web Apps as standalone applications — similar to how you'd download Android or regular Chrome OS apps. Progressive Web Apps are technically portals to websites but come with refined user interfaces and increased performance. They essentially give you desktop apps for things like Spotify, Flipboard, and more without developers having to create apps specifically for Chrome OS, meaning that we've just about ended the complaint that Chrome OS doesn't have enough applications available for it.
Another big addition is that you can now use apps/websites in split-screen while in Tablet Mode. With devices like the HP Chromebook X2 and Acer Chromebook Tab 10 now around, a feature like this couldn't have come at a better time.
Other goodies include a cleaner list of your Bluetooth devices, the ability to zip files on Google Drive via the built-in Files app, and new shortcuts that pop up when holding down your power button.
Read through the full changelog here
Beta
August 24, 2018 — Chrome OS 69 adds a blue light filter, Linux app support, and Material Theme UI
Chrome OS 69 is rolling out now to the Beta Channel for "most" Chrome OS devices, and there's a lot of cool stuff to check out.
First of all, Linux app support is finally included! This is something that's been limited to the Developer Channel for quite some time, so it's exciting to see it now be ready for Beta users. Linux support is only available for select Chromebooks, including the Pixelbook, HP Chromebook X2, Samsung Chromebook Plus, and more.
Also new is a night light / blue light filter mode right in the quick settings. This is something that previously required you to enable a flag, so while not an entirely new feature, it's much easier to access now.
Lastly, this update brings an updated UI with elements from Google's Material Theme aesthetic and changes to the BIOS and trackpad firmware.
June 7, 2018 — All HTTP sites are now labeled as "Not Secure"
HTTPS is the future of website security, but for whatever reason, there are still some sites that continue to use the old HTTP standard.
As it stands right now, sites using HTTPS show a green "Secure" badge to the left of the domain. Starting with the Chrome OS 68 beta, that "Secure" badge is being removed and all HTTP sites wil show a "Not Secure" label so users can more easily identify if they're on a site that's not as safe as it should be.
Read through the full changelog here
Developer
October 21, 2018 — 'Better Together' Android phone pairing feature rolling out
Pairing and syncing between Chromebooks and Android phones has been something we've all wanted for a while, and Google has been working on the Better Together feature to do it for quite a while, but until now, we've only had placeholders, rumors, and strings of Chromium. Well, some users are getting the chance to actually test out Better Together as the service rolls out on the Chromeook Dev channel.
If your Chromebook is eligible, you'll receive a notification about the service asking you to set it up and manage your device preferences in the new Connected Device settings. Currently, those settings include two of the three features that Better Together was reported to include back in the summer: SMS syncing through the Android Messages desktop client and Smart Lock to keep your Chromebook unlocked when your phone is nearby.
The last feature was Instant tethering — something that the Pixelbook and Pixel phones already do — but as the feature is just beginning its time on the Dev channel, there are plenty of changes that could happen in the coming weeks and months.
July 11, 2018 — Android Nougat's app shortcuts are now live!
App shorcuts, first introduced with Android Nougat, are finally making their way to Chrome OS.
On July 11, 2018, Chrome OS evangelist François Beaufort announced that they are now live in the Chrome OS Dev Channel.
To start using them, simply enable the flag chrome://flags/#enable-touchable-app-context-menu. Once that's done, right-click on an Android app that's pinned to your shelf or in your app drawer and you'll see the app shortcuts menu pop up.
The flag is still experimental, so don't be alarmed if things are a bit buggy right now.
June 8, 2018 — The Pixelbook's power button can act as a physical two-factor authentication key
Two-factor authentication is a great way to secure your online presence, and one way to go about this is by using a USB key. If you've got a Pixelbook running the Developer Channel, you can now mimic the functionality of a USB U2F key with its power button.
To enable this, simply open a Chrome Shell and enter u2f_flags g2f. As with everything in the Developer Channel, this feature isn't the most stable so consider having a USB key anyways just in case something goes wrong.
June 5, 2018 — Chrome OS's emoji shortcut is now available!
Chrome OS has long been in need of an easy way to access emojis, and if you're running the Developer Channel, there's a new tool that allows you to do just that.
After enabling the flag chrome://flags/#enable-emoji-context-menu, right-click on a text field and you'll see a new "Emoji" option. Click on this, and you'll be able to insert whatever emoji you'd like.
It's reported that the implementation is still a little wonky, but it should smooth out as it makes its way through the Beta and Stable Channels.
Joe Maring was a Senior Editor for Android Central between 2017 and 2021. You can reach him on Twitter at @JoeMaring1.
What's the best and easiest way for a company to transition from HTTP to HTTPS?

CloudFlare (free tier) using their "flexible" crypto setting.

I guess this is a phased rollout, I haven't seen it on my pixelbook yet on stable channel.

I wonder if it rolled with app-to-microSD card support as it was reported on androidcentral to be able to do with this version...you know - for people with large photo, music, and movie collections that need the offline storage?

Chrome os is improving everyday.
Support android, linux, windows, progressive apps and more
Google is doing good :)

So far yes. Let's hope they don't decide to dump it and let it become another crappy beta software like they usually do. I admit, their track record for ChromeOS has been really good.

I know this is simple and perhaps superficial, but I'd like to see the App Drawer have a lot more customization options or for the docked icons to spread out, almost like MacOS.

Where can I find Progressive Web Apps to install?

There are quite a few here. I haven't tried installing any on Chrome yet. https://outweb.io/

I ought to add I have no idea how to install them - I have just been trying and they just open as tabs in the Chrome browser. Anyone know what you're supposed to do?

Can't wait for os 69 to hit stable.

I still don't have 68 on my pixelbook yet. I'm still on 67,,,,,,,,,99

Never mind I see the answer to my question

I'm on Beta on my Pixelbook on 68, but no sign of an update to 69 yet.

Where do you go to install the progressive web apps for chromebooks?

Install? Aren't they just weboages?

And still no Linux on Samsung Chromebook Pro! I thought they said anything over Kernel 3.14 will get it?

I particularly like having more of my android radio station apps available so i dont have to use chrome to use them... On another note im coming darn near to wiping windows 10 off my PC and replacing it with chorme OS

The new Night Light feature is great.

I can't get excited about Chrome OS yet. I'm waiting for it either to merge with Android, work better, or a dual boot Chrome/Windows machine. Further, I'm not interested in having everything in my life in the cloud. My flagship phone can do everything a Chrome OS machine can do..... I can hook up a keyboard or monitor if needed. Yes, Android and Chrome OS need to become one, a unified solution... Until then, Chrome OS is a compromise.... U are paying Google for something that isn't right, while they work on a final product. I'll stick with Android phones and Tablets. An android tablet with and physical keyboard is as good as any Chrome OS device.

Couldn't agree more... I'm also looking forward to the development of the 'Your Phone' app on Windows 10 which may eventually mirror my phones screen... I like Android on my tablet, Huawei M5 and use it to compliment my Surface Pro 4 so I have all options covered...

Mind blowing changes haha

I like the dark UI and changes to the Chrome Web Store; however, I dislike the New Tab page (too many pill boxes, I think).

I just got a Chromebook and after the first update out of the box I can say I am not a fan of the centered icons. The entire shelf looks huge now and the very sides of the shelf are oval now for some reason which looks bad when it is pushed right up next to the edge of the screen (when you don't have Chrome or any other app in full screen mode). There is a flag for the time being so you can revert the shelf back to the old way in case you don't like it. It's weird I have to use my windows desktop to sideload or whatever currently since the built in adb and fastboot are way out of date. Is the Chromebook supposed to notify you when it actually updates? As far as I know it has only updated once since I got it (on black Friday) but I feel like I only realized it updated because the UI changed some. Finally, are we ever going to be able to easily manage Pixel phones using adb and fastboot on a Chromebook? I know there is a hacky way to do it by downloading a few things an XDA dev has put together but it seems really weird you can't easily update or flash factory images using a Chromebook on the stable channel right now.

Odd that most ppl don't have this version yet, im on beta
And haven't checked to see if I have this update but I been on chrome 70 for awhile now along with some small updates, and I'm almost sure I have another one waiting last time I was using it a week ago also I am using a pixel book
Android Central Newsletter
Thank you for signing up to Android Central. You will receive a verification email shortly.
There was a problem. Please refresh the page and try again.