Canada's Freedom Mobile is finally getting the phones and coverage it needs to compete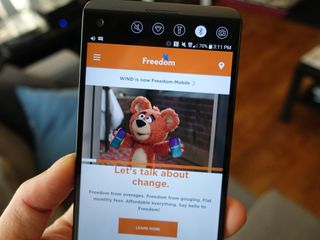 Back when Freedom Mobile was called Wind Mobile, it was seen by the Big Three Canadian carriers as a pest that wouldn't go away. Now that Shaw Communications owns the company, and is growing its LTE network in major cities around the country, it's becoming a much bigger force to be reckoned with.
Much of that comes from the growth of its LTE network, which is expanding in all directions from the respective cores of Toronto and Vancouver this week, as well as with firmer plans to launch the same high-speed service in Edmonton and Calgary, Alberta, later this summer.
Greater Vancouver coverage map (left) | Greater Toronto (right)
Along with better, faster service in more places, Freedom is now offering more than just one LTE plan — when it started in the waning months of 2016, its single LTE plan was promotional, and only for early adopters. Now all of its plans are "LTE ready," according to the company, which makes it easier to justify spending money on one of those new phones.
The plans, ranging from $30 for 250MB of LTE-ready data all the way to $59 for 8GB of Canadian data and 1GB of "Away" or U.S. roaming, undercut the competition significantly. That most expensive plan, even broaching $60 per month, is still likely the best wireless plan you can buy in Ontario and British Columbia today given that it comes with a gigabyte of domestic and U.S. roaming. The only question is how often you'll be eating into that allotment given Freedom's relatively small "Home" footprint.
Then there's the phones. That's been the biggest impediment to growth since the company launched its network last year. Starting with just one high-end phone, the LG V20, and one budget option, the ZTE Grand X 4, the line is quickly growing as Freedom's Band 66 becomes standard in all upcoming releases. By the end of 2017, every phone in North America should support Band 66 as it supports Band 4 today, since the subset of airwaves is just an expansion of the existing AWS standard.
As of today, you can buy the LG G6 and Samsung Galaxy A5 (2017), both great phones. But Freedom is relishing the opportunity to sell, for the first time, an LTE-ready Galaxy S8 alongside Rogers, Bell and Telus, since it has heretofore always been behind from a technology perspective. (A small note, too: Freedom has the lowest outright price for the LG G6 in the country).
I have been using Freedom's network on the LG V20 for some time, and while its speeds aren't always consistently as fast as that of Rogers, my main carrier, it delivers reliable LTE coverage in most parts of the Greater Toronto region, and I am seriously debating grabbing that $59 8GB plan that includes U.S. roaming, since I'm down there often enough to make it worth it.
Freedom Mobile's LTE network: Should you switch?
Freedom Mobile only added 9,500 users last quarter after reaching its million-customer milestone back in the fourth quarter of 2016. It's unclear, now that the company has had time to promote its nascent LTE network under the Freedom Mobile name, whether it added a significant number of new clients in the three months between December 1 and February 28. We'll know on April 12, when Shaw releases its second quarter results.
Do you use Freedom Mobile? If so, are you happy with the service and coverage? Let us know in the comments!
Get the Android Central Newsletter
Instant access to breaking news, the hottest reviews, great deals and helpful tips.
Daniel Bader was a former Android Central Editor-in-Chief and Executive Editor for iMore and Windows Central.