Can my phone play Apex Legends Mobile?
By Jennifer Locke published
Most newer Android phones should run Apex Legends Mobile just fine.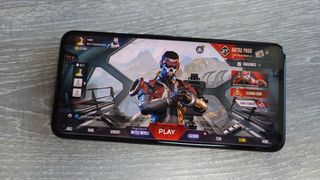 (Image credit: Jennifer Locke / Android Central)
Can my phone play Apex Legends Mobile?
Best answer: Supported Android devices must be running Android 6.0 or later, use a Snapdragon 435 (or equivalent) CPU, and have at least 3GB of RAM. If you have a newer Android phone from the last few years, you should be good to go.
What is Apex Legends Mobile?
Apex Legends Mobile is a new battle royale experience developed by Respawn specifically for mobile devices. Like Apex Legends on consoles, it features a handful of hero characters, dubbed Legends, with unique abilities that can be used during matches. The mobile version also features 6v6 Team Deathmatch in addition to its battle royale mode, and it features the mobile exclusive Legend, Fade.
Respawn says that Apex Legends Mobile will have its own update cadence and separate seasons from Apex Legends on console and PC.
What Android devices support Apex Legends Mobile?
Apex Legends Mobile runs on Android devices with Android 6.0 and up. Released back in 2015, Android 6.0 is a fairly older operating system and is no longer supported with security patch updates. If you've purchased a newer phone within the past five years or so, your phone should be able to run it. Some of the best Android phones like the Galaxy S22 and Google Pixel 6 most assuredly can run it just fine.
Though Apex Legends Mobile requires 3GB of RAM to run, Android devices with 2GB RAM will be supported if they are from Huawei, Motorola, Samsung, Lenovo, Xiaomi, Oppo, or Vivo.
The minimum requirements are as follows:
Android 6.0 or later
CPU: Snapdragon 435, Hisilicon Kirin 650, Mediatek Helio P20, or Exynos 7420
At least 3GB RAM
At least 4GB of storage space
Screen sizes: N/L/XL
---
The battle royale now in your pocket
With Apex Legends Mobile now available worldwide, plenty of players are jumping into the battle royale. Unless your phone is incredibly old, you'll be able to play and have fun with your friends. In our time with it we found the new mobile exclusive Legend, Fade, to be a great character to play, unsurprising since he was built specifically for mobile.
Apex Legends Mobile
If you have a newer phone from the last five or so years, you should be able to play Apex Legends Mobile. It runs surprisingly well and is a ton of fun in both Team Deathmatch and its battle royale mode.
Download from: Google Play Store (opens in new tab)
Jennifer Locke is Android Central's Games Editor and has been playing video games nearly her entire life. You can find her posting pictures of her dog and obsessing over PlayStation and Xbox, Star Wars, and other geeky things on Twitter @JenLocke95.
Android Central Newsletter
Get the best of Android Central in in your inbox, every day!
Thank you for signing up to Android Central. You will receive a verification email shortly.
There was a problem. Please refresh the page and try again.