Can I delete things from my Oculus Quest library?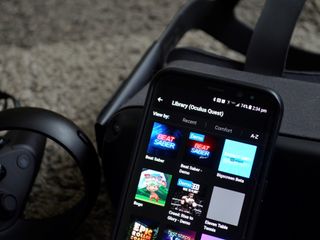 (Image credit: Android Central)
Best answer: No, you can't delete items from your Oculus Quest library. You can uninstall an app or game from your headset, but it will always appear in your library.
Sticking with you
Every time you download an app or game for the Oculus Quest, it's added to your library. This is handy because you can easily find any app or game you've previously downloaded. You can also quickly install things that you purchased from your phone or the web.
The downside is that your library can easily get cluttered. For example, every Oculus Quest ships with a free Beat Saber demo. Even if you pay for the complete version of Beat Saber, the free demo still shows up in your library. This isn't unique to the Oculus Quest. Oculus doesn't let you delete items from the library of any device.
Additionally, if you ever download an app or game that turns out to be terrible or that you'd like to hide from your library for any other reason, you don't have the option. While having items in your library doesn't take up any space on your Oculus Quest unless they're installed, it's unfortunate that you can't delete them from your library.
How to uninstall an app for the Oculus Quest
While you can't remove an item from your library, you can uninstall it from your headset. This frees up space and clutter on your device.
Open your Oculus Quest library.
Go to the apps section (even if you're uninstalling a game.
Hover your controller over the ... menu.
Select uninstall.
Our top equipment picks
Untethered VR
Freedom to move
The Oculus Quest is a standalone VR headset. That means you don't need a PC or phone to use it and you don't have to duck and dodge around wires. As a result, you can bring VR almost anywhere and immerse yourself in gameplay.
Additional Equipment
The Oculus Quest has everything you need to run it in the box, but you can still add some accessories to enhance the experience and help you take it with you on the go.
Oculus Quest Travel Case ($40 at Amazon)
This case will protect your Oculus Quest when you're on the go and has enough room for the headset and Touch Controllers.
Quest Deluxe Strap ($20 at Studio Form Creative)
This strap adds another layer of support to the head strap that's built into the Oculus Quest. It helps distribute weight across your head to improve comfort, which is essential for longer sessions.
Panasonic rechargeable batteries ($19 at Amazon)
These batteries can be recharged up to 2,100 times and are a great way to keep your Touch Controllers charged and ready to go.
Get the Android Central Newsletter
Instant access to breaking news, the hottest reviews, great deals and helpful tips.