Cameringo - another way to get filters onto your pictures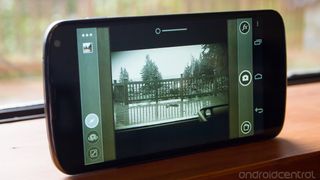 Cameringo is yet another entry into the photo filter game, and has some features that can help set it apart from other photo apps. Since Instagram made its way to Android, there has been an increasing flood of apps that put filters on top of photos -- for better or worse, depending on who you ask. Cameringo makes the likely smart move to not go head-to-head with Instagram's styling and social networking aspects, and instead just offers a set of useful settings and photo filters that make it compelling in other ways.
Read on past the break to see what Cameringo has to offer.
The Cameringo interface isn't anything special, but it does the job for this type of app. Camera apps can only have so many differences in interface if you want to have things stay familiar. You get a regular shutter key on the right, with a gallery button below it and a filter selector above. The gallery button will pull up a quick view of your last few shots and a button to the built-in Android gallery as well. On the left side you get quick options for flash and camera switching, and a settings overflow key to pull up more advanced options. There's tap-to-focus and tap-to-capture options, but there's no way to select a specific focus point.
On the filters side, there are dozens (and dozens) to choose from -- there are some collage options as well that shoot multiple styles and zoom levels at once. The filters button gives you a vertical scrolling list of 5 filters at a time, and the settings-style button at the top of the list lets you pin specific filters that you use most often. The filters are "live" and give you a preview of what the picture will look like before you take it. You can also apply filters after you take images, so you could try one filter then change it later. If you do select another filter, the original is saved also.
When you capture a picture, you get a preview where you can instantly discard it, share it or move back to capture mode. You get a preview of the last image in the top left corner of the interface, and when you tap it you get a larger view that will stay there while you shoot. The developer of Cameringo says this is a good option so that you can try and compose another image similar to it, but I didn't find it that useful.
The sharing key in Cameringo brings up a standard sharing intent window, with all capable apps. The sharing intents don't seem to be set up properly though, as clicking any of the app icons just take you to the app and doesn't bring the image along with it to post. Luckily Cameringo saves images into the Android gallery like any other app, and they can be shared simply that way. We'd be surprised if this bug stuck around long.
There isn't a lot to complain about here, even if some of the little quirks -- like the sharing menu -- detract from the experience. Cameringo is just $1.00 in the Play Store, which is a small price to ask for a smooth and useful app that adds filters to your photos with no strings (or social networks) attached.
Android Central Newsletter
Get instant access to breaking news, the hottest reviews, great deals and helpful tips
Andrew was an Executive Editor, U.S. at Android Central between 2012 and 2020.
One thing I love about Android is the many choices you have to accomplish your end goal. Whether it be with photo's, keyboards, or any other series of apps. But good Lord, developers! Enough with the photo filters. Unless you're offering something that's actually NEW, put your talents toward something else that we actually need more of in the Android world. It seems so lazy to develop a filtering app these days just because it's a cheap and easy way to get something out there.

This!. Every phone's camera already comes with all the filters you will ever need, and way more than you will ever actually USE. Other than idle curiosity, I have never actually used any of the filters on any of my devices.

snapseed has good filters. google bought it and i think many of those filters made it to android 4.2 https://www.androidcentral.com/e?link=https2F2F...

Just tried it and it won't let me leave a comment in the Play Store even though I have installed it. The images I created were saved as a black image, so I guess it won't be staying on my phone. AT&T Galaxy S 3

How come? I bought it and works smooth on my S3 even before the update

I just do not understand the need for all the filters. We want our smartphone's to take the best picture but then we add a filter to make it look vintage or blurry or some other style. Why bother with upgrading the camera's. Am I missing something from my life because I don't add these to my photos?

IF you do it right, it makes the images look better, not worse. Especially since cellphone cameras still arent all that good. It's a way to cover up blemishes and mistakes such as the wrong exposure or noise.

No, it never improves any image. If you shoot your photos right there is never a need for this stuff.

I wish I were so confident in my ability to shoot my photos right. I rely on a lot of post-processing.

Nice selection of real-time filters. Works great on my Samsung Galaxy S 3

Installed in my Samsung Galaxy S3 and works amazing, this app is just a love at first sight, finally a quality camera for android. iPhone users, you should start to cry. By the way, the Cartoon filter is even better than the Paper Camera one, how did the developers make the image filters run so fast?
Only thing I've found annoying is that the sharing does not work so well.

Indeed I wish the sharing was fixed. Would expect it to be soon enough.

Not bad, but I prefer a free app "Pixel Artist" https://www.androidcentral.com/e?link=https2F2F... It's faster and the picture quality is the max of the camera with many sliders to adjust settings.

actually Pixel Artist is just one of the many bad clones of the awesome "Paper Camera", it offers nothing new and just tries to be another Paper Camera app.

Actually I am also a user of "Paper Camera" and I disagree that Pixel Artist is a clone. It offers many unique features and much more effects(+overlays+borders) and settings and they are different from Paper Camera and the speed of real time preview is faster. You can also create your own effects and add to favourites. The pic you take is exactly what you see in preview and the quality is stunning on my sIII it saves photos at max resolution, apps like Paper Camera or Cameringo barley manage to achieve half of it, try to load a big resolution pic to Paper Camera... and do it in Pixel Artist you will notice the difference. And one more thing it's free.
Android Central Newsletter
Get instant access to breaking news, the hottest reviews, great deals and helpful tips
Thank you for signing up to Android Central. You will receive a verification email shortly.
There was a problem. Please refresh the page and try again.