With Calendar for Android Wear, your schedule is never more than a tap away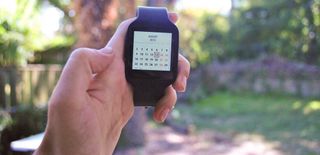 Being in control of your schedule and keeping track of the many events that fill our lives can feel like a juggling act. Smartphones have made it easier, by giving us easy access to our calendars while we're on the go. Calendar for Android Wear takes the ease of seeing your upcoming appointments a step further, by letting you see your full schedule from your Smartwatch. A simple calendar that lets you view your appointments, and syncs to the calendar on your Smartphone. If you don't always have the time to check your phone, then this Calendar for Android Wear might be right up your alley.
To open up Calendar for Android Wear, just say 'Ok Google, open calendar' or grab it manually. It should automatically sync with your current calendar app. There aren't any real options for customization, or settings, but that's because the app concentrates on doing everything right. It's a basic calendar view, with the month and year at the top of your screen.
The current date is denoted by a red box around the date. You'll also notice that while some numbers are black, there are red ones as well. The red dates are the days on which you have appointments in your calendar. If you want to check on your calendar for months other than the current one, a quick swipe to the left or right will let you go forward or back in time.
If it's a day where nothing is scheduled, then all you'll get is a little gray box informing you there are no events scheduled on that date. If you tap on a date, then you'll get a list of all the appointments you have scheduled. Tapping on a specific appointment will open up another screen with all the information you put into your phone.
This means whatever you labeled the event as, time, date, location and details are all available right there on your wrist. It's a simple but capable design that lets you see everything you need to, without digging for your phone at an inconvenient moment.
As mentioned earlier there aren't any options available with this app. This includes editing, deleting, or adding new events to Calendar for Android Wear. It does sync up with your phone very quickly though, so when you add an event via your Smartphone it shouldn't take more than a minute or two for it to show up on your Smartwatch screen. It's available on the Google Play Store now, and it's 100% free.
If all you need is an organized glance at your calendar, this is one of the simpler options out there. Will you be checking out this Calendar, or do you prefer a different one?
Get the Android Central Newsletter
Instant access to breaking news, the hottest reviews, great deals and helpful tips.
Jen is a staff writer who spends her time researching the products you didn't know you needed. She's also a fantasy novelist and has a serious Civ VI addiction. You can follow her on Twitter.