Deal: Buy a Moto Z2 Force from T-Mobile and get one FREE!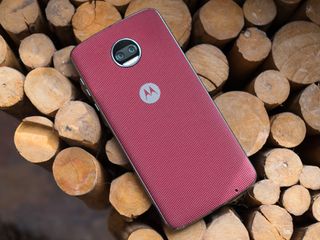 For a limited time, new and existing T-Mobile customers can get a FREE Moto Z2 Force with the purchase of a Moto Z2 Force on the 24-month equipment installment plan.
To take advantage of the offer, new customers need just to purchase both phones on the Equipment Installment Plan and activate them on a T-Mobile ONE Unlimited plan. Existing customers can just choose the phone on the Equipment Installment Plan (EIP), then add one voice line + unlimited data to this plan. If you get on the EIP deal, you have 24 months to pay the device off and if you do cancel your service, any remaining device balances will become due.
The BOGO offer comes in the form of an online rebate, so after getting everything activated you can submit online for a refund of up to $750 via prepaid MasterCard. As an added bonus you can get a free Insta-Share Projector Moto Mod ($299.99 value), as well.
Go to motorola.rewardpromo.com by 9/25/17 to redeem offer by submitting proof of purchase.
Android Central Newsletter
Get instant access to breaking news, the hottest reviews, great deals and helpful tips
This would be a great deal if the 2nd phone didn't need to be activated or a new line added.

A true BOGO would be this: 1. Purchase the device outright or under an EIP.
2. Keep the device past the return period.
3. Pick up free device after return period has passed.
4. You are able to unlock the free device for use on different carriers. Of course nothing is ever completely free. By adding a 2nd line, you are basically committing to service. 24 months of service is worth way more to the carrier than covering the cost of a device.

I actually got a bogo like that directly from Samsung. Bought 2 s8 phones. Activated 1 on my one line, then after 11 days Samsung refunded me one of the payments. Got an s8 for free minus taxes. I then unlocked the 2nd s8 after several phone calls and about a week or 2 and gave to family member on cricket. No eip, no 2nd line. I wish all bogos were like that.

If u pay for the first one outright, u can keep the 2nd phone free and no service on it

Nope, not adding a line for this. Go buy a pair of Z Plays and save some cash!

BOGO so when you inevitably scratch the Z2's plastic (but shatterproof!) screen you'll have a spare.

It really is not inevitable. Screen protectors exist. This is the one phone that I, personally, would be keeping tempered glass in reserve.

You have to add a line. Whether you keep the phone or not, you're still paying for the extra line, plus you have to be on the eip which is a 2 year arrangement which isn't bad since most people plan on staying with t-mobile anyway.
Android Central Newsletter
Get instant access to breaking news, the hottest reviews, great deals and helpful tips
Thank you for signing up to Android Central. You will receive a verification email shortly.
There was a problem. Please refresh the page and try again.