Buy a mod for your new Verizon Moto Z and you'll enjoy up to 40% off additional mods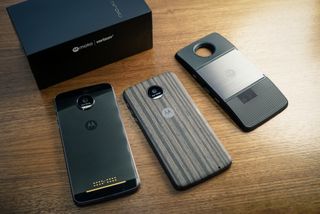 Update: The original announcement from Verizon indicated that it was a 20% savings, and Verizon's website states 40%. Customers who make their purchase in-store will save 20%, and those who purchase online can save 40%.
Verizon has set a date as to when you'll be able to pick up your new Moto Z and Moto Z Force, and should you be on the hunt for some mods to spice up your imminent experience be sure to take note that when picking up a mod you'll get 40% off additional mods when placing your order online, or 20% for in-store purchases. This will help make it more affordable to not only pick up the battery powerhouse, but also a projector or boombox.
You can already pre-order the Moto Z Droids and available mods from Verizon directly. Should you be interested in learning more about the two handsets, the mods that can be attached to them or to find out what we make of the new hardware, be sure to check out our in-depth Moto Z and Moto Z Force review.
Which Moto Mods should you buy?
See at Verizon (opens in new tab)
Why would anyone buy a moto? Support for this device is DOA before it even ships. Sent from VZW note 5, Tab s, tab S2, Nexus 7, Nexus 9, Nexus 10, S7 Posted via the Android Central App

Because it's pretty solid for what it offers. I think this is a great deal though, you kind of get to "collect" the mods! lol.

I'm a 100% Samsung guy and even I had a laugh at your DOA comment after seeing you use Samsung tablets. I use em too but support and updates are virtually non-existent. luvin my s7 edge

Agree. I think I have had 4 or 5 updates for my tab s (mm) on the way... Tab s2 has gotten mm and security updates. Any moto phone in the past is lucky to get two or three over its life. I made the point that OS updates don't really matter, but security do. Samsung has been excellent with the security updates. And also by support, in the past moto have had various os issues which take months and months to fix. Samsung seems to fix major problems much faster. Posted via the Android Central App

The projector shows only 35% off on vzw website.
Android Central Newsletter
Get the best of Android Central in in your inbox, every day!
Thank you for signing up to Android Central. You will receive a verification email shortly.
There was a problem. Please refresh the page and try again.