In Oreo, the button to check for Android updates now actually checks for updates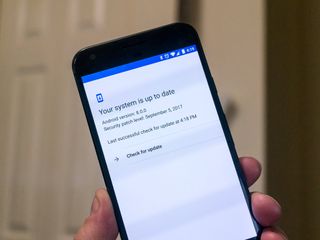 If you've ever mashed that "Check for update" button in your phone settings because you were waiting and ready for an update, you know disappointment. You might be disappointed less in the future, as the button now actually checks for an update when asks rather than check to see if you were slotted in to be updated that day.
Long-time Android developer and new master of update buttons Elliot Hughes took to Google+ today to explain the changes.
You'll need the latest version of Google Play Services, and it appears that this feature may be for Oreo and higher based on comments. We've reached out to Google and will update with more when we hear back.
It's also worth noting that this only applies to OS updates. Apps will still have a gradual rollout as decided by the developer, even Google's apps. Even Google Play Services, which you need the latest version of for this to work as intended. That would be the one dated September 5, 2017, and the version number varies by device.
It's also worth noting that doing this means you might be someone who gets to witness the next bug firsthand. Gradual rollouts are done so that any bugs that weren't found during testing won't affect many devices before the rollout can be stopped and the software fixed. Impatience is often rewarded!
So go ahead and hit the button if you're waiting for the September patch and let everyone know if it worked.
Android Central Newsletter
Get instant access to breaking news, the hottest reviews, great deals and helpful tips
Senior Editor — Google Ecosystem
Jerry is an amateur woodworker and struggling shade tree mechanic. There's nothing he can't take apart, but many things he can't reassemble. You'll find him writing and speaking his loud opinion on Android Central and occasionally on Twitter.
I've been using this for several months for Security updates

Crap i have a unlocked LG V20 it will never hit im still on Dec 2016 security patch, how nice of LG and google pricks

If you know anything about Android then you would know that this isn't Google problem....

Wow. Inexcusable. I really like a lot of LG's phones, but I'd never pay money for one because of their update issue. And I've been complaining because my unlocked S7 edge is still on the August 2017 update. It's still not great, but it's not even on the same scale as how LG treats their flagships.

It's a double edged sword really. It's bad when you want an update but when you actually don't want an update it can be nice. For example, Android 8 makes the background of a lot of stuff blindingly white. It also forces persistent notifications for background tasks on you. So, I have actually not installed it on my Pixel and am keeping myself on an earlier version of Android so I don't have to make my phone less enjoyable to use. The option to update would always be welcome though.

That's got nothing to do with Google though, that's a failure on LG's part.

V30 is tempting, but this gives me pause.

Same, wish the Pixel 2 XL was identical to the V30 in hardware, if it is I might have to bite the bullet with that ridiculous rumored price tag.

How about really sending updates faster as well ? Still waiting for Sept patch for 5X on Fi

Is your phone still enrolled in the beta program? My Pixel XL was and as soon as I unenrolled it updated about 5 minutes later to the Sept security patch. This was 3 days ago. I kept wondering why it wasn't updating.

No, it is not part of beta program.

I've read this on other sites, but this also applies more for Nexus/Pixel devices, so far. I did check my Nexus 6P (AT&T as the carrier), and I got my September 5th update on the same day when I checked manually. My Nexus 5X, which is on Fi, is still on August.

Did the same but with my Nexus 6 and got the Sept. update.

I feel like this explains this. The other day, I checked for the Sept update and no luck but all of a sudden, I had the update ready to download yesterday.

I'll believe it when I see it on my own phone. I'm also not gonna be surprised when too much "manual checking" takes the rap for OS updates lapsing into an unholy mess.

nope, this is false even if the software developer says so, because i have oreo and am still on the august patch.

Are you on a carrier-supplied phone? Carrier limitations still factor in.

Lol. "My anecdotal evidence means the software engineer is wrong."

One thing I learnt recently is that, all carrier supplied phones need to be active use in the network for security patch or OS to be updated. I have a note 4 that I use for home use (on Wifi only) and it never got 6.0 or any security patches. I had to put the SIM and use for a month to get the OS and patches received.

I have a similar situation with Nexus 6 & 9. Both are just back-ups now and used only at home on Wi-Fi, but I bought them unlocked and both are exactly where they're supposed to be . . . 7.1.1/September. Maybe contact carrier and request your device be unlocked.

If you know anything about Android then you would know that this isn't Google problem.... Yes I know its not their fault but you would think they would work together with all the MFG's to stream line this process and at least get the security patches out like Black Berry does every month, Really December 2016? I guess if your stupid phone was on it still you would be ******** also you genius

Again, you don't know how Android works. Be mad at LG and yourself for buying the phone. If you want a phone that is updated quickly buy an iPhone or Pixel, this is the way it is. This is the way it has been for ages (except with the Nexus program). Do your research before buying a phone and take responsibility for your own actions, Android updates are far from ideal but we all know how it goes at this point.

Rogers in Canada tends to release the updates around the 20-22nd of the month. However someone on crackberry posted a way to manually update the KEYone which I did to the Sept 5 patch and it worked flawlessly. I was updated about 8 days before my carrier released it. And planning to do the same for the OCT patch.

I just bought a brand new Nexus 6p 64g sealed in box. My Oreo update was waiting to he installed already. I didn't have to manually push it but it was there waiting to be installed. I thought not everyone had gotten the Oreo update all at once and that they released in batches. If this is the case then I indeed get lucky with my update waiting to be installed already

A long waited feature, the most useful in Oreo, as the other features are mainly for developers, not for end users

Interesting to hear more about how the staged rollout works. I just got the latest Google Play Services update, but still no 8.0 update on my Fi Nexus 6P after hitting the update button. The wait continues.

I have a P2 and the "check for update" button does NOT pull the November update that became available yesterday. Grrrrrr.

Yeah...what happened to user initiated updates in Oreo? Still waiting on mine too.

Got the update for my Nexus 5x immediately. Still waiting for it on my Pixel XL 2...

If what Google says is true, than why can't I check for and receive the December update on pixel 2?
Android Central Newsletter
Get instant access to breaking news, the hottest reviews, great deals and helpful tips
Thank you for signing up to Android Central. You will receive a verification email shortly.
There was a problem. Please refresh the page and try again.