Google rolls back a buggy update that stopped people from sending texts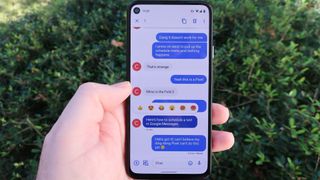 (Image credit: Jeramy Johnson / Android Central)
Update, December 10 (10:00 am ET): Google has rolled back the buggy Carrier Services update.
What you need to know
Many Android users are reporting issues with SMS messages.
Some are unable to send or receive messages entirely, while others report long delays when texting.
Google's Carrier Services app is seemingly to blame.
Many Android users have reported facing SMS issues over the last couple of days. From Reddit to OnePlus' support forums (opens in new tab) to the Google Play Store (opens in new tab), a number of users, with phones from a variety of Android manufacturers, are experiencing either long delays while texting or are simply unable to send or receive SMS messages.
The problem's origins can reportedly be traced back to a November 23 update to Google's Carrier Services app, which powers a lot of the carrier-related services on your phone. Users experiencing these issues have suggested that deleting the app from your phone may be a temporary fix.
Though, that may not be the best option. While you may have never used the app, Carrier Services is responsible for a number of background tasks, so deleting it may result in other issues. Additionally, it also supports the newest features in the Android Messages app, so its removal could turn features like the new RCS Chat experience off.
While Google has yet to acknowledge the issue, it did update the app with "bug fixes and stability improvements" earlier today. Maybe installing that will fix the issue.
If you're one of the users experiencing these issues, do let us know in the comments below if the latest update fixes the problem.
Update, December 10 (10:00 am ET) — Google has rolled back the buggy update via the Play Store.
Google has issued an update that reverts the app back to its previous version (via Android Police). Once installed, you should no longer suffer from the messaging issue. You can accelerate the fix by navigating to the "app info" screen and selecting uninstall updates, though it's probably wiser to wait for the update if you don't need to send any urgent texts.
Get the Android Central Newsletter
Instant access to breaking news, the hottest reviews, great deals and helpful tips.
The latest update fixed my phones text problems

Below is what Textra sent me yesterday : VERY IMPORTANT: Google have just rolled out (most likely a mistake) a change which impacts all SMS/MMS apps, (so not specific to just Textra) resulting in delayed SMS messages. To see if the problem impacts you, open the Play Store app, search for Messages (by Google) and if there is a button there that says "Enable" then you need to press that. If not, then the issue does not impact you.

I was also unable to send SMS for about a day and half but its back to normal.
Hopefully google hires a few quality control people back.

I have the one plus 8 pro and I'm only having problems sending texts or receiving texts from iphone users. I'm using the Google messaging app. Will not send anything unless I'm in a group chat with another Android user.. then the iphone received my texts. Really annoying seeing how everyone at work is an iphone user and I can't text them. Hopefully this update will work

Carrier services isn't even installed on my Tmobile V60. Should it be?

It really isn't needed 100%. However with that said you need it if you want to take advantage of some of the new features that Google is baking into messaging To fix that came out we did not work for me so I uninstalled it again today so I could text.

Thanks, I'm not having any texting problems. RCS and everything seems to be working fine

Wife bought a new phone. Thought her Huawei was broken. Wiped it twice.... Thought it was phone problem. Great!

This affected me, created some big-time issues. Im trying to ride out a disappointing LG8 thinq, Carrier is ATT. Tried everything short of factory reset. This popped up on my Google news feed and was the solution. Uninstalled Carrier services (build 50) and reinstalled from google play (build 48).