Breaksclusive: Samsung Galaxy Nexus render with a 4G symbol found lurking on Samsung's site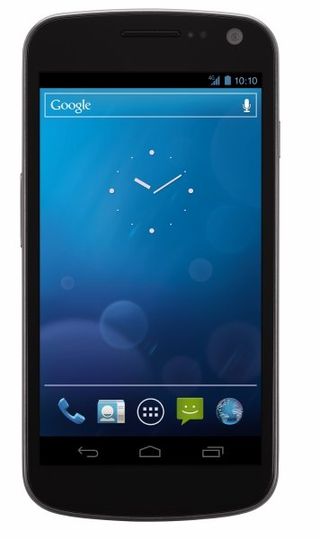 Hey, guess what. If you've been trolling around the Android Central Forums for the past day or so -- hey, it's Halloween weekend, but it's still the place to be -- you no doubt know by now that there's been a Samsung SCH-i515 -- you know that as the Verizon version of the Galaxy Nexus -- lurking in some source code on Sammy's site. You'll also realize that it's really not that big a deal, since it's a pretty plain render of the Galaxy Nexus with a 4G symbol in the status bar -- and not even the "4G LTE" symbol we've come to expect on Verizon phones. But, hey, it's just an image, so we're not all that worked up over it. But what the hell. It's Sunday night. Enjoy.
Source: Samsung (opens in new tab); Galaxy Nexus Forums
Android Central Newsletter
Get instant access to breaking news, the hottest reviews, great deals and helpful tips
"But, hey, it's just an image, so we're not all that worked up over it."

That's why they called it "breaksclusive" when it has been on droid life for a few hours.

But if you went to the link you would see one of our readers posted this last night around 8pm. So Droid life was a day late here.

I guess theres not much news this weekend if were talking about a pic :-(

looks nice but man oh man those icons SUCKS. it needs help. You have a minimalistic style launcher (thats what it looks like) with icons that don't even match. The same sms icon, and the contacts icons are bad. Its supposed to be Super HD Amoled there's nothing super about them.

I'm pretty sure the HD Amoled part of the screen has nothing to do with the design of the icons.

It is pic on the internet, not even an actual pic of a real device what do you expect? You wouldn't be able to see how good the screen looks through this kind of pic. smh

The screen technology has no baring on what the design of the icons are...

i don't even understand what this post is saying. It the news that it is a 4g phone? or that it's verizon? because both those aren't news...

Hope it is still available on or very close to the 10th. Will take it the 17th or so. Glad to get rid of my Charge and back to stock with updates. Will be nice not to need to buy a phone or root just to get the most current is updates.

am i the only one who thinks ice cream looks ugly? i mean stock gingerbread looks soo much better to me. ill be curious to see what htc sense and touchwiz does to improve the UI.

I wish the manufacturers would get rid of their shitty skins, all they do is kill battery and slow down updates.

Is it just me or does TouchWiz 4.0 look a lot like ICS? with the customization of the home screen that is, I think if anything TouchWiz will be a very light skin on ICS then it was on 2.x.
However I agree, skins need to go away.

Ummm, since when does TouchWiz improve Android? If anything it makes it worse. You my friend are either blind or just have very low standards.

You my friend have obviously not used TW 4.0... sooo much better than 3.0

I think the main reason why ICS looks better than GB is because all of the system apps will follow a consistant design language. GB is a little random at times and it detracts from the overall feel of the OS.

Sprint? http://mobileblur.com/wp-content/uploads/2011/07/samsung-nexus-s-4g.jpg

Maybe you should go back reread the article. SCH is what samsung uses for the phones on verizon.

I cant believe that people have had to dig this up on the Samsung site or that it hasnt been sent in yet as I've been druling over this picture for over a week at my job at Verizon

my goodness.... the bottom bezel is huge.... =*(

It's the same as the top minus the Speaker, sensors and camera. Phones need some symmetry, it'd look weird if it was a smaller bottom bezel with the same top bezel.

yeah..... just wish they made it a lil smaller.......

Don't forget that those bottom buttons are part of the screen.

Why do you say that? I think you don't realize how small it is. That whole black area at the bottom of the screen with the buttons... is actually the screen.

And phandroid had it awhile back.

Looks too.... well. BORING! Not dissing the phone. But looks like ill spend the whole day customizing it after picking it up.

That's not VZW's 4G LTE logo though. They got a huge special one. Probably just a random placeholder render

I bet it's just a place holder. No-one's 4g symbol looks like that do they? I know Veriozn's doesn't or T-Mobile, or Sprint.
Android Central Newsletter
Get instant access to breaking news, the hottest reviews, great deals and helpful tips
Thank you for signing up to Android Central. You will receive a verification email shortly.
There was a problem. Please refresh the page and try again.