Brain-training app Lumosity brings its smarts to Android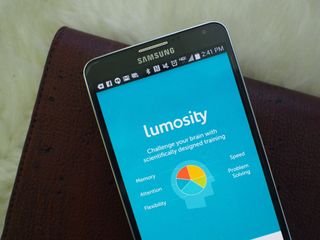 After having been available on iOS, brain-training game Lumosity is finally getting smart and lands on Android for the first time. The app brings training exercises that are designed to help users with memory and attention and is used by 60 million people worldwide.
The company markets Lumosity as a personal training program for your brain. "Lumosity is designed by neuroscientists to train memory, attention, and more. With foundations in the study of neuroplasticity, Lumosity games have improved working core cognitive abilities in several research studies," Lumosity says of its app.
The app is currently available as a free download on the Play store with in-app purchases.
Will you try to regain your focus with Lumosity and at the same time ditch that Angry Birds addiction?
Thanks Sam for the tip!
Get the Android Central Newsletter
Instant access to breaking news, the hottest reviews, great deals and helpful tips.
Angry Birds? What's that?

If you used luminosity you would remember Posted via Android Central App

Pro tip: use Luminosity until you're smart enough to stop throwing money away on Luminosity

Any game that challenges your brain to think and find answers to problems is a "brain game."

*cough*Lumosity*cough* I mean come on..thats a little funny, right? Forgot the name of the app you just read the article about before posting a comment! :-P

That's people who use "pro-tip" for you... Posted via Android Central App

How much are the "in app purchases"?

Depending on what you want: $14.95/month
$79.95/year
$119.95/ two years
$299.95/lifetime ** these are all recurring billing**
unlocks so-called full access

You get the recurring bill for the last crossing into the afterlife. In-app purchases are getting sneaky these days. ;)

Promising app but £40 for a years access?
Yeah right. My brain isn't in that bad a state i'd pay that.
I'll read instead Posted via Android Central App

It does look quite pricey, and although it also looks pretty does it actually work? Who are the neuroscientists, where do they work, what universities did they attend? Posted via Android Central App

Yea it works, I'm someone recovering from a brain injury and I swear by Lumosity. It takes a few minutes a day and you can really feel your brain working. When I started using it I was using it everyday. After seeing and feeling my brain improve, I only use it a few times a month. It's worth every penny though. It doesn't hurt to try it and it's free to test and see how your brain is working.

You FELT your brain improve? That must've been a trip! If I felt my brain do anything I'd think it was a tumor! :P

Lol 40 quid a year access.
If you are considering that. Its not Lumosity you need...
... It's a lobotomy Posted via Android Central App

No thanks, I only go for free Posted via Android Central App

+1^ Posted via Android Central App

I have been waiting for this for so long! FINALLY!!

People who pay so much for this type of app really don't have a brain to train at the first place.

Business Insider review: "Here's What You Really Get When You Pay To Play Brain Training Games" ...
"In other words: While Lumosity has rabid fans who swear it has boosted their attention and memory, as far as scientific evidence is concerned, the jury is still out — and so far, it doesn't look so promising."

This is what I was querying further up, they make all these claims but have they been peer reviewed or independently verified? Posted via Android Central App

I was just saying that they were stupid for not having an Android app. AC App via Nexus 5

Is it a Dual N-back game? I use Brain Workshop.

There is no scientific evidence supporting these "brain training" sites and apps. Save your money.

Yeah I'm not paying for this shit.. Posted via Android Central App on The Nexus 5