Boost Mobile announces new 'growing data' plans starting at $35 a month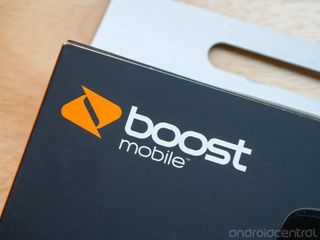 Boost Mobile has announced a new data plan option for its customers, a 'growing data' plan, which earns you additional data every three months for simply paying on-time. The new plans can earn you up to 3GB of extra data without any additional cost as long as you make 18 payments on-time. Following the 18 on-time payments, Boost will offer customers a few new options.
These options will include a $35 a month plan that will include 5GB of data or a $45 a month plan with 8GB of data. Normally, those price points would earn you only 2GB and 5GB respectively. Customers who sign up for Auto-Re-Boost can save an additional $5 a month, offering an even better value.
Source: Boost Mobile
Jared started off writing about mobile phones back when BlackBerry ruled the market, and Windows Mobile was kinda cool. Now, with a family, mortgage and other responsibilities he has no choice but to look for the best deals, and he's here to share them with you.
I tried boost a few years ago and their data signal is the worst I ever had. Great prices but their 4g was basically non existent. Posted via Note 5/AC App...

Because boost runs on Sprint and I'm sure it gets proxied on top of it. Posted via the Android Central App

Definitely. Posted via the Android Central App

Actually boost does not get proxiedy like you think. speed test of enhanced lte get 38ms ping 58mbps down and 15mbps upload. Sprint has come along way in my book yes they need some work on coverage but in areas i go i get great sprint lte service. And boost mobile now has a 60 dollar unlimited lte data plan.

And you know networks don't change over the years. Posted via the Android Central App

I know that networks change over years but my experience was so bad, I'm not willing to give them a second chance. I'm just sharing my past experience that's related to the topic of this article. Posted via Note 5/AC App...

Sprint hasn't changed. Before you blurt out the 3-4 years ago thing, I had service with them for my business phones back in Jan of this past year. We were in a so called Spark area surrounded by 4G LTE. None of it. Data sat a 3G. Dropped call after dropped call. 1 bar tops on phone no matter where I travel to. Posted via The Next Big Thing. My Samsung Galaxy Note 5!

I had Boost Mobile for over 4+ years ( 2011-2015) ... Horrible customer service in India or wherever it was/is. Sub-standard signal even when outside. Could not get any signal indoors at all. Have to go outside to even text? PLEASE... They didn't do any upgrades on phones unless pressed to do so. And the only "good" thing was the "shrinkage" plan that I was on that got me down to $ 35.00 a month and (then) 3gb of data. What good is data if you can't even get a decent signal? All of the lower tier plans that providers have give you a less than "premium" signal than I would get if I paid full price for a Sprint plan. So now they're trying to lure customers with promises? When I first got my plan in 2011 it was UNLIMITED data. Nothing changes except the lies.

The data still is unlimited! Posted via the Android Central App

So you have to be with them 18 months before this plan even kicks in. What a joke. That's a year and a half of bad service to save a few bucks. Posted via the Android Central App

Go with their 60 dollar truly ulimited 4glte data plan i just signed up for it when they anounced it i work for a boost mobile store and use the service for my personal use i have the new zte warp elite which by the way is an awesome mid range phone

If you're going the prepaid route, just go with Cricket. Boost is a joke. Posted via the Android Central App

Or go with MetroPCS. Posted on my LG G Stylo

I wish I could use this on my Nexus 5 :( Nexus 5 | T-Mobile $30 Plan

Go with Cricket, you won't be disappointed. Posted via the Android Central App on Moto X 2014/Moto G3/Moto G1/Lenovo Tab S8/ Lenovo Yoga 11 on $35 Cricket wireless plan.

I don't like high pings and throttled speeds. :( Nexus 5 | T-Mobile $30 Plan

2cans and a string are more reliable than boost Posted via the Android Central App

Probably get 5G data with tin cans too. Posted via The Next Big Thing. My Samsung Galaxy Note 5!

Not true Boost mobile is getting better every day i have noticed a big difference in sprints coverage and reliability honestly. I get great speeds on lte and now i can have truly unlimited lte data on my plan
Android Central Newsletter
Get the best of Android Central in in your inbox, every day!
Thank you for signing up to Android Central. You will receive a verification email shortly.
There was a problem. Please refresh the page and try again.