Bluetooth functionality now live for Google Home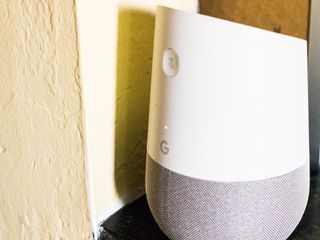 While a lot of music services integrate Google Cast, not all do, particularly fan favorite music players such as Poweramp. While streaming music to an ordinary Bluetooth speaker would work fine with those apps, the Google Home did not work with any music service that did not integrate Google Cast.
That changes today. Users can now pair Bluetooth devices to the Google Home, opening the speaker up to be used with any media application. Google announced the feature at this year's Google I/O, and like the new hands-free calling, the feature is now live. Users are able to initiate Bluetooth pairing from inside the Google Home app. In addition to just playing music, Bluetooth pairing would also be useful for using Google Home with Android's Smart Lock feature.
Image 1 of 6
Have you been waiting forever for this feature, or is it something you are barely going to notice?
Android Central Newsletter
Get instant access to breaking news, the hottest reviews, great deals and helpful tips
Noticed this last evening when trying to set up voice calling (not available on my Google Home in Canada yet), and did pair my KEYone to Google Home successfully.

Something else to play with. The phone calling is pretty slick. It is a lot better if you use Google Voice already. Or start using. It does people apart on the fly and also #s. Which is pretty cool and helpful. Now my big gripe is I have 911 with Google Voice and pay the $1.50 a month but wish it was enabled on the GH. Well I think it is not. Too chicken to test. I get you really can not do 911 without location and location cost money but some of us are paying for 911.

Anyone else have Bluetooth Audio coming through sounding like it's in slow motion? The pitch of the audio coming from my Home through my OnePlus 5 is very low. Weird!

same here. poor quality of audio . phone is s8plus sitting right next to the GH. if that is the quality i will not use it.. still waiting for calling option

Played around with the Bluetooth audio and sounded no different than when using as a Chromecast speaker. Maybe something with your setup? I tested it from a Samsung S7E. Would be kind of hard to mess up Bluetooth I would think as pretty old technology.

mine sounds like **** too ,

yes mine sounds like crap too , music sounds like ****, anyone know why ?

Too bad I can't pair it with my TP_Link Music BT receiver like I can with my Echo :( It would be nice to have the Google Home sound output on my stereo.

I think they want you to buy a Chromecast for that. :-) Or do you mean having the assistant responses come through your stereo? Does the Echo do that?

Yes you can with echo. When you use the Alexa command the music pauses when I'm connected to my sound bar then continues after responding, also the command "connect Bluetooth/disconnect" very simple.

Audible books work around.....

I'm disappointed that it won't do phone audio, so you can't use it as a speakerphone. It'd be nice to have it pair when I get home, and then be able to answer calls with it. That would be more useful to me than the Internet calling. Also, you can pair just by asking the assistant...no need to go through the Home app.

Google added phone support so it is a speakerphone already. Been playing around with it and really slick. Our kitchen Google Home I asked for it to call mom and get my mom, wife asks and gets hers and the kids ask and it calls my wife. But what I really like is it can use Google search for the numbers. So I say call Target and it calls my closest Target. Worked well. Last night we used it to order Pizza and worked perfectly. We are already users of Google Voice and had ported our home number to Google Voice years ago so this also is using our Home number when calling. So someone hits redial and our home phones ring. Looking forward to inbound at some point. Amazon needs to get going. Not just with the phone calling but the foundational things. The ability of the Google Home to know people apart by their voice makes this functionality much better. The Echo has a command of switch account and then a passcode which is a lot more friction, IMO.

It's a speakerphone if you're using Google Voice (which isn't available in Canada), but it's not a speakerphone for my mobile phone. Ideally, Google Home would be able to do both: make calls over the Internet or make/receive calls from your mobile device. It'd also be nice if we could listen to and send text messages. I'm hopeful that these features will be added, since they're already available in Android Auto and Android Wear. Even better if they worked over WIFI instead of Bluetooth.

Does anyone know where exactly this function is? I can't find it in my Home Settings...

It is in the Home app. Under device, settings, then last line under device info. Line is pairs Bluetooth device. Turn on pairing and then goto device to pair. No pin to enter.

how about the other way around - can I use Google Home to cast to a bluetooth speaker?

No. It is so your devices can use the Google Home as a bluetooth speaker. The other way we use Chromecast. Well actually we use Chromecast both ways as to me a far better solution. But was curious and did play with the Bluetooth functionality yesterday.

Sadly as expected. It would have been nice to tell my Google Home to "play some music" on my bluetooth speaker.
Casting to my Chromecast Audio in my livingroom works fine - but the waterproof bluetooth speaker in my bathroom seams disconnected from the other things

Empaim I have the same question I have a Sony GTK-XB5 which has great audio but I can't figure out how to link it with my Google Home.

Other way only I believe. So use GH as BT speaker. You can use CC from GH to external speaker.

I'd have been far more excited for reminders and/or Sonos integration.
Android Central Newsletter
Get instant access to breaking news, the hottest reviews, great deals and helpful tips
Thank you for signing up to Android Central. You will receive a verification email shortly.
There was a problem. Please refresh the page and try again.