BLU announces the R1 HD starting at just $100 unlocked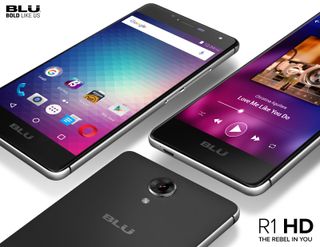 BLU has announced the R1 HD (opens in new tab), its latest Android-powered phone that starts at just $100 unlocked. This phone will also be part of Amazon's latest offer where you can score it even cheaper if you don't mind it coming with ads.
The company has been making affordable unlocked Android phones for some time already, but what exactly does just $100 get you? Well, let's take a look at the specs of the R1 HD.
Category
Spec
Display
5.0-inch HD 720 x 1280, 293 ppi, 420-nit
Processor
Mediatek 6735, 1.3 GHz Quad-Core with Mali-T720 graphics GPU
OS
Android Marshmallow 6.0, upgradable to Android N
Memory
1GB/2GB RAM
Storage
8GB/16GB Internal Memory
Rear Camera
8.0 megapixel, with LED Flash, (1.12mm pixel size, 1/4 inch sensor, 2.0mm aperture)
HD 1080p@30fps video recording
Front Camera
5.0 megapixel, with LED Flash, 84 degree Wide Angle
Connectivity
Wi-Fi b/g/n, GPS, Bluetooth v4.0, Hotspot, FM Radio,
VoLTE support will be added via Over-the-Air Update (OTA)
Network
(GSM/GPRS/EDGE) 850/900/1800/1900 MHz,
(4G HSPA+ 42Mbps) 850/1700/1900/2100 MHz, (4G LTE Up to 150Mbps)
2/4/7/17, 12 will be added via Over-the-Air Update (OTA)
Dimensions
143 x 70.7 x 8.5 mm
Battery
Li-Polymer 2500 mAh
Available Colors
Midnight Black
If you are looking for a backup phone or a first phone for the kids, this may be the perfect solution for you. You can pick it up from Amazon right now for just $100, or $50 if you don't mind ads being forced in your face every so often.
See at Amazon (opens in new tab)
Jared started off writing about mobile phones back when BlackBerry ruled the market, and Windows Mobile was kinda cool. Now, with a family, mortgage and other responsibilities he has no choice but to look for the best deals, and he's here to share them with you.
I'm impressed that it is upgradable to N because I thought Blu doesn't really do updates? Aside from the ads (on the $50 version), I think this wouldn't be bad for my mom to have.

BLU doesn't do upgrades. I purchased the BLU Life One X in December of last year with their promise of an upgrade to Marshmallow in the first quarter of 2016 and here we are about to go into July and Marshmallow is nowhere to be seen. I just sold the phone on Swappa.

Many Blu phones have been promised upgrades that never actually come. That being said, I doubt your mom cares which version of Android she has. I got a Life One X for my dad when it was on sale for $99, and he has no complaints. Heck, I wouldn't even mind using it as a daily driver! The only place that it really suffers compared to modern flagships is in camera quality. Even so, the camera quality is still better than a flagship from 2 or 3 years ago.

I agree about camera quality. Ohh okay, I see. I just looked up my mom's phone and she is not on Lollipop, but on KitKat! That's pretty bad, but as you said, she wouldn't know the difference.

I agree with Mike in that your mom probably could care less about upgrades. However, the Life One X's camera is pitiful. The LG G3 that I had would run circles around the One X in terms of camera quality. I also would never use a BLU phone as my daily driver, but I'm also more of a power user as I currently use the Nexus 6P.

Considering it's a $99 phone (or $150 MSRP), it's fantastic. Sure, it might not be as good as the best camera from 2 years ago, but it's no worse than the camera on the One M8 or LG G2. I'm a power user as well, but the only thing that the Life One X can't do for me is take good enough pictures. Screen is fine, battery is fine, speed and memory, all fine. (Mediatek GPU sucks for gaming, but I don't play games on my phone.)

Specs indicate, WileyFox's Spark and Spark +.... Posted via the Android Central App

Don't buy an ad filled shitfest as the first phone your kids use.

Yeah, great way for your kids to hate you. LOL

Seriously the kid should be glad he has anything.

Heck of a phone for the price especially with the Amazon prime offer.... I personally Don't mind the ads that'll pop up everytime the screen is unlocked. Posted via the Android Central App

taking a look, the non ad version seems to be the exact same price, still free shipping, just not 2 day it seems... am I looking at something wrong here? EDIT: oh, you get a 50$ gift card back with the "prime version" still for $110 you can get the 16gb/2gb version which is what id opt for

Yeah, for the price, you'd be crazy not to get the 2GB version. Even if you're a light user, it's way to easy to fill up 8GB of storage.

Price and size are great and battery decent. Posted via the Android Central App on Moto G3 16/2 on $35 Cricket wireless plan.

Highly doubt the 'upgradeable to Android N claim'. Fell for it when I bought my mom a Life One X which was promised Android M in the 1st quarter of 2016. Still nothing.. On top of that, the phone also does not charge faster than the speed it gets with a 1A charger no matter what charger you use and takes almost 5 hours to charge. Gave them a chance, got burned on the updates. Don't think Blu will be in my top considerations. Posted via the Android Central App

I have no doubt that Blu will not upgrade this (or any other) phone, but for $99 (or less) you can't really complain too much. I mean, if you really care about it THAT much, just wait another year and buy another $50 phone that IS running N. If you really want updates, you could spend $200-300 on a mid-range phone from a reputable manufacture that ALSO WON'T get any updates. Or spend $400-700 on a flagship, and get updates 18 months of updates that are always 6 months late. This is just how it is with Android.

Actually, LG and HTC are pretty good with updates on their flagship devices. Samsung has actually gotten better with updates as well. Obviously if you want updates, Nexus is your best bet.

Love this comment. So true. So sad. Posted via the Android Central App

I don't know if I'm wrong for finding this phone attractive. Lol Posted via Huawei G8 on Marshmallow 6.0.1

You find phones attractive? Are you... Telesexual? Posted via the Android Central App

this would be a good deal if there were ROMs for it... ~posted by zhris.

Too many OTA promises that you will never see from the clowns at Blu

A top of the line phone in 2011/2012 for 100 dollars just shows how far we've come in the mobile world. Posted via Xperia Z5

I'm pretty sure Blu doesn't actually work on updates in-house and that they just port them over whenever Gionee decides to do them for their version of the phone (which is rarely).

I've never seen an update come from any of the BLU phones I picked up as backup and phones for the kids. Looking at the $60 price with free shipping for the 2/16GB version with ads is a hard deal to pass on though!

I picked one up, just to see what it can do. Buy and try, I say. Returns are always free :) Posted via the Android Central App

At $49 and $59 for the version with ads, they will sell a ton of these. I don't even need one and will be ordering one to see how it is like. This is the price that Amazon users are wanting from a phone. Posted via the Android Central App
Android Central Newsletter
Get the best of Android Central in in your inbox, every day!
Thank you for signing up to Android Central. You will receive a verification email shortly.
There was a problem. Please refresh the page and try again.