BlackBerry Motion coming to Canada on November 10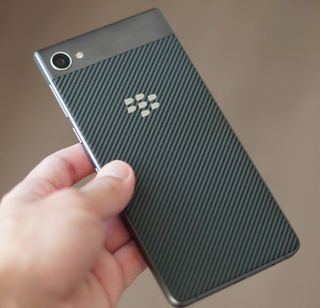 I'll admit it, I have a soft spot for BlackBerry. Growing up in Canada and watching the rise and fall of the company, it's hard not to feel a bit nostalgic every time a new piece of hardware is announced. Sure, the oversight of that hardware is now performed by TCL Communications, and the software is Android, not BlackBerry 10, but it still says BlackBerry on the box. Got to count for something, right?
Anyway, BlackBerry Mobile's latest phone, Motion, is coming to Canada on November 10 starting at $99 on a 2-year plan and $599 or so outright. That's the upside — it's cheaper than KEYone by $100 or so — and comes with a big 5.5-inch display, IP67 water and dust resistance, and a huge 4000mAh battery.
Here's the pricing for each carrier in Canada:
Bell: $99 CAD on a 2 year premium plan; $599.00 CAD outright
TELUS: $100 CAD on a 2 year premium plan; $605.00 CAD outright
Koodo: $100 CAD on a Tab Large plan; $605.00 CAD outright
SaskTel: $99 CAD on a 2 year premium plan; $599.99 CAD outright
What's clear is that the Motion isn't getting as wide a release as the KEYone, largely because it's not meant to serve the same market. Given its all-touch design, it's not nearly as differentiated as the KEYone, but it's also going to attract people looking for a rugged, secure, long-lasting Android phone that doesn't cost $1000.
Are you interested in the BlackBerry Motion? We haven't heard anything about U.S. availability just yet, but we're hoping that changes in the near future.
Daniel Bader was a former Android Central Editor-in-Chief and Executive Editor for iMore and Windows Central.
Absolutely interested. But I really need to know how it performs. Also, are BB still pushing out monthly security patches on time for KEYone and then the Motion? They did for my Priv...

I heard Blackberry is the best when it comes to security patches outside of Google but software updates is a different story.

Looking forward to it, hope Rogers carries the R.I.(M)otion

Rogers are idiots, i'm going to buy one out right and scrw them.
You can pay for the phone outright and they can't change your plan.

Looks like a nice phone, hope this comes to the UK...

I just don't understand why the chin is so gigantic.

Makes good thumb rest while watching movies and gaming though 😁

Yeah but what's the reason?!

I want one. Where you'd i buy one outright with out a contract?

Hopefully this phone will come to AT&T. After watching the the tech legal teams testifying before Congress today it's clear they have no real interest in security. At least BlackBerry appears to care about it.

Good news for our neighbors to the North 👍 KeyOne took some time before available.

My brother wants this phone after using iPhone for awhile wants to come back to Android.

My son is waiting impatiently for the Motion. Dust proof, with long lasting battery, fingerprint sensor on the logo, durable screen and all of the goodness of BlackBerry. I have the KEYone and loving it.

There are so many awesome phones right now. I want all of them. Ha ha...Including this one!

Yes. This, U11 Plus, Pixel 2 XL if the screens get better in upcoming batches.

Keyone, pixel 2, motomod device, MiMix 2, and and and and. I love my iPhone 6s but the X is a massive MEH to me. I do like the 8, but the X is overpriced and underperformed.

Any word on a US release? Does this have VoLTE for T-Mobile USA?

Their rebirth pleases me!

Who'll be the first to do a camera and performance comparison video between the Motion and the DTEK60? (Daniel, Andrew, Mr. Mobile,...) That will help a lot of us who are undecided. Also, which other manufacturers have monthly security patches, with similar speced phones, that we can trust with a decent customer service if needed?
Android Central Newsletter
Get the best of Android Central in in your inbox, every day!
Thank you for signing up to Android Central. You will receive a verification email shortly.
There was a problem. Please refresh the page and try again.