BlackBerry KEYone Black Edition now available in the U.S. for $549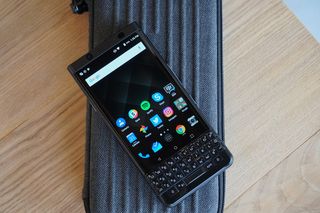 Last August, BlackBerry released an upgraded version of the KEYone called the "Black Edition." The phone's been available across Europe, Asia, Latin America, and other countries, and now the United States is getting in on the action.
So, what separates the Black Edition KEYone from its base version? Right off the bat, you'll see that it looks damn good. All of the silver on the regular KEYone has been replaced with black, and it results in my personal favorite version of the phone.
The Black Edition also has a couple spec bumps in regards to RAM and internal storage. Multi-tasking should be a touch smoother thanks to 4GB of RAM as opposed to 3GB, and the included storage is doubled from 32GB to 64GB.
You can buy the BlackBerry KEYone Black Edition now from Amazon and Best Buy, and it'll set you back $549. That's $50 more than the normal KEYone, and considering the updated look and increased specs of the phone, I imagine BlackBerry fans will be all over this.
See at Amazon (opens in new tab)
Android Central Newsletter
Get instant access to breaking news, the hottest reviews, great deals and helpful tips
Joe Maring was a Senior Editor for Android Central between 2017 and 2021. You can reach him on Twitter at @JoeMaring1.
Do people still care for this phone for it to be released months later

I have the original silver KEYone and this is very tempting, but i will wait to see what is unveiled later this year. I like the silver color as the logo on the back stands out more. I hope they will continue the KEYone design and just keep upgrading the specs--This is by far the most perfect phone i've ever used. Way better than my S8 filled with samsung bloat.. that one i just use for games whenever i have time.

I'm waiting on the next KeyOne

Phone is nearly a year old. And still at a overpriced tag.

Anyone have any stats for the sales of the KEYone? Is BB crazy or is there actually justification for retaining the high price tag this late in the game? I understand this one is the slightly better spec version, but even the silver one is still a relatively high price tag. I would think by now they would be looking at price drops.

Why exactly would I pay $500 for that? A new Note 5 off of eBay would be cheaper and would do better.

Generally speaking, someone wanting this phone for security updates or the physical keyboard is not considering a Note5. There are different target audience to consider. It is obvious that you are not the target of this phone. That does not mean one is "better" than the other except by opinion.

I know this might sound cheesy, but the keyboard with 52 programmable shortcuts. The battery life. It's targeted to a business audience.

Also, I believe that it has QC 3.0.

Not sure a note 5 would do better.

An SD625? at over$500? That's just stupid.

My two days worth of battery and monthly security patches aren't stupid.

Too little for the price, waaay too late.

Same old problem, runs through and through to the core. Too much for too little. BlackBerry Mobile should have taken more notice of Blackberry''s history and learnt that lesson.

Can this version be used on Sprint?

Yess the Black Edition looks great!

Have they fixed the issue where the screen falls off?

Yes, there was an issue early on with the glue but they fixed is quickly. Only the very first devices were affected.

This is one solid phone. The design is great the keyboard even better. That said the proc is old and the price just doesn't justify it. If this had been 399.99 i'd be all over this. At 550 i'll pass.

I absolutely love my Black Edition KEYone. I rely on my keyboard for messages, the battery life is amazing, great call quality, BlackBerry Hub keeps everything organized, Dtek security app makes it easy to have better control of your app permissions, you also get both PKB and VKB. Phone is freaking gorgeous and different than other slabs out there.

Watch them kill the updates for this next year.

I remember using the blackberry classic, really liked the feel, look and size of that phone.... Started using apps which killed it... Now I am a proud member of Fi project and do not like the bloat of samsung phones. Should a new version of this ever become a Fi phone I would consider it indeed, until then Fi project and Its pixel phones are the best of the best!

Yes - there is much interest in this phone. Amazing how people seem to forget that Blackberry set the bar in this industry year after year after year. Hundreds of thousands of users, a hub and keyboard combo that is still the envy of the industry, and now powered by Android - what's not to like? Only poor marketing, slow product development, and a consumer who developed a taste for 'colors' has hurt Blackberry/TCL. BB OS10 is still the smoothest (and ad free) operating system of any phone. Blackberry/TCL needs to position its niche in the market somewhere - they used to be at the TOP.
Android Central Newsletter
Get instant access to breaking news, the hottest reviews, great deals and helpful tips
Thank you for signing up to Android Central. You will receive a verification email shortly.
There was a problem. Please refresh the page and try again.