BlackBerry KEY2 Red Edition aims to spark lust for the aging phone at $749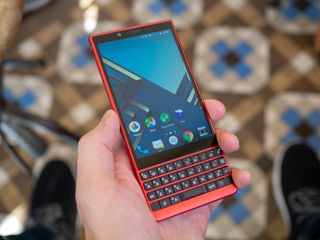 (Image credit: Android Central)
A full 8 months after launch, BlackBerry is hoping to refresh excitement in the KEY2 with a brand new color: the Red Edition.
This new version doesn't provide much more than a flashy color job, but comes in as the semi-exclusive choice for the true keyboard fans out there with 128GB of storage and a higher $749 price tag.
Image 1 of 6
You may recall that red (actually, "Atomic") was one of the launch colors for the KEY2 LE, but this bold and bright color looks so much better on the KEY2's metal frame. The way the matte color finish sits on the metal is just pristine, and the way it pops around the black keyboard and black back is great. I loved the look of the bright red of the KEY2 LE, but now such a flashy color has the necessary substance behind it to make it a total package.
The draw of the phone is clearly its distinct red exterior that will make it stand out far more than the keyboard already does. But BlackBerry is also including exclusive red headphones, as well as a new box design for the version.
Image 1 of 6
With a higher price tag of $749 (£699 in the uk and €779 in Europe), the KEY2 Red Edition isn't necessarily going to compete with the phones it's priced against; nor is it realistic to expect anyone with a silver or black KEY2 to get one. This is basically for the big BlackBerry fans who likely have a KEYone and are looking at a two-year upgrade and want to treat themselves to something unique.
The KEY2 Red Edition will be launched strategically across the world, with availability across North America, Europe, Middle East and Asia. It's available for pre-order right away in Europe, and will hit other regions soon.
Android Central Newsletter
Get instant access to breaking news, the hottest reviews, great deals and helpful tips
Andrew was an Executive Editor, U.S. at Android Central between 2012 and 2020.
Had Verizon played nicely and actually released this phone from the get go, I'd likely have had one. I truly do miss the ability to use a pkb with my priv. It was for me outstanding for emails and writing documents on the go. Much better than a vkb. I say this as someone who's never used a pkb phone prior to my priv. With that said, my s9 is a great phone and far surpasses the other android abilities over the keytwo. If BlackBerry mobile comes out with a priv 2 with decent specs and Verizon carries it, I'll have to look really hard at it

Agreed. At that price it isn't a phone for me even though until now I've been all in on BlackBerry. It would be a phone for my other family members who will only use a pkb and are willing to pay the price. I'm pretty sure TCL knows it is a niche product and aren't forecasting Applesque or Samsungesque sales numbers.

Terribly priced. Maybe $500.

This phone has a perfect price point! This just isn't it the price point though..

Good luck with that BB. You should actually make the color a gift to those who stayed loyal to you.

Hehehe, LOL, NO chance....

I must admit, even being a really big Blackberry fan. The price is a big high. Especially when you look at the new Samsung Galaxy 10e. Just getting so much more power and features. I would definitely advise Blackberry drop the price from $749 to at least $649. I know it's a premium material device but it's too expensive. Even the PRIV dropped it's price all the way down to $399 and that was a steal at the time for what you got.

Absolutely correct. The S10e is much more appealing at that price point.

Double the price, half the list... it's maybe worth somewhere $300 range depending if it has a larger RAM & memory...

Well, it comes with 128GB storage and 6GB RAM. I think those sizes are very good for the price point. Don't see Samsung offering 256gb storage for the same price. So those specs I think are fine.

Key2 cameras are an insult to the industry. Sent back my Key2 after the selfie cam looked worse than my BB torch from 2006. You can buy a one plus 6t for less and get insanely good software and faster hardware.

The biggest waste of $749 in 2019. Why buy this when you can get an XR, a Pixel 3XL, a OP6T, or an S10e?I love BlackBerry to death but this is way too much money for what you get.

Same reason one should go for the KEY2 LE instead of a comparable slab in that price range: Because a VKB just WON'T do it when you need/want that click-click-click Typed on my LE
Android Central Newsletter
Get instant access to breaking news, the hottest reviews, great deals and helpful tips
Thank you for signing up to Android Central. You will receive a verification email shortly.
There was a problem. Please refresh the page and try again.