A BlackBerry-branded phone with a physical keyboard is coming in 2021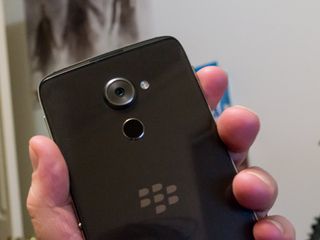 (Image credit: Android Central)
What you need to know
BlackBerry-branded phones are returning, the company announced today.
BlackBerry will team up with OnwardMobility and FIH to build new BlackBerry phones for the North American and European markets.
The first BlackBerry phone from this partnership is coming in the first half of 2021.
BlackBerry is set to make a return in 2021 with a new 5G smartphone. Towards this goal, the company will be partnering up with Foxconn subsidiary FIH Mobile and OnwardMobility to reach enterprise users in the U.S. and Europe.
BlackBerry will be playing to its strengths here, so the new phone will come with a physical keyboard. There'll also be 5G on board, and the company will be pushing this as a phone for business professionals.
Peter Franklin, CEO of OnwardMobility, said:
John Chen, Executive Chairman and CEO, BlackBerry, said:
It's not like BlackBerry itself will be making phones like in the old days — that ship has sailed. Instead, it'll be a situation that's more like Nokia and HMD Global. The press release notes that all three companies will work to "ensure world-class design and manufacturing of these devices." Specifically, OnwardMobility will handle the product planning and strategy, while FIH Mobile will take care of all the hardware stuff and BlackBerry contributes its brand and some advice here and there.
With an early 2021 release, it won't take us too long to find out what they can put together.
I miss Android phones with physical keyboards (and you should too)
Android Central Newsletter
Get instant access to breaking news, the hottest reviews, great deals and helpful tips
Hip, hip hooray! Something that could possibly look completely different to the oblongs we have now, and that includes the recent BB branded phones. Personally I'd love to see something like a passport running Android. So bring on the teaser snaps.

Never been a bb fan but I can see why they are loved and know someone that still uses the last bb they made. But what they did say is it was not as good as the one before it. It will be interesting to see if they can get it to sell.

Why does it bother you? Just keep tapping on your glass slab and don't buy it. Fans of real tactile keyboards will be interested.

Don't tell me what to think. I don't miss phones with physical keyboards.

So don't buy one. But the keyboard options are so few right now that this is a HUGE breath of fresh air for those who want one.

All I have to ask is, why?

Because virtual keyboards will never match the accuracy and of course tactility of physical ones.

This is good news. I've been using an old BlackBerry Classic lately just for fun and really enjoying it. No apps for it but love the old BB10 UI and the different form factor!

As a former user of a 7280, 9900, Classic, and finally a KeyOne...The PKB was great when virtual keyboards required a stylus, didn't have swipe or predictions, and generally weren't big enough to type well. Today, they are actually slower and less useful for the majority of users, and they permanently take up real estate that could better be used for other things (even for a business user!). No one needs a PKB anymore. My guess is that this will garner even less corporate attention than the Surface Duo, and they'll both be failed experiments by the end of 2021.

Physical keyboards remain far more accurate and of course more tactile than a flat piece of glass. Obviously not everyone appreciates them, so they can just keep tapping on their glass slab and leave the keyboard phones to those who appreciate the tactility of them.

A physical keyboard may indeed be more accurate for you, because you're committed to PKBs. The average iPhone/Galaxy user will be far more accurate on a slab, because that's what they're used to...and what's the incentive to switch? Maybe 10% greater accuracy after some period of training?

I was tapping on glass from 2012 up until my S7 back in 2017, when the KEYone came out I wanted to try a PKB again.
After that, I never looked back. Took me very little time to master the PKB again, and that's with the heavy 180g KEYone and its tiny glossy keys. Speed will depend on the user's experience with the keyboard in question, but accuracy will remain superior on the physical one, and it only makes sense. I really like my S10e but I'm not nearly as accurate on it as I am on my KEY2

Why does Apple make physical keyboards for the iPad if typing on glass is so good? Do you have a glass keyboard on your PC or Mac? No thought not...

This just made my day!!! Day one purchase for me... Just have to have a pkb...

Hard Pass !!! Didn't work before and not going to work now. Few people are going to buy for Nostalgia and few for the hardware keyboard. But most of the people will ignore it.

Of course most will ignore it, they're perfectly happy typing on glass and letting autocorrect do the work. It just needs to sell enough to make a decent profit and have successors, that's all.

This is positive news - I for one miss a quality, physical keyboard. I could type so much faster without mistakes. I do hope BB realizes, however, that business users also have families - so it is imperative this new phone come with a high-quality camera. No one wants a phone for business, and one for personal. This very well may be BB's last chance at phones....don't screw it up!

Well said! Totally agreed , business or non business phone needs absolutely a good camera!

Great news! Small but important niche market. Very well designed classic phones.

BB simply will not die. This is great news for some equally, diehard fans i suppose....

Probably going to make two models, never upgrade them to the latest Android version and then fold the experiment again. My limited-edition Key2 says hi...

You have the Red Edition? On the positive side, BlackBerry's hold their resale value better than any slab out there.

At one point in time, this would have made me jump for joy. Not this time. I officially moved on last year. I am happy for the diehard ride or die BB users out there. I am more happy because you guys get the chance to prove the nay sayers wrong. This is your moment BB enthusiasts so Congrats. Cheers :)

These are great news !
Have used BlackBerry for years and moved last November to Note 10+
This is definitely a superior phone in comparison with my last BlackBerry Key 2 , but I still miss the accuracy of the physical keyboard.
I will definitely have a serious look in the up coming device.

I was a huge BB fan (loved my Passport SE) but after living through their failed promises I gave up. They'll never get any of my money ever again.

I just want a Passport with updated specs. Please?
Android Central Newsletter
Get instant access to breaking news, the hottest reviews, great deals and helpful tips
Thank you for signing up to Android Central. You will receive a verification email shortly.
There was a problem. Please refresh the page and try again.