BlackBerry announces the 'Mercury' without actually confirming anything, including its name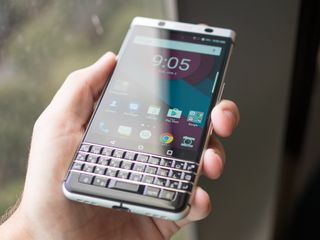 BlackBerry chose the massive CES trade show to make an official announcement of its long-rumored new Android smartphone with a hardware keyboard. But in a rather awkward situation, it's keeping many of the details associated with the phone a secret for a while longer.
So even though we're now seeing the phone, and know that it will be released to consumers relatively soon, we don't know its specs, price or new features. The funniest bit about the whole announcement is that BlackBerry isn't even revealing the name of the phone at this time — instead simply referring to it as "the phone everyone has been calling Mercury."
Image 1 of 5
The so-called Mercury, as BlackBerry and general Android fans will know, is an anticipated follow-up to the BlackBerry Priv that replaces the slider mechanism with a fixed physical keyboard and smaller display. It's also the first phone to launch since new parent company TCL completely took over BlackBerry's handset operations.
So here's what we know, based on a brief period using the device. This is a solid metal phone, in a standard portrait layout with the bottom portion of the display replaced with a BlackBerry-style hardware keyboard. The keyboard has the full set of functions available on the Priv, but also has the addition of a fingerprint sensor in the space bar. The back of the phone is adorned with a very nice soft touch material, and you'll find a big camera pod at the top. It charges over USB-C and, yes, it has a headphone jack.
In terms of software, the most that BlackBerry would reveal is that it's running Android 7.0 Nougat at this point. It wouldn't commit to whether the phone would eventually launch with 7.0 or 7.1, but it was clear that the software was designed similarly to what you can find on BlackBerry's Marshmallow phones like the DTEK60 and Priv.
In its official announcement (if you can call it that) of the yet-to-be-named phone, TCL is effectively using this as a jumping-off point of the new evolution of the BlackBerry brand in North America. But that means we're going to be waiting for a while to learn the details behind the Mercury, and all we have right now in terms of a time frame is that more information will be shared around Mobile World Congress — which starts on February 27.
Until then, you can feast your eyes on pretty pictures of the BlackBerry Mercury in our hands-on with the phone. And now, we play the waiting game.
Press release:
TCL COMMUNICATION (TCT) UNVEILS THE FUTURE OF THE NEW BLACKBERRY MOBILE AS PART THE COMPANY'S PRODUCT PORTFOLIO EVOLUTION UNVEILED AT CES 2017
Expanded TCL Communication portfolio takes an industry-first approach to addressing the new mobility market
LAS VEGAS – January 4, 2017 – At CES 2017, TCL Communication Technology Holdings Limited (TCT), the fourth-largest handset manufacturer in North America1, is today sharing plans for an industry-first brand portfolio business model, which now enables the company to offer an entire suite of mobility products, including new BlackBerry smartphones. This brand pillar approach focuses on multiple facets of the company's product portfolio: the entry-consumer, best-in-class enterprise, connected (IoT) and emerging segments – all leveraging the success of the TCL Communication manufacturing, R&D and operations along with the legacy of some of the industry's most iconic brands, including Alcatel and BlackBerry.
"Our industry is in the midst of an evolution, where consumers are now demanding greater functionality and value from their mobile devices than ever before," said Steve Cistulli, President and General Manager for TCL Communication (TCT), North America. "To meet these growing demands, both carriers and retailers need a more diverse product offering, requiring portfolio efficiencies that were previously unavailable from a single manufacturer – until now. We're boldly evolving our business, offering end-to-end efficiencies from sales, through R&D, manufacturing and logistics. This business evolution will provide greater value to our customers in the premium post- paid and affordable no-contract tiers."
Offering carriers and retailers exceptional quality and value, backed by TCL's world-class R&D and manufacturing capabilities, the TCL Communication portfolio will be anchored by the Alcatel and BlackBerry handset brands while continuing to evolve in 2017. This will include additional mobility offerings to be announced in the first half of the year that will allow the company to further address consumer demands. Among the first products in this portfolio is the latest BlackBerry smartphone, focused on three core features: security, productivity and reliability. Previewed at CES, the smartphone draws on unparalleled mobile security and software expertise to offer the most complete end-to-end smartphone security available on Android.
"We look forward to unveiling details around this distinctly different and impressively designed BlackBerry smartphone around the Mobile World Congress timeframe next month," continued Cistulli.
For more information about TCL Communication (TCT), please visit www.TCTUSA.com.
About TCL Communication
TCL Communication Technology Holdings Limited (TCT) with its North America headquarters based in Irvine, California, is a wholly owned company of TCL Corporation, a global consumer electronics brand with products currently sold in over 160 countries throughout North America, Latin America, Europe, the Middle East, Africa and Asia Pacific. With a mobile handset product portfolio that includes devices from Alcatel and BlackBerry, TCT is currently the fourth largest handset manufacturer in North America. The company also operates nine R&D centers worldwide and employs over 13,500 people globally. For more information, please visit www.TCTUSA.com.
TCL is a registered trademark of TCL Corporation. All other trademarks are the property of their respective owners. Alcatel is a trademark of Alcatel-Lucent used under license by TCL Communication.
BlackBerry and related trademarks, names and logos are the property of BlackBerry Limited and are registered and/or used in the U.S. and countries around the world. All other marks are the property of their respective owners. BlackBerry is not responsible for any third-party products or services.
Get the Android Central Newsletter
Instant access to breaking news, the hottest reviews, great deals and helpful tips.
Andrew was an Executive Editor, U.S. at Android Central between 2012 and 2020.