Best watch faces for Fitbit Versa and Ionic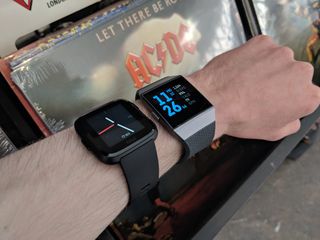 For Android users, your choice of smartwatches is currently pretty limited. Pebble is no more, we're patiently waiting for new hardware to be released for Wear OS, and Samsung's Gear watches are really best-served for folks with Galaxy phones.
Thankfully, Fitbit been killing it over the past few months when it comes to the wearable game. The company now has two smartwatches in its portfolio — the Versa and Ionic — and has continued to improve them with software update after software update.
The Fitbit Gallery is home to all of the Versa and Ionic's apps and watch faces, and today we'll be taking a look at the latter of those two.
Without further ado, here are my top picks!
Fitbit Versa
Why you can trust Android Central Our expert reviewers spend hours testing and comparing products and services so you can choose the best for you. Find out more about how we test.
Photograph
Watch faces are great for customizing your smartwatch to be just the way you want, and what better way to do that than with your own picture?
Fitbit recently launched the Photograph face, and as the name suggests, you can use this to add your own picture to your Versa's screen.
A basic time and date are placed on top of your photo near the bottom left, and while it'd be nice to see some customization options added to that in the near future, Photograph offers the easiest way to add custom photos to the Versa yet.
Also available for the Ionic
Layers
Layers is the default watch faces that comes pre-installed on the Versa, but it actually ended up being one of my go-to picks.
The date is shown at the very top of your screen, the time is big and bold in the middle, and below this is a readout of your current heart-rate. As you tap the screen, you can change this to show your steps taken or calories burned.
Dive into the settings for the face, and you'll find six different color themes to choose from. The themes change the color of the time in the middle, with some giving each number a different color for a bright, vibrant look.
Loops
Sometimes, simplicity is best. When you want a trusty clock face that looks good without trying to do too much, Loops is one of the best options available.
Your main fitness goal (such as steps taken, calories burned, etc.) is shown at the very top, the time is in the middle, and the date resides at the bottom.
There are five different themes you can use to change up the color of the time, and similar to Layers, some themes give each number their own unique color.
Light
You easily dress up the Versa with a leather or metal watch band to turn it into a beautiful timepiece, and a watch face that helps to round out a mature look is Fitbit's Light face.
This is a fairly basic analog setup, but once again, Light understands that less can be more.
Fitbit gives you five color themes to choose from, each of which alters the look of the seconds hand. The black background remains the same no matter what you pick, and if you're trying to keep your watch as stealthy as can be, this is a big plus.
Fitbit Ionic
Arc
The Fitbit Ionic is a device that's motivated me to keep moving throughout the day, and one of the watch faces that's helped me do this is Arc. Arc is a watch face that was first introduced on the Fitbit Blaze, and it's the one that's typically loaded up on my Ionic whenever I'm headed to the gym.
Arc displays the time at the very top in a large format that's very easy to read, and below this are icons for your steps, heart rate, calories burned, stairs climbed, and active minutes. Circles will close around these icons as you move throughout the day so you can easily keep an eye on the progress you've made, and tapping anywhere on the Ionic's screen will replace the time with a more specific readout of the various icons. Even better, you can choose between a few different colors to customize Arc's appearance to your exact liking.
Retro-Sunset
For fans of the 1980s, Retro-Sunset is a watch face you'll want to rock on your wrist 24/7. The time is large with a stylized sun behind it, and below this is a group of mountains. The bottom is a black background with pink and turquoise neon lights that are constantly moving as if you were running straight through Tron, and the whole aesthetic is plain awesome.
In addition to the sweet looks, Retro-Sunset also has some added functionality. If you tap anywhere on the screen, you can replace the time to view your steps, distance, and calories burned.
Also available for the Versa
Fitbit Labs Pets
There are a few different watch faces and apps available as part of Fitbit Labs, and my favorite to come out of this so far are the pets watch faces.
You can choose between four pets in total (two dogs and two cats), and after selecting one, you'll need to make sure you're getting your daily steps in order to keep your pet happy. Each pet needs at least eight treats per day, and one treat is equal to 10% of your daily step goal. Walking more and more will keep your pet happy and content, but slacking off will make it sad and leave your Ionic.
There are indicators for your pet's happiness and a treat counter in the bottom left and right corners, and you can even interact with your virtual pet my tapping on the Ionic's screen.
Also available for the Versa
Arcs
During my time with the Apple Watch about a year ago, one of my favorite features was the activity rings. I found these to be extremely encouraging to keep moving in order to close them, and this is somewhat mimicked with the Arcs watch face.
Time is presented in a digital fashion in the center, and surrounding this are rings that represent the current time. If you tap on the screen of the Ionic, the rings will change to represent your steps, calories, and heart-rate. It's not a perfect copy, but it's a clean-looking watch face that works incredibly well.
Moment
If you just want a watch face that's simple, elegant, and still provides a decent amount of info on the Ionic's screen, Moment is a really solid choice. The time is shown at the top, the date resides below it, and at the very bottom is a live readout of your current heart-rate. Next to this is an indicator to show you how many steps you've taken, but you can tap on the screen to change this to calories burned, distance walked, stairs climbed, and active minutes.
There are also six different colors to choose from, including black, white, navy, purple, green, and red that change both the text and background of the watch face.
Your choices
Did I miss any watch faces you've been rocking on your Versa or Ionic? Let me know what your top picks are in the comments below!
Fitbit Versa vs. Fitbit Ionic: Which should you buy?
Updated 5/29/2018 — Added the Fitbit Versa to the list!
Get the Android Central Newsletter
Instant access to breaking news, the hottest reviews, great deals and helpful tips.
Joe Maring was a Senior Editor for Android Central between 2017 and 2021. You can reach him on Twitter at @JoeMaring1.