Best Tempered Glass Screen Protectors for Google Pixel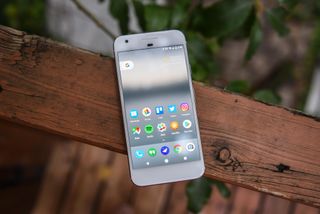 Looking to keep your Pixel's screen in pristine condition? A tempered glass screen protector is your best bet. The problem is, like so many newer phones these days, the Pixel has a slightly curved screen around the edges which is less than ideal and can result in the dreaded halo effect.
It's been a point of discussion in the forums, with the consensus being that the following screen protectors are your best bets. It's also worth considering pairing your screen protector with a quality case, which will add another layer of protection and help cover a bit around the curved portion of the screen.
Mr Shield [3-pack]
Why you can trust Android Central Our expert reviewers spend hours testing and comparing products and services so you can choose the best for you. Find out more about how we test.
Mr Shield offers the best value for Pixel screen protectors — you can get this 3-pack for under $10. When properly installed this screen protector will like up with the actual screen of the phone but leave the curved bevel along the side and edges exposes. That's where a case will come in handy to provide protection in those vulnerable areas.
These screen protectors feature a cutout around the front-facing camera and ear speaker and come with everything you need to get a clean and dust-free installation the first time — though if you mess it up you've got two more fresh attempts.
See at Amazon (opens in new tab)
Supershieldz [2-pack]
Supershieldz is another trusted brand for tempered glass screen protectors, and it offers a 2-pack for the Google Pixel. Similar to Mr Shield's offerings, these screen protectors feature cutouts along the top for the front-facing camera and ear speaker.
Again, because the screen is curved and the tempered glass is flat, this won't provide the ideal edge-to-edge protection, but it will protect against direct impacts to the screen and also features an oleophobic coating to help keep fingerprints from smudging up your screen.
See at Amazon (opens in new tab)
Orzly Pro-Fit
The Orzly Pro-Fit screen protector offers really good protection with a trim around the screen that's available in either black or white to fit the style of your phone, so if you've been looking for edge-to-edge protection this is your best shot.
However, to get that full protection requires a dot matrix grid that may be hardly noticeable to some and extremely distracting to others. Users have also reported that this screen protector is a fingerprint magnet so you may need to carry around a microfiber cloth to keep your screen protected and smudge-free. Either way, if full-screen protection is what you're after, it's worth giving it a try.
See at Amazon (opens in new tab)
Spigen [2-pack]
Spigen actually offers a full line of tempered glass screen protectors for the Google Pixel, which are all case friendly. That's good news, because of Spigen also makes some really great cases (opens in new tab). It offers a 2-pack of crystal clear tempered glass screen protectors that come with everything you need for a clean install. If you've had difficulties installing a screen protector before it can be really handy to have that second screen protector if you need a second go at it.
Alternatively, Spigen also sells single screen protectors with trim around the screen (very similar to the Orzly screen protector) available in black (opens in new tab) and white (opens in new tab). It aims to offer true edge-to-edge protection and are also worth considering if that's exactly what you're after.
See at Amazon (opens in new tab)
What's your take?
Do you use a screen protector on your Pixel? Got an opinion on one we've featured here? Let us know in the comments!
Update, July 2017: This article was updated to ensure that all details are still correct and the choices still valid. Enjoy!
Get the Android Central Newsletter
Instant access to breaking news, the hottest reviews, great deals and helpful tips.
Marc Lagace was an Apps and Games Editor at Android Central between 2016 and 2020. You can reach out to him on Twitter [@spacelagace.
I'm using the Spigen one on my Pixel XL and it works great, super easy to put on but it is smaller than the actual screen, which isn't so bad if you're using a case in the Pixel XL

Spigen here. Not sure why they sell in packs of two. Mine is fine after more than a few drops, and knocks.

I have Yootech on my Pixel right now and it's been a great screen protector. I just ordered IntelliARMOR to replace it. On a side note I wish manufactures would stop with the 2.5D curved glass. I like the flat screen of previous phones like the 5X or 6P. The tempered glass screen protector would cover the entire glass front panel.

Yep, Yootech is pretty nice!

The Intelliarmor Intelliglass Pro is definitely amazing. That's the one I have right now, and it was worth every penny!

The Spigen Full Coverage version (not listed in this article) with colored bezels is the better way to go, especially if you're using a case with a raised edge around the screen. Covers the entire screen, and no halo effect is visible. I'm extremely happy with mine.

Full coverage meaning the curved edges are covered? It would seem most cases would get hung up on this type?

The Spigen Full Coverage version is (the one they don't link to) is the best, full coverage and no microdots like the Orzly which I had before and it looks bad in VR because you can see all the small microdots

I've been using the Spigne one as well and have no major complaints with it overall.

I've been using the Intelliarmor Intelliglass Pro on my screen. As good as it is, I am surprised it didn't rate a mention. Like the Orzly, it allows the next best thing to edge-to-edge protection. Love it.

What about the Zagg InvisibleShield? Love it, especiallly since comes with a lifetime warranty that covers accidental damage aka drops! Just $5 to ship out a new one and then you send the old one back! I get why they're smaller, but I wish they covered the whole front of the phone. My Pixel XL is the best phone I've ever had, but I do hope they change the proximity sensor with the Pixel 2. I'm careful with my phone, but any little scratch on that area of the screen protector (it's big and in a prime spot), and the sensor stops working. Good luck dialing an extension or even hanging up. while on a call with a black screen I have to wait for them to hang up on me which is fun if they don't answer.

I've had a few Spigen edge to edge protectors. They crack too easy ie. Without being dropped at all.
I came here to find a better alternative.