Best Keyboards for Samsung Galaxy Tab S3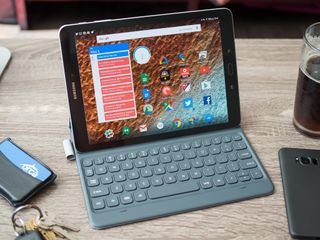 High-end Android tablets may not be so common these days, but Samsung is one of the few manufacturers still offering a high-end option with its Galaxy Tab S3. But sometimes you need a tablet to be a bit more powerful, and that's where a keyboard comes in handy.
Here are the best keyboards for your Samsung Galaxy Tab S3!
Samsung Galaxy Tab S3 Keyboard Cover
Why you can trust Android Central Our expert reviewers spend hours testing and comparing products and services so you can choose the best for you. Find out more about how we test.
Usually, the best accessories are made by the same people that made the device. That's true with Samsung's Galaxy Tab S3 Keyboard Cover, which is the perfect companion for your tablet. The keyboard connects directly to pins on the keyboard, so you won't have to worry about connection issues or Bluetooth interference. The keys are well spaced out and offer a comfortable amount of travel, with dedicated buttons for search and multi-tasking. The cover itself won't be as rugged as other cases, but it'll protect against short drops.
The suggested price for this keyboard is $130, but at the time of writing Amazon has it in grey for $72.
Microsoft Universal Foldable Keyboard
If you want a keyboard you can stick in the back of your pocket, Microsoft has you covered. The Microsoft Universal Foldable Keyboard can remember two Bluetooth devices, so you can switch back and forth between your tablet and your phone if need be. Turning the keyboard on and off is super easy; just open it to power it up, and close it again to shut it off. There are dedicated keys for Home, Back and Search, and the battery lasts up to three months on a single charge. When it is time to charge the keyboard, just use one of the dozens of Micro-USB cables you have lying around. One downside of this keyboard is there's no way to mount the tablet, so you'll need to pick up a tablet stand or a case with a stand built-in.
At the time of writing, the Microsoft Universal Foldable Keyboard is available in black for $82.
Logitech Bluetooth Multi-Device Keyboard K480
This keyboard from Logitech isn't as compact as Microsoft's, but has more features and a much lower price. The K480 pairs to up to three Bluetooth devices, so you can use one keyboard for your tablet, desktop, and phone. Better yet, there's an integrated cradle to hold your phone and tablet. It may not be as stable as a laptop, but it'll be much more portable. There are dedicated keys for home, multi-tasking, back, and search, as well as media control keys to keep you from blasting your mixtape for the whole coffee house. The K480 includes two AAA batteries, which should be better in the long term than an internal battery.
At the time of writing, Logitech's K480 keyboard is available in black or white for $25, though retail price is $50.
EC Technology Multi-Device keyboard
If you want something even less expensive, EC Technologies has the keyboard for you. Its keyboard also remembers up to three Bluetooth devices, and includes a fold-out stand for your tablet. The stand isn't padded, so be wary of scratches. There are dedicated media keys, but no other controls for Android. The keyboard is powered by two AAA batteries, though there aren't any included in the box. The keyboard should last for three months with two hours of use per day.
At the time of writing, EC Technology's Bluetooth keyboard is available in black for $20.
DREVO Calibur 71-key keyboard
A wise man once said to speak softly and carry a big stick. I say, type loudly and carry a small keyboard. The DREVO Calibur 71-key keyboard fits that bill nicely. This is a mechanical keyboard, and it offers your choice of black, blue, brown and red switches. Each switch type has its trade-offs, but I prefer the blue switches because they sound amazing and don't require much force to press. The keyboard can remember three Bluetooth devices, but can also connect to a device through the keyboard's Micro-USB port. You won't have access to any of the Android navigation keys, which is unfortunate, but the keyboard has an internal battery that charges with its Micro-USB port, and two adjustable feet to make your loud typing that much more comfortable.
At the time of writing, the DREVO Calibur keyboard is available in black for $61. There is a white version, but it is currently out of stock.
What say you?
Which keyboard do you use with your Galaxy Tab S3? Let us know down below!
Get the Android Central Newsletter
Instant access to breaking news, the hottest reviews, great deals and helpful tips.