Decade in review: The Galaxy S7 was the phone that showed Samsung had finally figured it out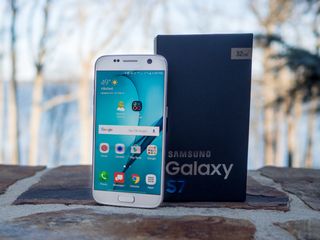 (Image credit: Android Central)
Samsung is a global force in the smartphone world. When we look at the past decade, though, it wasn't only producing hits; the first few generations of Galaxy S phones had compromises, problems, and areas where it wasn't the de facto market leader.
That all changed starting with the Galaxy S7, and that's why it's my pick for the product of the decade. The GS7 marked the point where Samsung truly figured it out, and locked in on a formula that was a hit with consumers and could be replicated for years to come with incredible results.
Remembering the Galaxy S7 and S7 edge
Why you can trust Android Central Our expert reviewers spend hours testing and comparing products and services so you can choose the best for you. Find out more about how we test.
The "Galaxy S7" is actually two distinct models: the standard Galaxy S7, and the larger Galaxy S7 edge. In a slight tweak from the Galaxy S6 before, Samsung differentiated between the two models by making the S7 compact and with a flat screen, while the S7 edge was notably larger and had its now-standard dual-curved display.
Though Samsung has since expanded its phone lineup further to offer even more flagship choices, the S7 and S7 edge were a great one-two punch for the time. You could get the exact same phone in terms of features and capabilities, but in two different sizes, with the choice of whether you preferred a flat or curved screen.
And it was one heck of a desirable set of features. Samsung brought top-end specs, strong battery life (particularly in the S7 edge), great cameras on the front and back, waterproofing, SD card expansion, and excellent AMOLED screens that set the standard for everyone else. The hardware, too, set a high bar. While we take for granted every phone today being a metal-and-glass sandwich, that wasn't the case back in 2015, and the Galaxy S7 series was a fantastic execution of this combination.
There was really only one knock on the phones at the time, and that was the software. The S7 was still considerably ahead of the S5 and S6 in terms of software design, but this was very much still in the era where Samsung was universally panned for how rudderless and overbearing its software was. There were so many duplicative features, unnecessary bells and whistles, and piles of bloatware to contend with. The competition was frankly still dealing with a lot of the same issues in 2016, but software was the one caveat that came with every recommendation of a Galaxy S7.
Placing the Galaxy S7 in history
Samsung's early Galaxy S series phones were positioned at the mass market just as they are today, but at that time, trying to do as much as possible in a single phone lost a lot of points in refinement and finer points of design. Cheap plastic builds, generic designs (that led to years of lawsuits from Apple), and truly bad software were compromises you just dealt with in order to get a phone that simply did more things than the competition. Then Samsung turned a corner.
I struggled with whether I should pick the Galaxy S6 as the company's most significant phone because that was Samsung's first phone in its "modern" design language of metal and glass with a curved display. However, the GS6 was saddled with a tiny battery and hardware compromises just to hit that incredible form factor. The Galaxy S7 fixed those issues and further refined the design, making it a no-compromise phone that Samsung's still known for today.
The Galaxy S7 and S7 edge launched in February 2016, and while the way they looked and the features they had seem totally normal today, it's important to remember the context they launched in and just how impressive it was to have all of these things come together in a complete package.
As usual for Samsung, the Galaxy S7 was the first flagship phone of the year, setting the expectations for the rest of 2016. Over the course of the year its contemporaries were the HTC 10, the LG G5, the Huawei P9, the original Moto Z, the OnePlus 3, and eventually several months on the first Google Pixel and Huawei Mate 9. There are a lot of troubled phones on that list with plenty of compromises and issues. The Galaxy S7 may have been hurt by its software, but each phone listed here had greater issues to face and arguably far less "figured out" in the same way Samsung did.
Samsung was a clear favorite, not to mention being miles ahead of all of its predecessors that were still on the market when the Galaxy S7 launched. Even though Samsung had already reached widespread mind share in high-end phones prior to this, the Galaxy S7 cemented its position, particularly when you take into account its worldwide distribution and buy-in from every carrier.
Why was the Galaxy S7 so impactful?
The Galaxy S7 marked the point where Samsung "figured it out" and started consistently making incredible phones that appealed to just about everyone, and didn't have many spec-for-spec or feature-for-feature competitors. It's the most significant phone of the decade for Samsung, and arguably one of the most significant for the smartphone industry as a whole.
Samsung, like its competitors, had various features and models that were particularly strong, but nothing that came together in a complete package the way the Galaxy S7 and S7 edge did. They had beautiful metal-and-glass designs with no compromises, the best displays you could get at the time, great cameras that were the basis for its photography system for years, and top-end specs and features that filled every need imaginable.
Most importantly, they clearly settled Samsung into a group of standard features that it would lean on to the end of the decade: things like wireless charging, full-day battery life, fast and consistent cameras, waterproofing, top-end specs and feature-packed software. You can see the strong heritage of the Galaxy S7's hardware and features in the Galaxy S10 (opens in new tab) and Galaxy Note 10 (opens in new tab) today. Heck, you can still see a ton of Galaxy S7s (opens in new tab) still in use today. It was a massively impactful phone for the smartphone world, and Samsung's most important release of the decade.
Get the Android Central Newsletter
Instant access to breaking news, the hottest reviews, great deals and helpful tips.
Andrew was an Executive Editor, U.S. at Android Central between 2012 and 2020.
Yeah, the software really was a knock. My S7 Edge was pretty as heck when we we unboxed it at the AT&T store, but even fresh out of the box, it was janky. But in terms of build quality, it was nice.

Both my gf and I had the S7. The Canadian Exynos version, which was definitely better than the Snapdragon one. She still uses her S7, and refuses to upgrade: the phone is fast, stable, looks great, fits in any pocket, and takes decent pictures. It's amazing.

I own both versions the Samsung S7 and the Samsung S7 Edge. I have owned many other cell phones in the past were I had to usually replace them once a year. I purchased both of my phones 4 years ago and both are still going strong till this day. I use my Samsung S7 everyday and sometimes through some pretty rigorous duties and it never let's me down (heck I have even dropped it in the toilet at least a half dozen times) it just keeps taking a beating and stands strong. Every other phone I have ever owned I had to replace the screen at least once. Both my Samsung's have original screens still in them (they are the toughest hands down). If asked which of the 2 I like or prefer the most, it would be a pretty tough debate as they are uniquely different in thier own but honestly I'd have to pick the S7 Edge as it is just a clean phone all around. Plus at the time the prices of them were alot lower them they are today. I'm from Canada and I could buy like 4 S7's to 1 of today's new s10 or s10+. I'm very interested in the new Samsung Fold but at the price they have it for OUCH! To hard and to deep to justify that much for a phone(only in the 80's would that be acceptable). Anyways that is my opinion. I totally agree with the author "Best Phone Of The Decade". Cheers!!

Amen...I relegated the S7Edge to backup, but to this day I still consider it an excellent phone and a victory for Samsung.
Should note that I have the Exynos version and still get 8 hrs of screen time after 3 years. Battery is around 82% usable, not bad. Slap a Mophie battery case and it's the perfect phone for long distance flights.

Reading this on an S7 Edge :) I never really notice the software since I'm heavily into custom launchers. The only thing pushing me to get something new is the big crack across one corner of the screen last year (a collision with the pavement when out of its case), but so far I'm still resisting it until the new models come in Feb. And even then, I'll probably use the opportunity to get a super-cheap S10e rather than anything else.

I don't really understand the comment about the software. You can install any Google or 3rd party software on it. Just because Samsung loaded duplicate software doesn't mean you had to use it.

Wondered the same thing. The software worked great for me had no issues with it. Still kfferes many features that stock android is still trying to implement

It's not just the launcher, it was the lack of software optimization which also hurt. I had the S7 Edge with the SD 820, and even scrolling down settings menus it stuttered.

I think software particularly Samsung as it's one which is best known in the west can be a bit like going into subways for me. There's just so much choice it's actually not an enjoyable experience as my head spins trying to decide which filling, bread, sauce, extras, drink to have. That for me is why I prefer a stock version of Android even though it may seem like less value coz there's not as much in there it's just so much easier to use. I suppose it's what you get used to but I just couldn't get on with Samsung software but when I bought my first Moto g I just clicked straight away with it. It was like a completely different phone and that was down to the software so no matter how much I like what Samsung offers in terms of the great hardware and features I'm afraid the software just stops me buying one of their phones. Sometimes less is more for some folks and ease of use counts for a lot especially if you bit older like me lol!

Which is why the iPhone remains popular and the best selling phone model in the world. The software is simple and easy to use for the vast majority. It is the reason why stock android is popular among a lot of people. Stock Android and iOS may not have every feature under the sun and all the bells and whistles that say Samsung have but they are simple and easy to use and have features that just work and don't get in the way like most of Samsung's features do. At least in the past. Haven't used a Samsung phone in years. Was on HTC for a long time. Now an iPhone.

i hate Samsung phones, over bloated pap and over priced to boot.

Well, this article inspired me to find my old S7 Edge, and it was in the bottom of a drawer. I stopped by the phone store to price out how much it would cost to fix. Phone is almost five years old, and it still costs $167 to fix the busted screen and back! Oh well... back in the drawer!

Worse thing even if it was in perfect condition you couldn't get that much out of it if you tried to resell it or trade it in. One of the worse things about Samsung and android in general is phones Unfortunately don't hold their resale value like iPhones.