Best Cases For OnePlus 3 & OnePlus 3T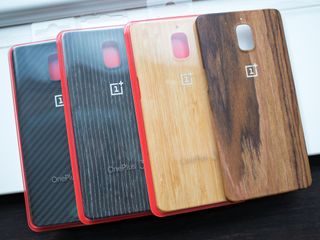 The OnePlus 3 and the identical, newer OnePlus 3T have an all-aluminum body that looks great, but could use a little protection (and maybe some jazzing up). The ideal case will fit perfectly, keep your phone safe from your daily grind, and look fantastic. We know exactly what you're looking for.
OnePlus 3 Protective Case
The protective cases by OnePlus are more than just interchangeable backings for your OnePlus 3 or 3T; they really do offer excellent protection that wraps around the corners of the phone and keeps your hardware safe. You can only buy them directly from OnePlus.
The cases are light, thin, and don't add any unnecessary bulk or weight to your OnePlus 3 or 3T. They're available in Sandstone (the iconic look from previous generations of the OnePlus), Karbon, Black Apricot, Bamboo, and Rosewood (pictured here). All the cases are made from the actual material they're named for, as well as PC or kevlar for additional strength and durability.
For a case that's got a unique look and feel and is crafted exclusively for the OnePlus 3 series, the Protective Case in all its variations is the one for you.
See at OnePlus (opens in new tab)
OtterBox case
OtterBox, the go-to name in phone protection and style, is available for the OnePlus 3 or 3T exclusively via the OnePlus website. The hard outer layer and shock-absorbing inner layer of silicone keep your phone just like new, no matter what your day throws your way.
The newer versions of OtterBox cases are slimmer and lighter, so you won't have significant size and weight added to your OnePlus 3 device. The textured back surface and sides make for secure handling, and the cases come in Saharan White, Dark Matter, and Cardinal Red (pictured here).
For trusted protection of your OnePlus 3 from a brand that's made its name synonymous with durability and damage protection, check out the OtterBox case.
See at OnePlus (opens in new tab)
OnePlus 3 Flip Covers
Offering style and protection in one great-looking case, the OnePlus 3 flip covers are made of soft, supple PU leather that's made to last. There's even room for a credit card or even a few folded bills on the inside of the front cover.
The flip cover will automatically put your display to sleep when you close it, which is great for battery conservation. The slim design won't take up loads of space, and the front cover protects your screen. The color selection is simple, elegant, and a perfect complement to your OnePlus 3; choose from black, gray, or the sand tone pictured here.
If you want the look of a wallet case without unnecessary bulk or compartments, pick up one of the Flip Covers made just for your OnePlus 3 or 3T.
See at OnePlus (opens in new tab)
Tudia Ultra Slim LITE case
Cases from Tudia are building a strong following, and there's good reason for that: its cases for the OnePlus 3 series have a snug, secure fit and the soft, flexible shell offers just that little extra bit of grip you need to have on your phone.
The TPU case fits well over a screen protector, like the one included with your OnePlus 3 device, and it also features raised edges to keep the screen away from hard surfaces like desks or tables. You'll have access to every button and port, thanks to the precise covers and cutouts, so charge away or plug in your headphones without fidgeting with an ill-fitting cover.
Take your pick from cases in black, vibrant teal, or the clear case (pictured here) to show off the original aluminum hardware of the OnePlus 3 or 3T.
See at Amazon (opens in new tab)
Orzly Grip-Pro case
An alternative to the OtterBox style and price comes from Orzly in the form of the Grip-Pro case for the OnePlus 3 or 3T, which offers a two-year warranty and is becoming a popular choice for many people.
The shock-proof internal skin and hard, rubberized exterior protect against bumps and drops, and it maintains a slim profile with cutouts for speakers, buttons, as well as a raised edge around the camera to keep the lens safe.
Grab one (or two, 'cause you can never have too many colors to choose from) in black, blue, pink, silver, or the red version pictured here.
See at Amazon (opens in new tab)
Love Ying Soft Skin case
For one of the slimmest case profiles you can get, check out the Soft Skin from Love Ying. Minimal bulk, minimal extra weight, and a great fit for your OnePlus 3 series device.
The flexible TPU offers excellent shock and bump protection in spite of its minimalist design. A little bit of extra material around the screen edges keeps it up and away from surfaces, which is helpful if you're someone who's in the habit of placing your OnePlus 3 face-down.
Get your Love Ying Soft Skin case in mint, pink, purple, or the clear version pictured here.
See at Amazon (opens in new tab)
Tudia Slim-Fit Heavy Duty
As the name suggests, Tudia's Slim-Fit Heavy Duty is slightly more robust than the Ultra-Thin Lite, bundling an inner TPU wrapper with a stylish polycarbonate shell in one of four colors. Tudia has built up a very good reputation for a reason: its cases are well-made and exact, with precise cutouts for ports while adhering to the proper design of the phone.
See at Amazon (opens in new tab)
<a name="spigen>
Spigen Rugged Armor
Spigen has built up a well-regarded reputation for its cases of decent quality and low prices, and the Rugged Armor for the OnePlus 3 is the perfect combination of that worldview.
The Ruggor Armor is a single-layer TPU case with a raised lip to prevent screen impact damage and reinforced corners, along with a spiderweb interior pattern to ensure the phone is snug. It allows for access to all the buttons and ports, and doesn't add much thickness, but the best part about the Rugged Armor is how great it looks on the OnePlus 3 and 3T.
See at Amazon (opens in new tab)
A case for everyone
Are you using one of our favorite cases for your OnePlus 3 or 3T? Tell us how you like it in the comments below!
Daniel Bader was a former Android Central Editor-in-Chief and Executive Editor for iMore and Windows Central.
OK pet peeve, why isn't there a flip case that flips right? Or even up? Give me a case that flips right and looks like a Pokédex! Please? Posted via the Android Central App

OtterBox is making a case for this phone but no love for Nexus 6P? Lame. Any good alternatives to OtterBox for 6P? I already have Candyspeck grip case, iblason heavy duty case, and the beetle supcase (clear frost). *6P 64 gb Graphite (AT&T)*
*iPad Air 2 64 gb Space Gray (AT&T)*

Supcases unicorn beetle pro series is pretty spectacular. Posted via the Android Central App

Yeah I've seen that one *6P 64 gb Graphite (AT&T)*
*iPad Air 2 64 gb Space Gray (AT&T)*

I got the Karbon as they are calling it. I love it on my OP3. By the way. An update just rolled out for it. OS 3.2.2. Lots of bug fixes. I have only had it on my phone for a couple of hours but can see that some of the issues I had have been fixed. So a very happy oneplus 3 customer here. Posted via the Android Central App

Is the Karbon case grippy at all? I have the sandstone case and I'm a little disappointed at how it still feels like it could slip out of my hand. I'm looking for a case that would have similar texture and grip as some of the Motorola phones - Moto X 2013, Moto G 2015 (going from memory). The BlackBerry Z10 (black) had that nice rubbery feeling on the back as well.

Yeah it has a decent grip. It's not slippy as all. Posted via the Android Central App

Cheers, thanks for the info.

Currently on FreedomOS, I'm not sure that it's been updated to reflect the new update yet. Pretty excited for that. Posted via the Android Central App

Any good cases for Pokémon Go? Posted via the Android Central App

I have transparent plastic case I don't know the name but it's good.. Posted via the Android Central App

I use the "Kevlar" case for my OnePlus 3. Makes the phone very attractive IMO. I worry it won't protect the phone much at all in a drop though. But I don't want a big rubbery bulky thing. A cheapo TPU case maybe is about as bulky as I like to go and they do well for many drops, often coming up past the top rim of the phone to protect the screen a bit too.

The Tudia Heavy Duty Merge case should be on this list. It looks great, fits perfectly, and offers great protection. Posted via the OnePlus 3

I wonder if they will have a black Friday sale

Using a Spigen Rugged Armour on my OnePlus 3. Absolutely fantastic, best compromise between thin, light and heavy duty. Plus covers all the edges (no exposed top and bottom). Plus it's flexible and comes off and goes on easily. Love it.

The rosewood case by them is probably the best phone case I've ever owned. Hugs the phone perfectly, impeccable build quality. Just fantastic.

I have the Otterbox. No complaints.

The cases you listed are descent, but the best case isn't even listed. Please look into adding it. Its the poetic revolution case for the OP3 and OP3T.Poetic Revolution OnePlus 3T Case, Premium Rugged, Shock Absorption, Dust Resistant, Hybrid Case with Built-In Screen Protector for OnePlus 3T/3 - Black https://www.amazon.com/dp/B01HAPB0N8/ref=cm_sw_r_cp_apa_mXOFyb21AEYHM?ta...

Trouble is a lot of people don't care for gigantic cases.

That's not really the point. This article is titled "Best Cases For OnePlus 3 & OnePlus 3T" Best in what respect? Protection? The otterbox usually takes the top spot in this category, but they don't offer a defender series case so no built in screen protector. Not to mention the Poetic Revolution case adds some water protection as well because it covers the ports. The very reason multiple cases are listed is because different people have different criteria for the "best" case. Many people along with myself consider protection to be the top priority of a case, but none of that criteria is met with the current article . That's the reason I advised AC to take a look into adding this case.

Bear Motion makes some of the best slim cases I've seen. No need for all that bulk when the case is grippy you don't drop it! 😎 https://www.amazon.com/gp/aw/d/B01N96FG1K/ref=sxts1?ie=UTF8&qid=14847135...
Android Central Newsletter
Get the best of Android Central in in your inbox, every day!
Thank you for signing up to Android Central. You will receive a verification email shortly.
There was a problem. Please refresh the page and try again.