Best Buy ad gives us a look at the redesigned Droid Bionic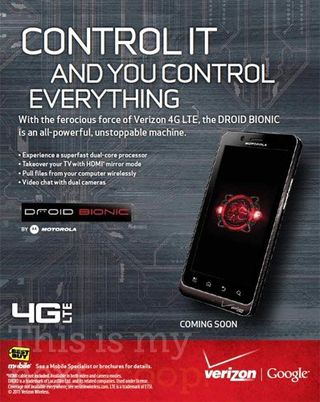 It's no secret that the Verizon Droid Bionic was sent off for a refreshing in the design department before it's launch, which could be coming on August 4. The extent of that refreshing wasn't really known but some new Best Buy promo materials have now turned up and while it's nothing like going hands-on with one, it does show us that device has now taken on a more squared off shape. Nothing insanely drastic but it's still a change, and a change that some may not prefer. You all can sound off in the comments and let us know if you love or hate the new look.
Source: This is my Next
More: Droid Bionic Forums
Looks way better than the one that was shown at CES. Please release August 4th!

Your right. Looks nothing like the one I demo'd

You've got to be kidding... The original design was.... original! . . .this at first glance looks like a Droid3 without a keyboard.

I just wish this was htc made and had sense 3.0 on it that wuld be a POWERFUL WONDERFUL DEVICE looks like I might get me a droid bionic but come on launcherpro rewrite

Oh yea. The DROID BIONIC. NO HTC Sense. That's what I'm talkin about!!!

Successor to my OG Droid I bought back in '09 when the Yanks won it all. Sign of good things to come, plus a fifty dollar loyalty* credit along with my ne2.

??? Have you ever SEEN a Droid X?

So...I'm guessing nobody here saw the latest pics of this design a while back?

No,I have to admit.So you're saying the BB ad picture is accurate?

http://www.droid-life.com/2011/06/06/first-real-droid-bionic-pictures-ma... It looks pretty similar, if not the same.

Won't the Bionic look like Sprint's Proton? I wonder if it will have the Proton's kickstand?

I was soooooooooooooooooooooooooo excited about the Bionic when it was 1st announced. But alas, Motorola/Verizon dragged their feet and allowed another phone to capture my heart and mind. The E3D is my current love interest and I plan on remaining faithful. Although, I do have a roving eye and I'm still a Verizon customer so I could be tempted to re-up on a contract to liaison with the Bionic if it's hot enough.

If Moto's sludged it up with MotoBlur, or whatever they've opted to rename it, I want no part of it. After a year of that mess on the Droid X, including late and buggy updates, I'll pass. Life's too short for intensive handset administration. Unstoppable, indeed.

Dual core + LTE + front facing camera is what i've been waiting for. As long as I can get CM7 on it ASAP I'll buy it!

agreed!! dual core on verizon has taken forever, and its non existent with LTE. this is HUGE! whats moto's bootloader policies these days?

I hate to bring this up, but it drives me nuts: "before it's launch"...just a bit of editing would have caught that.

Drooling. My dx is going to my 2nd line when this comes out

Can anyone tell if this looks like it has a 4.5" display.

I don't know what all of you are talking about, but in my opinion the new Bionic looks so much better than the old one! Why would Motorola need to release another phone with a physical keyboard that soon after the Droid 3. This will be my phone if the Galaxy S2 does not have 4G LTE. Period.

Not going to buy anything loaded with blur and bloatware until there's a way to get it off. Which isn't really a bad thing, by the time it's rooted and there's a CM& build for it, it will probably be a free phone with contract.

Looks awesome. Can't wait to get this. After such an epic experience with the droid x, I'm definitely sticking with motorola. Great hardware, quick updates (froyo, gb) , and always the first in line for new 3rd party apps (netflix, hulu, Gameloft support, etc), and hdmi out has saved me a wad of cash. Blur never bothered me-a step down from sense, but nothing to cry about.

It looks like a Droid phone. I don't need to impress anyone with the exterior look of this phone. Its what is displayed on the phone and how fast it is displayed is what counts to me. I hope it has a 4.5" display. I hope it doesn't have any major issues like freezing, heat issues or short battery life.

Today I upgraded my spouse's phone using my early upgrade (to get in on the unlimited data). When asked if I wanted to upgrade my phone, I said 'no' and that I was waiting for better phones to be released. I then asked the rep when the bionic was coming out. The rep said it wasn't, that it had been cancelled. I find this very hard to believe, given the recent surge in leaks, but the rep also said we could expect the Droid 3 to be released tomorrow, 7/7/11 (which isn't breaking news necessarily, but an official admission nonetheless). I'm hopeful the rep simply stopped thinking or caring about the Bionic after Verizon informed them it wouldn't be releasing the phone in Q2 and thus doesn't know about new information...or they were just playing coy. But they were insistent it is not going to be released. Also said the only new Samsung phone on Verizon that they knew about was the Charge.....knew nothing of the SII.......please be wrong......

Yeah I don't buy it. Motorola has too much at stake here in terms of reputation and credibility. If nothing else they would just slap the name on some other phone they have in the works. Or just continue post posing it until they can deliver what ever it is they promised in the bionic.

It reminds me of the Samsung infuse based on how thin it looks. And the screen size.

I want this really bad, but I just bought a Charge. Anybody want to buy a rooted Droid Charge?
Android Central Newsletter
Get the best of Android Central in in your inbox, every day!
Thank you for signing up to Android Central. You will receive a verification email shortly.
There was a problem. Please refresh the page and try again.