Best Battery Packs For The Galaxy S6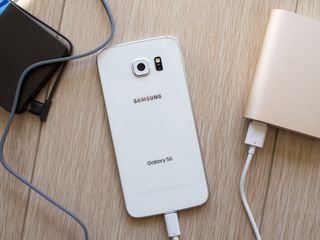 Still loving your Samsung Galaxy S6? That's fantastic. But what might not be so fantastic is your phone's battery life. Its 2,550mAh battery was never a strength so you might be struggling to make it through your day without relying on your charger. That's really inconvenient, as you can't utilize a regular charger just anywhere. That's where having a battery pack for your Galaxy S6 comes in handy.
We've selected the best battery packs for the Galaxy S6 that range from 3,000 mAh all the way up to 25,600 mAh. That means you'll have enough battery life to get you through the most demanding of days, no matter which option you go with.
Update February 17: Added the Powerbear battery case and removed the Anker Quick Charge Battery, which is currently unavailable from Amazon.com — but still available for Canadians.
TYLT Energi (3,000 mAh)
Why you can trust Android Central Our expert reviewers spend hours testing and comparing products and services so you can choose the best for you. Find out more about how we test.
Not every portable battery has to be huge and unwieldy, but you still want it to charge up your phone quickly and efficiently. The TYLT Energi 3K battery walks the line nicely with a compact case that's made of durable hard plastic and contains 3,000 mAh of capacity. A built-in MicroUSB cable means you don't have to bring one of your own to charge up your phone, and an additional standard USB port means you can charge two devices at once if you need to in a pinch.
The capacity is just right for giving your Galaxy S6 a full charge, and when you get back home it won't take long at all to get the Energi 3K itself juiced back up and ready for your next outing. What's more, the price is just right at the moment at under $20.
Powerbear battery case (3,500mAh)
This recommendation comes from Lexamundo in the comments. Some people might be hesitant to buy a battery case for their phone because they don't like the idea of adding so much bulk to their phone. This battery case tries to mitigate that by keeping a relatively sleek and slim profile while adding 3,500mAh of power to your phone.
Since it's a case, you'll also be protecting your phone from accidental drops and other potential damage, as it ships with a compatible screen protector as well. it also reroutes the phone's speakers to be front-facing, which is pretty nice. If you use NFC on your Galaxy S6 for Samsung Pay or other purposes, you may want to look at your other options as this case will block out all NFC functionality. But if extending the battery life of your phone is your main concern, this battery case will do the trick while still looking stylish and comes with a two-year warranty.
KMASHI Quick Charge Portable Charger (20,000 mAh)
KMASHI's external battery bank has a capacity of 20,000mAh and can charge two devices simultaneously. It's got one regular USB charging port, and another Qualcomm Quick Charge 2.0 port which is compatible with your Galaxy S6.
This battery pack comes with a built-in LED flashlight for emergency situations and offers a sleek, somewhat rugged design, which means you can take it with you anywhere. Coming it at around 6 inches by 4 inches, it's about average size for a portable battery pack of this capacity. Given its size you'll be be able to fully charge your Galaxy S6 multiple times with this battery pack. You can get yours for under $50 on Amazon.
Anker E7 Battery (25,000 mAh)
Saving the beast for last, Anker's Astro E7 has an impressive 25,600mAh battery inside and offers an incredible charging speed of 3A per USB port or 4A using all 3 ports.
Packed with Anker's PowerIQ technology, it will automatically detect the fastest possible charging speed when plugged into the Galaxy S6 — that goes for any device, too. It even comes with an LED flashlight built-in which could prove useful for camping trips among many other low light situations.
If you're after a battery pack for your Galaxy S6 that'll outlast the rest, this is a keeper. It comes with a micro-USB cable, travel pouch, and is available in black or white right now for $79.99.
Get the Android Central Newsletter
Instant access to breaking news, the hottest reviews, great deals and helpful tips.