Best apps for the Rio Olympics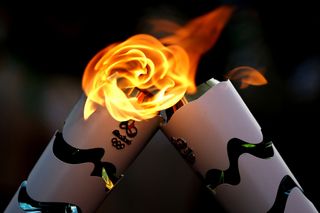 We can't all stay glued to our TV sets for 17 days straight, so if you want to keep up-to-date on all the things happening at the Rio Olympics, you'll need the best apps available!
Here are our favorites!
Best apps for everyone
Best app for the USA
Best app for Canada
Best app for the UK
Best app for India
Best apps for everyone
Why you can trust Android Central Our expert reviewers spend hours testing and comparing products and services so you can choose the best for you. Find out more about how we test.
The Olympics – Official App
For all the latest news and results, what better to hit up than the official Olympics app, straight from the I.O.C.?
The Olympics – Official App has everything you need to stay up-to-date on the Rio Games, including schedules, results, records, news, and galleries galore, so you can experience the games as though you were really there!
You can even watch video from Olympics gone by and track your favorite sports and athletes so that you never miss a moment.
If you want OIympics coverage straight from the horse's mouth, then the official Olympics app is where it's at!
Download: The Olympics – Official App (Free)
Rio 2016
If you want a Rio-specific Olympics experience and don't really care about the Olympics of yesteryear, then the Rio 2016 will suit your needs nicely.
This app features detailed schedules, play-by-play results, and real-time medal tables, and if you happen to be taking the games right in Rio de Janeiro, Rio 2016 features spectator guides so that you can get where you want without missing a moment!
Rio 2016 is available in English, Portuguese (duh!), Spanish, French, Mandarin, Japanese, and Korean.
NBC Olympics – News & Results
If you're in the USA, then NBC Olympics is where it's at for all the things Team USA! NBC is the perennial home of televised Olympics coverage, so take that coverage with you wherever you go with the NBC Olympics app.
You can get an in-depth look at the athletes you're rooting for with bios and real-time results and medal standings, while keeping an eye on your favorite sports – you can take a look at each sport and see who's competing, who's winning, and video featurettes and highlights.
If you're behind the Red, White, and Blue, then NBC Olympics – News & Results is where you can get your up-to-the-minute Team USA coverage and news! Even if you're not rooting for Team USA, NBC is still one of, if not the best for all things Olympics.
Download: NBC Olympics – News & Results (Free)
ESPN
When you hear "sports", what's the first channel that comes to mind? ESPN does all things sports, so of course the ESPN app is great for monitoring the happenings in Rio.
One of the best parts of the ESPN app is that you can set it to show you content specific to your region, so long as you live in the US (English and Spanish coverage), India, or the UK.
While you're setting up the app, you get to choose your favorite leagues, so if you want to keep current on your favorite sports after the Olympics end, you'll get content tailored to what you love.
You'll get Olympics news, as well as quick headlines in the Now section. You won't find up-to-the-minute medals standings or anything like that, but if you want to keep up with the biggest stories of this Olympiad, then the ESPN app is great for now and for after the Olympics end.
theScore
theScore is yet another sports news app, but it's likely the best of the bunch if you're looking for dedicated Rio coverage. There's even a special section dedicated to live Olympics results, news, and more! If you're a sports lover, then you need this app, because you'll be able to keep up with all of your favorite leagues and you can even personalize the coverage you receive.
Don't care about the NFL? You don't have to read about it. Got a favorite team? (DUH!) You can prioritize news and results from the teams that you care about.
theScore is laid out in a very user friendly way that lets you take in all the Rio action you crave. Rio basketball and soccer are even broken out separately for those who only care about footy and b-ball. Team coverage is a bit US-centric, but there are a ton of great articles for anybody.
Rio 2016 Social Hub
The Rio 2016 Social Hub is your one-stop shop for connecting with Olympians via their verified social media accounts.
You can Tweet athletes, creep their Facebook pages, and watch their experiences on Instagram. The Social Hub lets you search by athlete, team, sport, or game, so you can connect to the games and see them through your favorite athletes' eyes.
If you want to feel like you're apart of your favorite competitors' journeys, then get into the Rio 2016 Social Hub and social it up!
Download: Rio 2016 Social Hub (Free)
Olympic Athletes' Hub
The Olympic Athletes Hub is where the athletes get all of their information while competing in Rio de Janeiro. There's a map of the Olympic Village, news from the I.O.C., offers exclusively for Olympians, and a lot more.
This app is a sort of peek behind the curtain – you get to see what the athletes see, including an athlete's library with rule guides (like anti-doping policies!) and other lifestyle-related literature, like how to pursue an education for when you can no longer compete.
This app really is a neat inside look at the information athletes need to see them through their Olympic journey.
Download: Olympic Athletes' Hub (Free)
Uber
Are you in Rio right now? Cooooool! You'll need to get around and I'm gonna guess that all the taxis are busier than all hell. Download Uber and order a ride right from your phone!
Uber is one of the best ways to travel right now, since you pay into the app with your credit card and Uber drivers (regular people, usually in their spare time) get paid right from Uber, so there's no awkward transaction at the end of your ride, which will definitely make things easier if you're in a foreign country.
Download: Uber (Free, with in-app purchases)
Airbnb
Let's face it: All of the hotels are booked up at this point. Your best bet to get any accommodation is Airbnb, where regular folks open their homes to travelers who need a place to stay.
At the time of this writing, there are over 300 homes to check out in Rio de Janeiro, and they range in price from $30 a night to over $1500 per night. You can explore Rio like a local, from right in the neighborhood, or you can stay in a luxury apartment overlooking the water.
Whatever your accommodation needs, you can probably find it on Airbnb. Just pay close attention to ratings and location. If you've never traveled to Brazil before, you may be in for a bit of a surprise when it comes to some of the neighborhoods.
Research, research, research, and choose what's best for you.
Best app for USA
NBC Sports
In the same vein as the ESPN app, NBC Sports is the perfect app if you want a one-stop shop for all things Team USA and all the sports things that NBC covers (which is a ton).
You'll be able to filter what you see, so if during the Olympics you only want to see Olympics-related content, you can keep your browsing to the NBC Olympics section.
If you also want to check up on NFL news as the 2016 season approaches, you can do that as well, without the need for multiple apps to juggle and try and follow.
Best app for Canada
CBC Rio 2016
If you're a Canuck looking to watch Team Canada claim all the medals, then the CBC Rio 2016 app should be at the top of your list. CBC is the only place to get cable coverage of the Olympics in Canada and, unless you have two and a half weeks to spend in front of your TV, you'll want Team Canada in your pocket.
And, being as worldly as we are up here in Canuckistan, you can browse athlete bios from all the countries participating in the Rio Games.
You can watch video highlights, features on athletes and teams, and get results as they happen. CBC Rio 2016 handily breaks the games down for you, so you can follow the sports you care about, find the news you want to find, and enjoy every second of the 2016 Rio Olympics, Canada-style! (We gloat, but we apologize profusely afterward.)
Best app for the UK
BBC Sport
If you're in the UK (or really anywhere, for that matter) the BBC Sport app is one of the best places to get all the Rio coverage you could ask for. Right now, when you download the app, you can even set up notifications so that you only receive them for Rio-related content.
You can even personalize a "My Sport" page so that you see news and results about sports that you care about. Get schedules sport-by-sport, and get results in real time, so that you're on top of all things Rio. And, when you get a little sick of the Olympics, check out everything else going on the in the worlds of soccer, cricket, and a lot more.
If you want some of the best sports coverage in the world, especially if you're in the UK, then BBC Sport has everything you need and a way more.
Best app for India
Hotstar TV Movies Live Cricket
If you're in India, then you might already know about Hotstar, a great streaming app that lets you watch all your favorite sports, including the 2016 Rio Olympics!
Star India has the local rights to broadcast the Olympics and that'll translate over to the Hotstar app, where you'll be able to stream the Rio Games in all their glory. Along with live streams, Hotstar will be connecting with Star India program so that you can view on-demand content during the games.
The best place to watch the 2016 Olympics on the go in India is in the Hotstar App from Novi Digital Entertainment.
Get the Android Central Newsletter
Instant access to breaking news, the hottest reviews, great deals and helpful tips.
Mick is a writer and duty editor for Android Central. When he's not on the job, he can usually be found vacuuming up pet hair or trying to convince his wife that he needs more guitars.