Best Android games of March 2014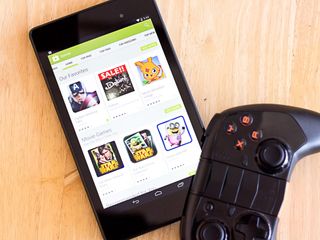 Need Android games? We got 'em! Here are our favorite game releases for March 2014
In our ongoing quest to bring y'all the best games the Google Play Store has to offer, we're going to start rounding up our favorite Android game releases every month. Often this will include big releases that you might have missed throughout Android Central news stories or our picks of the week, but we'll try to dig up some hidden gems for you too. We're also going to be rounding up the month's non-game apps in a separate post, so keep your eyes peeled.
March was a pretty solid month for Android gaming! It was particularly nice to see so many of these launch so closely in line with their iOS counterparts. Below you'll find some action, some strategy, some RPG, and even a rare high-quality trivia game.
Sorcery!
Sorcery! is a text-heavy role-playing game based on the novel series by Steve Jackson. Players make meaningful decisions for a character working his way through a classic fantasy quest. Though there's a decidedly "Choose Your Own Adventure" style to Sorcery!, there are some more recognizably game-y elements to it, such as a stamina-based combat system, spells, and inventory. On the whole, Sorcery! is a well-written and unique take on RPGs. Give this a go if you're looking for strong replay value.
Smash Hit
Smash Hit has become a runaway, uh, hit. The premise is simple: tap the screen to toss a marble and shatter glass obstacles that are on your inalienable path. If you don't and get hit, you lose marbles. Lose all your marbles, and it's game over. You have to start from the beginning again with the free version, or you can cough up $1.99 to start from a set waypoint. Every section is littered with powerups and fresh batches of marbles to keep you going. If you manage to keep hitting the marble refill crystals without missing, you can fire off two, three, or five marbles at once. Smash Hit is very simply an on-rails shooter, but highly-polished physics of the marbles and the glass make for a massively accessible and compelling experience.
EPOCH.2
EPOCH.2 is a finger-friendly third-person shooter with robots! So many robots. You play as a robot trying to rescue a princess in a post-apocalyptic world, but there are other robots that want to blow you up. Of course, you're going to blow them up first with an ever-expanding array of weaponry, jetpack-assisted acrobatics, and smart use of cover. Simple swipes allow you to dodge between cover, and taps offer quick targeting between enemies. In-app purchases are available if you want to deck out your bot in good gear right away. EPOCH.2 continues the tradition of striking cinematics, top-notch graphics, and fluid gameplay.
QuizUp
QuizUp is a popular trivia game where you can duke it out with your friends in several tests of knowledge. Players run through a series of questions on topics, and are scored based on how quickly they answer and how many they get right. Topics range from general knowledge about the cities of the world to obscure Doctor Who factoids. Friends are found through Google Plus, Facebook, or Play Game Services, and a rich discussion system lets you meet new folks that are into your favorite topics. In-app purchases can be used to level up faster. Sprinkle on a sharp user interface and a full-fledged ranking system, and you've got quite the trivia game.
Threes!
Threes! is a polished, adorable puzzle game where players have to stack identically-numbered cards on top of one another for as long as possible. Players swipe up, down, left, and right in order to shift every card in that direction (barring any full rows) in order to make these stacks, but a new card gets introduced to the board every turn. Make sure to keep pushing cards onto each other, or Threes! has spawned a legion of imitators, which the devs have mixed feelings about, but needless to say, the original is where the party's at. The animations are smooth, the gameplay thoroughly balanced, and the visual and audio aesthetic has a certain indescribable charm. You'll be able to chew on this puzzle game for a long time, and not have to deal with in-app purchases or ads.
First Strike (opens in new tab), oO (opens in new tab), Clarc (opens in new tab), Bonza (opens in new tab) and Mines of Mars (opens in new tab) are also worth a gander. We're constantly on the look-out for new and awesome apps, so be sure to comment here with some of your favorite new Android apps from March, and leave a comment on our weekly round-ups if we missed any excellent releases there.
Get the Android Central Newsletter
Instant access to breaking news, the hottest reviews, great deals and helpful tips.
Simon has been covering mobile since before the first iPhone came out. After producing news articles, podcasts, review videos, and everything in between, he's now helping industry partners get the word about their latest products. Get in touch with him at simon@futurenet.com.
I'm going to go ahead and vouch for Smash hit. The Best Game I've played in about 6 or 7 months. It's got a simple premise and is easy to pick up and put back down.

I've been playing it for about 2 months, it's worth it.

Smash hit came out on March 5th. Today is April 4th.

Maybe I'm in the minority, but I don't like Threes! performance on Android. It takes forever to load and transition. For that reason, I've been playing Fives. Posted via Android Central App

+1 Posted via Android Central App

I'll plug God of Light. Extremely clever puzzle game where you bounce light rays off of mirrors that can be repositioned in order to reach the goal. Excellent graphics and simple game play. 2 minutes is enough to play one level, but I haven't been able to put it down yet.

Smash Hit hands down the best of the list. I normally don't buy apps but I couldn't put my phone down.

+1.99 best money spent
It's really fun, but starting from the beginning is not as fun. I hope they make more levels.

I thought the list would include games with controller support... :( Posted via Android Central App

QuizUp would have to be my favorite from this selection. SmashHit is also fun and Threes I just terribly suck at.

Sorcery reminds me of a old school Dos game called zork. Anybody that likes smash hit was that evil little punk kid that ran around the neighborhood shooting a bb gun at house and car windows and laughing when the glass broke

Just played Dungeon Nightmares and gotta say that it is the best horror game I've ever played....
Not sure when it was released in Android but I highly recommend it to those who haven't played it yet or have heard of it the first time..... When you really run shit, you don't have to talk about it....

I only Play Flamey! a new hidden gem of a game. :) love it.
https://www.androidcentral.com/e?link=https2F2F...

Freecell is where it's at. Posted from my Nexus 5 via Android Central App

Did anybody play this:
https://www.androidcentral.com/e?link=https2F2F...

I've been playing Assault Team and think it is a pretty good game. Even if it is a little strange that your cards take shots.

Guys - Check out Glint. It seems like nobody on Android knows it's available. https://www.androidcentral.com/e?link=https2F2F...

Hello, here is the best hack for this game. You can try now http://www.cyberoos.com/threes-hack/ For me works great!

Check out Gemagons, it is like "Threes" but with hexagons and colored gems instead of numbers. The 6 degrees of freedom make the game a bit easier at the beginning, but it gets harder the longer you play:
https://www.androidcentral.com/e?link=https2F2F...