Best accessories for the Nexus 6P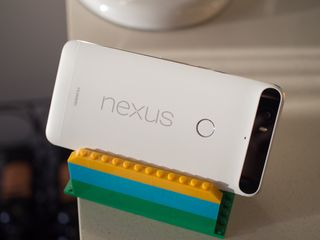 Your Nexus 6P is a powerful device, and right out of the box it works like a dream. Of course, you can always turn your Nexus 6P into a force to be reckoned with by getting a few little extras.
Accessories are the spice of life — they change your phone from ordinary to extraordinary. If you want to kick up the wow-factor with your Nexus 6P, take a look at these awesome accessories we have rounded up for you.
Chromecast
Why you can trust Android Central Our expert reviewers spend hours testing and comparing products and services so you can choose the best for you. Find out more about how we test.
If you haven't heard of Chromecast you probably live under a rock! All joking aside, we can't recommend this great device enough.
Chromecast is a small, little receiver that plugs into your TV via the HDMI port and allows you to stream the display from your phone onto your TV screen. You can look at pictures, watch video, and even play music through Chromecast, making it great for entertaining everybody.
There are plenty of Chromecast-compatible apps and the number is growing. As long as you have Wi-Fi in your home (or wherever you plan on using it) Chromecast will take you to bigger and better screens!
Maxboost tempered glass screen protector
It's hard to enhance the wow-factor of your Nexus 6P if the screen is cracked or smashed — that's why screen protectors are so great!
This is a tempered glass screen protector which means it's going to give you the best protection against scratches and scrapes. The Maxboost protector is hydrophobic and oleophobic which means you shouldn't have to keep wiping your screen as it will be resistant to the oil on your fingertips.
It's worth mentioning that Maxboost has a lifetime warranty for their screen protector, so if it ever does scratch they will ship you a new one free of charge!
Anker PowerCore+
If you are constantly running out of battery power on your Nexus 6P, we have the ultimate solution for you.
Anker's PowerCore+ is a beast! It has a huge capacity of 20100mAh, which means it can fully charge your Nexus 6P five times before you need to charge it again! On top of its huge capacity, it also has two USB ports, allowing you to charge multiple devices at once.
It's quite small for having such a large capacity, making it perfect for carrying around. It's also a rugged in design, so minor scrapes and drops shouldn't hurt it too much, making it great for camping or road trips!
Cable Creation 10ft charging cable
You may be thinking this seems a little ridiculous, but you have no idea just how useful a long charging cord can be until you try it.
This 10-foot long cable will allow you to move around while still charging your Nexus 6P. Vacuuming the living room? Cooking in the kitchen? It's never been easier to have the freedom to roam around the room.
The cord is wrapped in a fabric weave to give it a stylish look, but it also makes the wire inside fully protected from the outside. If you spill anything on this cord it could stain, but it shouldn't really affect it's performance at all.
Photos Live Case
Straight from Google themselves, the Photo Live case is meant to be as unique as you want it to be. It's a simple one shell case that features a photo of your choosing, making it perfect for treasuring a precious moment, highlighting your favorite photo, or even using a unique print from your favorite artist.
The Photos Live case also has an app you can download in order to turn your wallpaper into a rolling slideshow, making it feel like your case is integrated into your Home screen!
A case like this, could make you the talk of all your friends or even make a timeless gift for a close friend or loved one. The Photo Live case is available for all Nexus phones.
What's your best accessory?
Tell us how much you love your favorite accessory for your Nexus 6P. Leave a comment in the comment section below!
Be an expert in 5 minutes
Get the latest news from Android Central, your trusted companion in the world of Android