Belkin Miracast Video Adapter review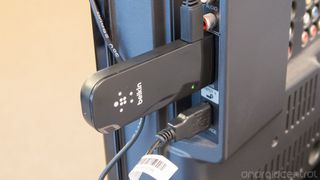 It's likely the best Miracast adapter to date, but the value proposition still isn't there.
Google's $35 streaming stick, the Chromecast, may be at the top of minds nowadays, but long before this affordable entertainment accessory there was another video standard — Miracast. With a few caveats, you can find Miracast support on many of the most popular devices: Nexus 4, 5 and 7 (2013); Galaxy S3, S4, Note 2, 3, 8.0, 10.1; Optimus G; HTC One. So with all of this support, why hasn't Miracast taken off?
Netgear tried its hand at releasing one of the first Miracast accessories, the PTV3000, that really just didn't work well — even after multiple updates. Even for successful adapters, performance varied across devices and software versions. Be it an unfinished standard, poor implementation, bad accessories or maybe a combination of all three, Miracast really hasn't taken off. Samsung now does AllShare Cast, HTC pushes Media Link HD, Intel has Wi-Di and Google naturally likes Chromecast.
Despite the pile of adversity, Belkin decided to release the $79 Miracast Video Adapter.
Setup process
This is a device that's going to sit (hopefully) behind your TV. It doesn't have to look fancy, and it doesn't — this is a black plastic dongle with a USB port on the side and an HDMI plug on the end. It's about 50 percent larger than a Chromecast, and between its thickness and unfortunate placement of the USB port it can be a tad too big to fit in most HDMI ports on TVs — Belkin does include an HDMI extender at least, which you'll likely need.
Just like the Chromecast, the Belkin Miracast Video Adapter requires external power. Most modern TVs have USB ports on the back, but they may not always provide enough power to run accessories ("service" ports are often this way). Belkin includes a two-foot long USB cord to plug into the back of your TV, but if you don't have a USB port you'll be stuck using an extension cable and a USB wall plug. Belkin doesn't include a longer cable or a wall plug, so you'll have to MacGyver it if your TV doesn't have the port.
Belkin claims that the Miracast Video Adapter is easy to setup, and it wasn't kidding. Beyond the process of finding open HDMI and USB ports on the back of my TV, there was literally no further setup for me.
Onward.
The experience
Once everything is plugged in and you have a supported device (Belkin has a complete list on its website (opens in new tab)), you simply turn on Wifi and screen sharing — each manufacturer calls it something different — and you're ready to go. Tap the on-screen prompt to confirm the correct device and your TV will begin to mirror your device's screen.
No fancy setup, no on-screen controls or settings. Anything on the screen of your phone will be mirrored exactly in 1080p resolution on your TV. Any sound that would normally come from your device will also be piped through the TV speakers. The mirroring (or "Casting" if you're on a Nexus device) goes until you tell it to stop.
Yes, that means you can fire up WatchESPN, NBC Live Extra or YouTube on your phone and it will play on your TV. You can also play a game on your phone and let other folks in the room watch you kill some zombies or race a car on the big screen. The lag between input on your device and display on the TV is unfortunately just enough that you wouldn't ever want to use your phone as a controller and watch the TV yourself, but audio and video are both in sync when they do make their way out.
We tested the Miracast Video Adapter with both a Nexus 5 and HTC One, with an 802.11 ac router on a 5GHz network in the middle (router about 15 feet from the TV) and found that connection stability was good, but not great. We could easily keep a device connected for hours and hours watching videos and playing games, and other times we would connect and be disconnected randomly five minutes later, often requiring turning off and back on the TV.
When it did stay connected, the picture looked good but again not fantastic to our eyes. What often looks good on a 5-inch display in terms of UI elements and streaming video just isn't up to snuff when it gets blown up to a TV size. YouTube in HQ and full-screen games probably looked the best, but beyond that there's not much of a phone (or even tablet) interface that looks good on such a large screen.
But should you buy one?
The Belkin Miracast Video Adapter works, and works pretty darn well. It even works across a slew of different devices with different software and hardware manufacturers. But it still isn't worth $79 for practically anyone. Sure, the Chromecast works with fewer content types and apps (at least for now), but it works with just about any Android phone, iPhone or computer and costs just $35. Not to mention the benefits of being able to use your device for other things while it is working as a remote control for the Chromecast. The Miracast Video Adapter technically has more capability right now, but it really does just mirror your phone's screen to a TV. And that's it.
If it cost under $50 or, say $35, we may be able to recommend picking up a Miracast Video Adapter to sit on another HDMI input beside your Chromecast. But as the pricing and capabilities stand right now, there's little reason to consider buying the Miracast Video Adapter over a Chromecast if you're looking to push content from your mobile devices to your television.
Android Central Newsletter
Get instant access to breaking news, the hottest reviews, great deals and helpful tips
Andrew was an Executive Editor, U.S. at Android Central between 2012 and 2020.
Thanks for the review. Even if it were $35 I would have to pass. The connection issues alone would drive me mad. Posted via Android Central App using an LG G2.

I think the price is only problem

So what's the best dongle or adaptor for mirroring your phones screen to the TV? Chromecast works with very few things I want something that will out your phone screen on the big screen from games to local videos. Posted via VZW Moto X on the Android Central App

Forget about games using Miracast. It needs to encode the screen into H.264 video, send over Wi-Fi direct, then decoded and playback by the adapter. The delay of the chain is typically close to 100ms and very noticeable.

Excluding games what can I get? Posted via VZW Moto X on the Android Central App

It streams whatever is displayed on your phone. For video, it will be lower quality because you will have to decode the video, play on the phone, then get re-compressed to H.264 and transferred to Miracast device. Video playback also will not be glitch free (depending on the wifi interferences) from my own experience with a Netgear adapter.

For games, you're really going to need to use Slimport/MHL/uHDMI. The latency is just too high for Miracast and Airplay mirroring.

For gaming I just use a Slimport and BT controller on my Nexus 7. It works the best with zero lag. Posted via Android Central App

Great timing! I saw something about this the other day and was curious about it. This helped quite a bit. Posted via Android Central App

Can I stream via this guy and close my WiFi in mobile ? like chromecast. Posted via Nexus 4 !!

Nope, you need a constant connection to the dongle. Phone has to be on, connected to WiFi and have the screen on. The Miracast adapter is literally just mirroring anything happening on the phone. Posted via Android Central App

I'm going to wait for Chromecast 2 or Airtame

CC2? I dont see it getting a refresh every year... Posted via Android Central App

Maybe not a refresh, but from the amount of attention it got they will have to bring in something big. Maybe a big update. Posted via Android Central App

I still think the Tronsmart is probably the best one. I've read several reviews on it and seen it in action on youtube. I thought about the belkin but they aren't even selling it on amazon. I order most stuff from amazon. Only catch is for some odd reason it won't be here until 17 days. Hopefully I'll have a good phone that I can use it with. If not, my nexus 7 2013 will be ready. Belkin needs to put theirs on amazon.

I just ordered one after seeing it in action. $30 from amazon and the YouTube videos are promising. My TV is right next to my router and my connection is pretty darn good. 100 down 35 up. So I'm hoping for the best. Posted via Android Central App

Do you also have to wait 17 days? Posted via Android Central App

Originally it said that i would get it Feb 11. I ordered on the 15 and it is being delivered tomorrow. Yes a Sunday. I was surprised but it's not the first time I've received a package on Sunday Posted via Android Central App

Even if I got this all the hdmi ports on my TV would be cluttered
I got a Comcast HD reciever , chromecast, Xbox 360, ps3, and even that's a lot for my 4 in 1 switch Sent from my Nexus 7 2013 or iPhone 5

And A/V Receiver would be a viable option if you're into surround sound. They offer plenty of HDMI ins (usually 8) plus the HDMI connections on your TV (3+) equals 11+ HDMI devices assuming your TV and receiver both support ARC.

Ya i might get one in a week or so Sent from my Nexus 7 2013 or iPhone 5

If you think the PTV3000 doesn't work well after the last update you don't own one. The Belkin is a more expensive one trick pony that will not do WiDi. The Chromecast is nice enough as and extra device in the house but what exactly can it do that mirroring my phone or laptop can't? If the content on your phone isn't mirroring well then it's low quality. If you send 720p video to a 1080p TV of course it's going to look crappy. Send 1080p video and guess what. Looks like 1080p video. Quit being and advertiser for other products you are reviewing a product. It looks bad. Posted via Android Central App

I agree, since the last update my PTV3000 has been working flawlessly. Posted via Android Central App

I have a ptv3000 and a chromecast. The device is fantastic for streaming widi from my laptop. It's really good at miracast as well, but there is a bit lag and stutters, mostly when you are streaming something high powered like a game. If you are watching video content from YouTube, Netflix, hulu, etc. The quality seems to be better through Chromecast and you can connect to it easier and if you have a newer television, the input will automatically switch. The best part of the Chromecast is being able to make a queue of videos to stream in succession on YouTube. Even if your phone breaks the connection, the video list still plays. Others can even add to the list of videos. Can't get much better than that. I talk to much don't I? Posted via Android Central App

I have a PTV3000 downstairs (latest firmware), a Chromecast upstairs and a PS3 also in a den downstairs. I use mirroring from my N7 or Note3 frequently to the PTV3000 as well as WiDi from my laptop. All work great as long as you aren't looking to game. Personally, I find the least value in the Chromecast but its a tremendous bang for the buck. I usually end up casting YouTube videos from my tablet or phone to the PS3's YouTube app, to be perfectly honest.

hey i have a problem when i use mirror cast with my note3 4.3 my wifi keeps turning on when it connects with mirror cast to the Ptv3000 then my phone looses connection with my Ptv3000. any ideas on this issue. Posted via Android Central App

How is the PTV3000 working with a football or soccer game? I have a Nexus4/Nexus7 (2012). I bought a slimport adapter. Even that does not work well with ESPN and NBC Sport Live.

I have the same question as Sir Alex. Please if anyone has any experience to speak of running WatchESPN video with the PTV3000, please share your experience. I have the Chromecast and the video is too jerky watching lacrosse games. So we're looking for a better solution. Any help would be greatly appreciated. Thanks.

I also have the PTV3000 and I'm happy with it. It does a good job of what I want it to do. It will stream a 1080p video from my LG G2 and look pretty good. As others have said, there is a small lag so you don't want to try playing a fast paced game over Miracast. But I find it useful to share pictures or a YouTube video with a group. It's also handy when traveling to plug into the hotel TV. It's really easy to set up but I have experienced it occasionally dropping the connection.

Reviews of Miracast adapters should really included actual measurements of the latency, not just a general feeling of how slow it is.

If the latency is big enough to notice with the naked eye then its too high to be considered a replacement for a hardwired HDMI connection. Don't think a precise measurement is going to change anything there. Posted via Android Central App

Great review. I love my chromecast but I like trying new things, but at $79 it's too much. Posted via Android Central App

Can anyone tell me if this is worth buying? Mainly for youtube and maybe movies "I care not what puppet is placed on the throne of England to rule the Empire, …The man that controls Britain's money supply controls the British Empire.

If you're going to do YouTube and movies from Google Play there's no reason to buy this over a Chromecast. The CC will do both of those better. Posted via Android Central App

Xbmc most likley....theres a device from china thats kinda like this that mirrors the phone. Belkin might be more reliable. Would you pick this over a china made one? "I care not what puppet is placed on the throne of England to rule the Empire, …The man that controls Britain's money supply controls the British Empire.

Netflix and hulu plus as well

No, only you can judge if it's "worth buying." Thanks for the review, Andrew. The dumb-fumble placement of the microUSB port to power this along strikes this down as too much $ for too little value. Thanks for trying Belkin.

The biggest advantage of the chromecast is that the content isn't generally coming from the phone which you didn't mention. The phone is simply a controller and creates a handshake for the device. That way, content comes direct from the same source that would feed your phone, tablet, or computer with little or no lag. The other thing to mention is that the chromecast does use miracast so the potential of it going forward with the better implementation is far more vast.

Yes you are absolutely right. Chromecast might be better in the long run. Thanks "I care not what puppet is placed on the throne of England to rule the Empire, …The man that controls Britain's money supply controls the British Empire.

My only concern is that cord blocking that red audio port..

Using analog red/white connections on an HDMI-equipped TV is like still using cassette tapes. Disclosure: I still have a cassette player hooked to my hi-fi. ;)

I got one in my car sent from gs3...i need a new phone

Lol, Not all tvs have the same layout as the one shown above, Instead of analog connections there could be more hdmi slots there. Which is an issue for myself.

That's the issue with how big this thing is. That's the only port it'd fit into without the HDMI extender, and as you see it still blocks adjacent ports. Posted via Android Central App

hey Andrew,
by the sounds of the post it makes it sound that the stick and your phone are both connected to the WiFi and pushing the content via router. That's actually not true, the Miracast standard uses WiFi Direct (http://en.wikipedia.org/wiki/Miracast) and it's possibly one of the reasons for the stability issues (you know because WiFi Direct almost as broken as bluetooth)

You're correct. Maybe my wording of "in the middle" is a bit confusing. I wanted to explain that Wifi throughput from the router to my phone serving content wasn't the issue with the lag or visual quality.

Hey y'all I'm not anywhere close to the outer cyber sphere as you fine humans, but I'm not exactly hanging out back at the cave either. I own & operate a small business here in Tampa, FL & let me tell you that the last thing I have done before I shut-down operations in my tiny home office each evening, I check out Android Central…seriously. I personally think that the more compact, personal, moderately small smart devices will completely & totally command & control personal electronics devices for the next hundred years…coupled of course with wearable's, etc. At nearly 60yrs old & having half a modern, reasonably competent techno-electrical-mechanical brain I would like to suggest one very tiny, little wishful tech-dream….The first company that comes up with a simple, semi-USB thumb drive looking device that allows nearly immediate, super-high fucking speed ultra high def video & or audio streams from sources such as Netflix & spotify….quick type stuff now, any USB input….serious retired old folks simple….plug in & start sipping the Bourbon while being amazed by the audio / video type action….will dominate the planet earth for over a decade….assuming they properly & adequately patent their ideas in every industrialized country.

For those that want to try this for cheap, you can find Ebay variants for under $30.00. I recently received one and experiencing similar results as the review above. And as most commented, agreed, for media consumption it is great, but for "gaming" not so much (besides you end up using, and looking at, your device screen for gaming). I do admit that the PTV3000 (with last firmaware) has better range than the chinese variant. But again, price difference is double. +1 that Belkin should drop the price considerably, and get it under $50.00.

Would this device enable me to send video from LG G2 to my laptop? The G2 has Miracast, but all of the talk is about sending video to tv.

I really wish Chromecast could mirror android screen. Also, I hope they bring multiple wireless network profiles in a future update. It really sucks having to setup the wifi everytime I carry my chromecast to another places, like a friend's house.

Won't buy this product since I have a Chromecast, but thanks for using the phrase "MacGyver it". I haven't used that since High School in the late 80's. It brought back some good memories.

Sadly this is still a must have if you want to mirror certain devices.

Walmart handles BELKIN products, would consider purchasing at a lower price! Posted via Android Central App

After reading the review by Android Central, I will stick with the Google Chromecast, especially since Google has now opened up Chromecast to Developers. Now Chromecast will really take off even more than it has already, and for $35 or less when on sale, you can't go wrong with it. Posted via Android Central App

Wouldn't buy one; but I'll take one for free!

My screen. Is amazing. It must be cast-mirrored-allshared. The revolution must be world wide Internetized. Posted via Android Central App

This is interesting .. Would love to experience it.

Cool. I like Belkin products!

Thanks Gail for the HU! Long Live Android!

This looks interesting. ID lick to try it.

Can you test the GGMM V-Linker? Its a open source dongle that mirrors, and can also turn your TV into a second screen (mighty helpful with presentations!). It can do everything the Chromecast can do, and a little more.. Just dont know if the price point is too high? (69.99) http://www.amazon.com/GGMM-V-Linker-Streaming-Player-Dongle/dp/B00LWFZSI...

Hoping that' Actiontec ScreenBeam Mini2' will work with Nexus 6p. Nexus 6P does not support HDMI and I need something for traveling or taking to friend's house to watch movies from Nexus 6P.

'Actiontec ScreenBeam Mini2' will work with Nexus 6p, I hope. Nexus 6P does not support HDMI and I need something for traveling or taking to friend's house to watch movies from Nexus 6P.

'Actiontec ScreenBeam Mini2' will work with Nexus 6p, I hope. Nexus 6P does not support HDMI and I need something for traveling or taking to friend's house to watch movies from Nexus 6P.

The mini2 is not working with my Nexus 5x I wonder if it's because the screen resolution is higher than 1080p

Why will my miracast not cast video from Netflix on my Verizon tablet to my TV? It casts everything else, hulu, YouTube, even the scroll bar and captions on the neflix screen, even the sound, but no video?
Android Central Newsletter
Get instant access to breaking news, the hottest reviews, great deals and helpful tips
Thank you for signing up to Android Central. You will receive a verification email shortly.
There was a problem. Please refresh the page and try again.