Belkin Miracast Video Adapter review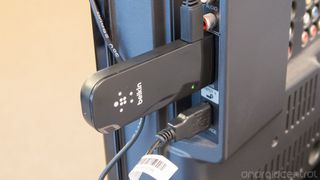 It's likely the best Miracast adapter to date, but the value proposition still isn't there.
Google's $35 streaming stick, the Chromecast, may be at the top of minds nowadays, but long before this affordable entertainment accessory there was another video standard — Miracast. With a few caveats, you can find Miracast support on many of the most popular devices: Nexus 4, 5 and 7 (2013); Galaxy S3, S4, Note 2, 3, 8.0, 10.1; Optimus G; HTC One. So with all of this support, why hasn't Miracast taken off?
Netgear tried its hand at releasing one of the first Miracast accessories, the PTV3000, that really just didn't work well — even after multiple updates. Even for successful adapters, performance varied across devices and software versions. Be it an unfinished standard, poor implementation, bad accessories or maybe a combination of all three, Miracast really hasn't taken off. Samsung now does AllShare Cast, HTC pushes Media Link HD, Intel has Wi-Di and Google naturally likes Chromecast.
Despite the pile of adversity, Belkin decided to release the $79 Miracast Video Adapter.
Setup process
This is a device that's going to sit (hopefully) behind your TV. It doesn't have to look fancy, and it doesn't — this is a black plastic dongle with a USB port on the side and an HDMI plug on the end. It's about 50 percent larger than a Chromecast, and between its thickness and unfortunate placement of the USB port it can be a tad too big to fit in most HDMI ports on TVs — Belkin does include an HDMI extender at least, which you'll likely need.
Just like the Chromecast, the Belkin Miracast Video Adapter requires external power. Most modern TVs have USB ports on the back, but they may not always provide enough power to run accessories ("service" ports are often this way). Belkin includes a two-foot long USB cord to plug into the back of your TV, but if you don't have a USB port you'll be stuck using an extension cable and a USB wall plug. Belkin doesn't include a longer cable or a wall plug, so you'll have to MacGyver it if your TV doesn't have the port.
Belkin claims that the Miracast Video Adapter is easy to setup, and it wasn't kidding. Beyond the process of finding open HDMI and USB ports on the back of my TV, there was literally no further setup for me.
Onward.
The experience
Once everything is plugged in and you have a supported device (Belkin has a complete list on its website), you simply turn on Wifi and screen sharing — each manufacturer calls it something different — and you're ready to go. Tap the on-screen prompt to confirm the correct device and your TV will begin to mirror your device's screen.
No fancy setup, no on-screen controls or settings. Anything on the screen of your phone will be mirrored exactly in 1080p resolution on your TV. Any sound that would normally come from your device will also be piped through the TV speakers. The mirroring (or "Casting" if you're on a Nexus device) goes until you tell it to stop.
Yes, that means you can fire up WatchESPN, NBC Live Extra or YouTube on your phone and it will play on your TV. You can also play a game on your phone and let other folks in the room watch you kill some zombies or race a car on the big screen. The lag between input on your device and display on the TV is unfortunately just enough that you wouldn't ever want to use your phone as a controller and watch the TV yourself, but audio and video are both in sync when they do make their way out.
We tested the Miracast Video Adapter with both a Nexus 5 and HTC One, with an 802.11 ac router on a 5GHz network in the middle (router about 15 feet from the TV) and found that connection stability was good, but not great. We could easily keep a device connected for hours and hours watching videos and playing games, and other times we would connect and be disconnected randomly five minutes later, often requiring turning off and back on the TV.
When it did stay connected, the picture looked good but again not fantastic to our eyes. What often looks good on a 5-inch display in terms of UI elements and streaming video just isn't up to snuff when it gets blown up to a TV size. YouTube in HQ and full-screen games probably looked the best, but beyond that there's not much of a phone (or even tablet) interface that looks good on such a large screen.
But should you buy one?
The Belkin Miracast Video Adapter works, and works pretty darn well. It even works across a slew of different devices with different software and hardware manufacturers. But it still isn't worth $79 for practically anyone. Sure, the Chromecast works with fewer content types and apps (at least for now), but it works with just about any Android phone, iPhone or computer and costs just $35. Not to mention the benefits of being able to use your device for other things while it is working as a remote control for the Chromecast. The Miracast Video Adapter technically has more capability right now, but it really does just mirror your phone's screen to a TV. And that's it.
If it cost under $50 or, say $35, we may be able to recommend picking up a Miracast Video Adapter to sit on another HDMI input beside your Chromecast. But as the pricing and capabilities stand right now, there's little reason to consider buying the Miracast Video Adapter over a Chromecast if you're looking to push content from your mobile devices to your television.
Be an expert in 5 minutes
Get the latest news from Android Central, your trusted companion in the world of Android
Andrew was an Executive Editor, U.S. at Android Central between 2012 and 2020.