A beginner's guide to the LG G4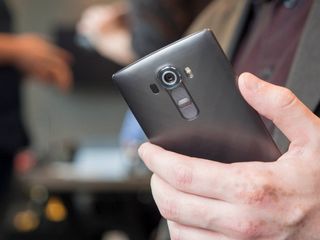 It's been an interesting year for Android phones, with no shortage of great options to consider, but one of the better overall experiences so far in 2015 comes from LG. The G4 isn't the prettiest or the most powerful on paper, but LG has assembled something great. It's also undeniably LG in both form an function, which isn't easy to pull off nowadays.
Whether you're on the fence about your next phone or you've already picked up the G4 and would like a hand setting the phone up, we've got you covered with this beginners guide. Contained within is all the basics, from initial startup to deciding which case to get.
Hardware: Leather or Plastic?
LG's latest is a continued evolution of the unique design language that has made phones like the G3 and G Flex series stick out so much. The slightly curved display, massively curved backplate, and Rear Key setup with power and volume controls just under the camera all come together to form something comfortable to hold in the hand while continuing to push the limits of what is considered too big for many folks.
Here's what the phone looks like under the hood.
Swipe to scroll horizontally
| Category | Features |
| --- | --- |
| Display | 5.5-inch IPS Quantum at 2560x1440 resolution |
| Operating system | Android 5.1 Lollipop |
| Processor | Qualcomm Snapdragon 808 |
| Storage | 32GB on board, microSD card up to 128GB |
| RAM | 3GB |
| Rear camera | 16MP |
| Front camera | 8MP |
| Battery | 3000 mAh |
Read our complete LG G4 review
A big part of the decision making process when picking the G4 is the backplate. LG's launch included several unique options, starting with a standard plastic backing and ending with multiple kinds of actual vegetable-tanned leather backplates with thick stitching right down the middle. If this leather look is for you, beware that not every color has the same pattern, and in some cases these backplates can wear quickly and wind up not looking great.
Read More: Upgrading to Leather
Read More: A look at the leather G4 after extended use
Setup
LG's setup process for the G4 has been streamlined quite a bit from previous efforts, following a basic log in and carrier recognition process that ends with a series of helpful tutorials to walk you through all of the buttons on the home screen. It's a quick process in most cases, though if you're on Verizon Wireless you'll find there are a few more steps inserted by your carrier before you get to the home screen for the first time.
The bottom line: If you've already got a Google Account this won't take long, and if you've owned an Android phone before you'll be surprised by how much of your data moves to your new G4.
Read More How to set up the LG G4
Home screens
You're finally at the point where you can start playing with the phone, and as you've no doubt noticed there's plenty of stuff already living on your homescreen, especially if your G4 came from Verizon Wireless. You don't need to use or keep any of it, but there's a few things you should know about the things pre-loaded on your homescreen before you start deleting things. On the other hand, some of that pre-loaded stuff really does need to go.
Smart Notice
LG's signature widget is front and center on Homescreen 1, and if you've ever used it before you know exactly what to expect. Smart Notice offers up the time, weather, and a drop down with helpful cards from all over your phone. The most common card you'll see is a more detailed explanation of the weather for the next few hours, but there's also system information to let you know what apps are consuming battery life and calendar information to keep you current. For an at-a-glance widget it's not half bad, and the color theme adjust automatically based on the color of your background.
Smart Bulletin
LG dedicates the leftmost panel on your G4 to a massive scrolling list of LG things that might be helpful to you. LG Health tracks your fitness activities, while Calendar and Music offer quick glances at whatever information you store within those apps. The LG remote is available if you use your phone to change the channel, and towards the bottom of this panel you'll see LG Smart Tips for using the different parts of your phone. You'll frequently see camera, keyboard, and battery optimization tips in this area, whether you want them or not.
How to turn off Smart Bulletin
On-screen buttons
Like many other Android phones, LG includes software buttons at the bottom of the phone for basic navigation. Unlike many Android phone, LG gives you some control over how they behave and even what they look like. If you're curious what you phone would look like with different buttons, poking around here is a lot of fun and could easily turn into creating a new navigation setup for yourself.
How to change the on-screen buttons on the G4
Notifications and Quick Settings
LG's notification system has always been a little unique, but with Android 5.1 onboard there's a lot less confusion if you're coming from another phone. Card notifications appear in your notification drawer, which you pull from the top and swipe away as needed, just like everywhere else. You can use two fingers to pull down on some notifications and gain more information before opening the app by expanding the size of the notification, or you can tap the notification and be taken straight to the app.
If your screen is off and you hear a notification tone, pulling down on the screen as though it were on will reveal a quick peek at your notification tray and the current time. You can't see anything more than the individual notification icons, but it's a quick way to see if you need to spend any more time looking at this notification.
At the top of your notification drawer at all times is the Quick Settings menu. As the name suggests, it's a handful of options you can toggle on and off quickly, which can be handy if you want to turn on WiFi or Airplane Mode. There's no way to disable or remove this function, but you can customize it to fit your needs with the edit button at the far right of the list.
Camera
LG's camera for this generation is without a doubt one of the best cameras you can get in a smartphone today, and a lot of that has to do with how many options are available to users. The G4 is great at taking a quick photo with no settings enabled, but is unparalleled in its manual settings and the extended functionality contained within. If you've never explored all of the buttons in a smartphone camera before, the G4 is a great phone to start poking around.
LG's Manual Mode also allows you to shoot in Camera RAW, which means you have significantly greater edit control over the photos being taken. If you're planning to take a lot of photos in this mode, you should consider looking at some of the more powerful photo editing tools available on your phone.
Accessories for your new gear
Now that you've got a decent handle on using your phone, it's time to make sure you can keep using it for a while. There are tons of case options out there for G4 owners, including those of your who opted for the leather backing. You'll also want to consider investing in a quality third-party charger that support's Qualcomm Quick Charge 2.0, especially if you want to see your phone charge from 0 to 75 in something like 45 minutes. LG didn't include wireless charging in the G4, but you can get a special backplate to fix that
The bottom line is there's a lot of things you can add to your G4 to improve it, and we highly recommend exploring those options.
Should you wear a case on the leather G4?
Best heavy dusty cases for the G4
Top 3 favorite Spigen cases for the G4
Need more help? Hit up our forums!
You're basically done, unless of course you aren't. Everyone's experience is a little bit different, and sometimes you need to ask someone else for help. Fortunately for you, we've got plenty of folks to help you out.
If you've found a question we didn't answer here, the G4 forums are positively bursting with helpful, smart folks who are more than willing to help you with just about anything. All you need to do is hit the link below, and ask away.
Android Central Newsletter
Get instant access to breaking news, the hottest reviews, great deals and helpful tips
Why didn't Andrew write this? He's still a beginner on this phone.... Posted via the Android Central App

What? They get to play around with most phones weeks, maybe even months before we do. So I'm sure he's no noob to the phone. Posted via the Android Central App

Andrew doesn't like this phone. It was a lighthearted dig at Andrew, nothing more.

Ah. Ok. Posted via the Android Central App

Software in terms of native apps and OS needs to be optimized in performance and stability. I sometimes catch myself touching on apps and took 3 to 4 seconds to open from time to time. Then I clear all apps but I think I shouldn't have to with this phone. And auto brighness display could be little more brighter in dark environment. Overall I didn't to much to configure this phone. Just do general setup with the google and boom, ready to use. Posted via the Android Central App

You should never have to manually kill apps from RAM to free up resources for better performance on Android, which is why Samsung and LG still have a long way to go.

I thought that the s6 was the culprit in doing this but my new g4 does the same. BUT I'm not sure it's the device. The one app that is doing this bad on both devices is YouTube. Seems Google may be the problem.. How ironic Posted via the Android Central App

Correct. It is Google's fault not the device. Still surprised that people point the finger at the the device. Some people just don't understand software I suppose. Posted via the Android Central App

Because the average person doesn't have time to learn software LoL Posted via the Android Central App

The link to changing on screen buttons goes to removing the left screen stuff. Posted via the Android Central App

Yea.. Wrong link. I wanted to learn but it goes to something eles.. Lol Posted via the Android Central App

I had the LG G4 for a week. I liked it, but I didn't love it. The screen was too big and I really had to stretch my fingers to press the screen. And pressing the screen didn't always register my touch.

If it weren't for the software I would've bought this phone Posted From my Nexus 6/Nexus 7 2013/Surface pro 3

I'm a huge fan of the g4. MIC DROP

Agreed it's a damn good device! Posted via the Android Central App

LOVE MY G4 ITS A PHONE NOT A COMPUTER!! Posted via the Android Central App

My best advice is if you know you are getting a non bumper only case then just get the plastic back.

Naked leather, only way to rock the g4. Posted via the Android Central App

Amen brother posted using my Samsung killer. . .G4

Mmmm got a red and tan backs Posted via the Android Central App

Exactly, that pic of a leather back hiding in a nasty tpu case is heart breaking to me. I just use my phone. Cases are awful. Do we put a big bumper around our cars? We know they're going to get some dings right? But we don't mind. Cuz a huge nasty rubber condom wrapped around it would be gross. Just my opinion but it sure makes sense to me. Just enjoy your purchases folks. Posted via the Android Central App

depends on the phone, if I had an S6 there's no way it wouldn't have a case. I'm more function over form so I really can care less about the aesthetics of a phone, but for people that do get a phone for looks then throw a case over it, it kinda defeats the purpose. Posted via the Android Central App

Love my g4 but when my oneplus2 gets in then....... Posted via the Android Central App

...you test the op2 for durability at your local gun range MIC DROP

OK then..... Posted via the Android Central App

At first I liked it. Still love the camera but the battery life is getting worse every week and yes I have the extra battery but I shouldn't have to change it 3 times a day that's crazy. Will be selling it and getting the moto x hoping it will be a bit better with the turbo charging. Posted via the Android Central App

I'm in the same boat. I like most of the things about the G4, but the battery life is not great, and there's way too much lag for a flagship phone that I've only had for two months.

What carrier? It's odd to hear such conflicting reports on battery life, especially when the battery on my own G4 has been so great. But I suppose that happens with every phone. Some people have a great experience, and some less so. Makes you wonder. As for lag - there again, my phone has been pretty great. Every now and then there's a little hitch, but nothing more than I've experienced with any other phone, and who's to say it isn't caused by the odd misbehaving app? In my case, Verizon LG G4, two and a half months on, consistent 5 hours SOT, barely any lag to speak of, all-round kick-ass phone. Posted via the Android Central App

My G4 doesn't have any lag or glitches or bugs as of yet, other than chrome hanging on urls but that was an apps fault not the phones, but my battery life is awful. According to my stats the culprit is the screen. Most likely the brightness but even when I have it at 0 or still can chew through it. I'll admit though it only stinks when I game, even if I just game for 20-30 minutes at a time. With no gaming and general web browsing and such then yes the G4 is fan-fucking-tastic. Worth to note I mostly exclusively have Wi-Fi turned on and turn off everything else including nfc, data, locations, sync, rotation, and qslide. I also keep the smart notice widget on but it only updates when I refresh it Posted via the Android Central App

They don't have a bigger battery you can buy? That's disappointing. And doesn't the Moto X have the same size battery in it? If so, I can't see the battery life being any better, esp. since it has a slightly bigger screen.

I would recommend a launcher. LG's stock launcher isn't bad by any stretch, but I for one love the stock experience with The Google Now Launcher. And I know a ton of people are using Nova on the G4. Just my opinion, but I think a launcher is the way to go with the G4. Posted from my LG G4 via the Android Central App

Lgs launcher definitely isn't good IMO Posted From my Nexus 6/Nexus 7 2013/Surface pro 3

I recommend Action Launcher 3 because it's easy to get that stock look with some added customization. Posted via the Android Central App

Nova is better is you are looking to copy stock Android. Posted via the Android Central App

Google Now Launcher is a bit, laggy on my G3, not sure about the G4. Don't get me wrong, it's a mostly fluid launcher, but the ever-so-slight stuttering bothers me... The stock launcher on my G3 is noticeably smoother, not sure about the G4. Posted via the Android Central App

0 to 75 in 45 minutes doesn't happen to me with my quick charger... More like 0 to 75 in 75 Posted via the Android Central App

Used one in store and color me impressed. I was nervous about the 808 not being enough but this thing really flies. That display though. LG G2
Nexus 5

That display is gorgeous IPS deliciousness. Posted via the Android Central App

Which if you can tell by my signature, I'm used to. It's truly in a league of it's own though. LG G2
Nexus 5

Honestly, I'd put it in the same league as the display on the M7, which was my previous phone. Both absolutely stellar. Posted via the Android Central App

I had the One Mini, and while it was a great display (identical to the One M7) it wasn't as good as the G2 I use now. I'd say overall (screen brightness not included) it'd go LG G2>Nexus 5>One Mini>Nexus 4> Galaxy S III LG G2
Nexus 5

Maybe this list was good in 2012 lol. Posted via the Android Central App

This is based off of phones I've owned. Not every phone available. LG G2
Nexus 5

with the two Nexus phones and Moto Pure coming out soon I'm glad I didn't get the G4 ... I'm just not a fan of the software, but if camera was more important to me I'd probably think otherwise. Posted via the Android Central App

I don't blame you everything else about the phone is awesome but the software is such a let down Posted From my Nexus 6/Nexus 7 2013/Surface pro 3

totally agree ... I'd love to see (though I'm not holding my breath) more OEMs offer bloat free, non skinned phones, but unfortunately, they're usually the last ones to get the memo. a GPE G4 would've been pretty slick. it'll be interesting to see if HTC follows the trend with the M10 Posted via the Android Central App

If HTC has the opportunity to make an M10... ... Or better yet market it Posted From my Nexus 6/Nexus 7 2013/Surface pro 3

good point, lol Posted via the Android Central App

I think it's 50/50 that HTC is even around next year. Stock dropped so much on Friday that the exchange halted trading on it. They either get bought out or close up shop. The problem is, who wants to buy them? HTC doesn't really have anything that any one would want. Posted via the Android Central App

wow, I wasn't even aware of that ... if they weren't already well aware by now, maybe that will shake them up a bit and they'll finally come to their senses (no pun intended). it's kinda frustrating with them cause they really had a great thing going with the M7 but just squandered the opportunity. I was truly alarmed when they released that "inked" body art version of the M9. http://m.androidcentral.com/htc-one-m9-get-inked-special-limited-edition... Posted via the Android Central App

I love the G4. Having owned both the G2 and the G3 previously I appreciate the evolutionary progression. I have large hands so the size is perfect for me. The manual controls on the camera have come in handy on numerous occasions. Every phone has quirks. And we will never all agree on which phone is best. At the moment my G4 is best to me. Posted via the Android Central App

We're still talking about the G4, I guess next month we will start talking about what the G5 will have...LOL Posted via Android Central App

Quick peek... disabled on AT&T versions. AT&T... logo really is the DeathStar. http://forum.xda-developers.com/g4/help/quick-peek-time-date-screen-off-...

I have G4. One of the first things I did was get tempered glass screen protector. Touch response seemed bad, read online and saw others complaining about the same thing. Figured it was a software thing. Finally after a couple weeks, took screen protector off and it works great now. Posted via the Android Central App

Absolutely love this phone for my personally I rank it the best phone for the money
Removable battery external storage up to 2 terrabytes amazing camera and decent battery life, it simply cross all the boxes for me when I was choosing my next phone. Posted via the Android Central App

I don't know what all the complaints about the software are about. It isn't over-the-top like the old touchwiz... most of the things it adds are reasonably useful, and it goes out of its way to make the little add ons easy to get rid of if you don't want them. This isn't an iPhone, if you don't like the way stuff looks, it's easy to change it to something you do like. As far as the battery, if you aren't playing games, it is fantastic. It has the best stand-by time I have ever seen... If you unplug the phone and don't use it, it will stay on 100% for a few hours (as long as you have a signal, so carrier and location make a difference here) LG has also done something to optimize battery usage on web browsing and streaming somehow. Example of my mornings: I unplug at 5:30 a.m. and get to my office at 7 a.m. In the time it takes me to get to the office, I have about 45 minutes of waiting for/riding the train, and ALL of that time is spent streaming Google music and catching up on Facebook and different sports/tech news sites. When I get to my desk I usually am still at about 95%. On my old phone (One M7) I'd be in the mid 80's. I use the phone occasionally throughout the day (no wi-fi...all Sprint) Then do the same train ride back to my car, and by 4p.m. when I am back at my car I am usually well over 60%. If I want more, my car quick charger gets me from there to about 85% in 10-15 minutes, but I don't do it because I don't need it. At the end of the night I sometimes play Need for Speed for a little while just to TRY to get the battery down to under 5% because I hate plugging the phone in for the overnight charge when it is still at 20-30%. Yes, gaming can quickly kill the battery, but that is true on EVERY phone. The regular everyday stuff like web-browsing, streaming music/video, checking emails, etc. it does an amazing job of staying charged up.

My wife and I both got the G4. It was a huge let down. Right out of the box laggy and TERRIBLE battery life. Would never buy LG again. I had high hopes as the G2 was the best Android phone I've used. But this thing?? On paper it's the best all around. In the real world it's complete trash. Mine was on VZW. Posted via the Android Central App

By chance did you get the latest update on it? I am having an excellent experience. at least 18 hours of battery life plus quick charge. No lag.

And yes we did resets and wiped cache partition... Nothing helped. Posted via the Android Central App

Don't even get me started on the lollipop "location found" notification. Why can't I clear that garbage? Ugh Android........ C'mon Posted via the Android Central App

I was gearing up for a OnePlus two when it fell short of everything. I ended up getting a deal on an international LG G4 and I'm really happy with it. For my needs this phone is excellent. Bonus for not having the dialer FC on me so often. (oneplus 1)

Just like russel holly.....oh oh and a marry tyler moore..... Posted via the Android Central App

Hah! Posted via LG G3 on Death Star.

I played with the LG G4 for 8 days. Used it extensively during those days. My conclusion can be easily summed up with two words: ugly, slow The specs look great, but in reality, it cannot compete with Samsung S6 or Note 4. (when testing all 3 of them side-by-side simutaneously) Sorry. I didn't mean to make Trump-like politically incorrect comments, but it's true. LG G4 is not a phone that I can recommend to anybody. However, when the G4 drops to $1 with 2-year contract or $399 full retail, it will be a great phone!

I have been considering getting the G4 (or even the Note 4) instead of waiting for Samsung to ruin the Note 5 this year. The LG seems to have one of the best cameras available. at a reasonable price.

As a beginner or not real tech savvy, if find this useless.
Android Central Newsletter
Get instant access to breaking news, the hottest reviews, great deals and helpful tips
Thank you for signing up to Android Central. You will receive a verification email shortly.
There was a problem. Please refresh the page and try again.