A beginner's guide to the LG G4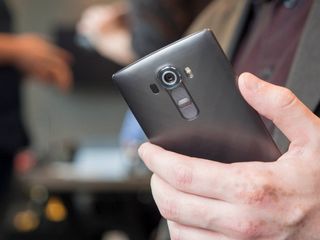 It's been an interesting year for Android phones, with no shortage of great options to consider, but one of the better overall experiences so far in 2015 comes from LG. The G4 isn't the prettiest or the most powerful on paper, but LG has assembled something great. It's also undeniably LG in both form an function, which isn't easy to pull off nowadays.
Whether you're on the fence about your next phone or you've already picked up the G4 and would like a hand setting the phone up, we've got you covered with this beginners guide. Contained within is all the basics, from initial startup to deciding which case to get.
Hardware: Leather or Plastic?
LG's latest is a continued evolution of the unique design language that has made phones like the G3 and G Flex series stick out so much. The slightly curved display, massively curved backplate, and Rear Key setup with power and volume controls just under the camera all come together to form something comfortable to hold in the hand while continuing to push the limits of what is considered too big for many folks.
Here's what the phone looks like under the hood.
Swipe to scroll horizontally
| Category | Features |
| --- | --- |
| Display | 5.5-inch IPS Quantum at 2560x1440 resolution |
| Operating system | Android 5.1 Lollipop |
| Processor | Qualcomm Snapdragon 808 |
| Storage | 32GB on board, microSD card up to 128GB |
| RAM | 3GB |
| Rear camera | 16MP |
| Front camera | 8MP |
| Battery | 3000 mAh |
Read our complete LG G4 review
A big part of the decision making process when picking the G4 is the backplate. LG's launch included several unique options, starting with a standard plastic backing and ending with multiple kinds of actual vegetable-tanned leather backplates with thick stitching right down the middle. If this leather look is for you, beware that not every color has the same pattern, and in some cases these backplates can wear quickly and wind up not looking great.
Read More: Upgrading to Leather
Read More: A look at the leather G4 after extended use
Setup
LG's setup process for the G4 has been streamlined quite a bit from previous efforts, following a basic log in and carrier recognition process that ends with a series of helpful tutorials to walk you through all of the buttons on the home screen. It's a quick process in most cases, though if you're on Verizon Wireless you'll find there are a few more steps inserted by your carrier before you get to the home screen for the first time.
The bottom line: If you've already got a Google Account this won't take long, and if you've owned an Android phone before you'll be surprised by how much of your data moves to your new G4.
Read More How to set up the LG G4
Home screens
You're finally at the point where you can start playing with the phone, and as you've no doubt noticed there's plenty of stuff already living on your homescreen, especially if your G4 came from Verizon Wireless. You don't need to use or keep any of it, but there's a few things you should know about the things pre-loaded on your homescreen before you start deleting things. On the other hand, some of that pre-loaded stuff really does need to go.
Smart Notice
LG's signature widget is front and center on Homescreen 1, and if you've ever used it before you know exactly what to expect. Smart Notice offers up the time, weather, and a drop down with helpful cards from all over your phone. The most common card you'll see is a more detailed explanation of the weather for the next few hours, but there's also system information to let you know what apps are consuming battery life and calendar information to keep you current. For an at-a-glance widget it's not half bad, and the color theme adjust automatically based on the color of your background.
Smart Bulletin
LG dedicates the leftmost panel on your G4 to a massive scrolling list of LG things that might be helpful to you. LG Health tracks your fitness activities, while Calendar and Music offer quick glances at whatever information you store within those apps. The LG remote is available if you use your phone to change the channel, and towards the bottom of this panel you'll see LG Smart Tips for using the different parts of your phone. You'll frequently see camera, keyboard, and battery optimization tips in this area, whether you want them or not.
How to turn off Smart Bulletin
On-screen buttons
Like many other Android phones, LG includes software buttons at the bottom of the phone for basic navigation. Unlike many Android phone, LG gives you some control over how they behave and even what they look like. If you're curious what you phone would look like with different buttons, poking around here is a lot of fun and could easily turn into creating a new navigation setup for yourself.
How to change the on-screen buttons on the G4
Notifications and Quick Settings
LG's notification system has always been a little unique, but with Android 5.1 onboard there's a lot less confusion if you're coming from another phone. Card notifications appear in your notification drawer, which you pull from the top and swipe away as needed, just like everywhere else. You can use two fingers to pull down on some notifications and gain more information before opening the app by expanding the size of the notification, or you can tap the notification and be taken straight to the app.
If your screen is off and you hear a notification tone, pulling down on the screen as though it were on will reveal a quick peek at your notification tray and the current time. You can't see anything more than the individual notification icons, but it's a quick way to see if you need to spend any more time looking at this notification.
At the top of your notification drawer at all times is the Quick Settings menu. As the name suggests, it's a handful of options you can toggle on and off quickly, which can be handy if you want to turn on WiFi or Airplane Mode. There's no way to disable or remove this function, but you can customize it to fit your needs with the edit button at the far right of the list.
Camera
LG's camera for this generation is without a doubt one of the best cameras you can get in a smartphone today, and a lot of that has to do with how many options are available to users. The G4 is great at taking a quick photo with no settings enabled, but is unparalleled in its manual settings and the extended functionality contained within. If you've never explored all of the buttons in a smartphone camera before, the G4 is a great phone to start poking around.
LG's Manual Mode also allows you to shoot in Camera RAW, which means you have significantly greater edit control over the photos being taken. If you're planning to take a lot of photos in this mode, you should consider looking at some of the more powerful photo editing tools available on your phone.
Accessories for your new gear
Now that you've got a decent handle on using your phone, it's time to make sure you can keep using it for a while. There are tons of case options out there for G4 owners, including those of your who opted for the leather backing. You'll also want to consider investing in a quality third-party charger that support's Qualcomm Quick Charge 2.0, especially if you want to see your phone charge from 0 to 75 in something like 45 minutes. LG didn't include wireless charging in the G4, but you can get a special backplate to fix that
The bottom line is there's a lot of things you can add to your G4 to improve it, and we highly recommend exploring those options.
Should you wear a case on the leather G4?
Best heavy dusty cases for the G4
Top 3 favorite Spigen cases for the G4
Need more help? Hit up our forums!
You're basically done, unless of course you aren't. Everyone's experience is a little bit different, and sometimes you need to ask someone else for help. Fortunately for you, we've got plenty of folks to help you out.
If you've found a question we didn't answer here, the G4 forums are positively bursting with helpful, smart folks who are more than willing to help you with just about anything. All you need to do is hit the link below, and ask away.
Get the Android Central Newsletter
Instant access to breaking news, the hottest reviews, great deals and helpful tips.